Is Puerto Aventuras Safe – All the Facts
Puerto Aventuras is considered one of the safest places to live in Mexico. Statistically speaking, you are safer in Puerto Aventuras than in most parts of the world! Puerto Aventuras resort is a private gated community with security 24-7. 
Within the gates, you will find various residential neighborhoods with private homes and condominiums. Several of the more exclusive complexes are also gated and employ their own private security team. If you want to live or vacation safely on the Riviera Maya, this is one of the safest places to be.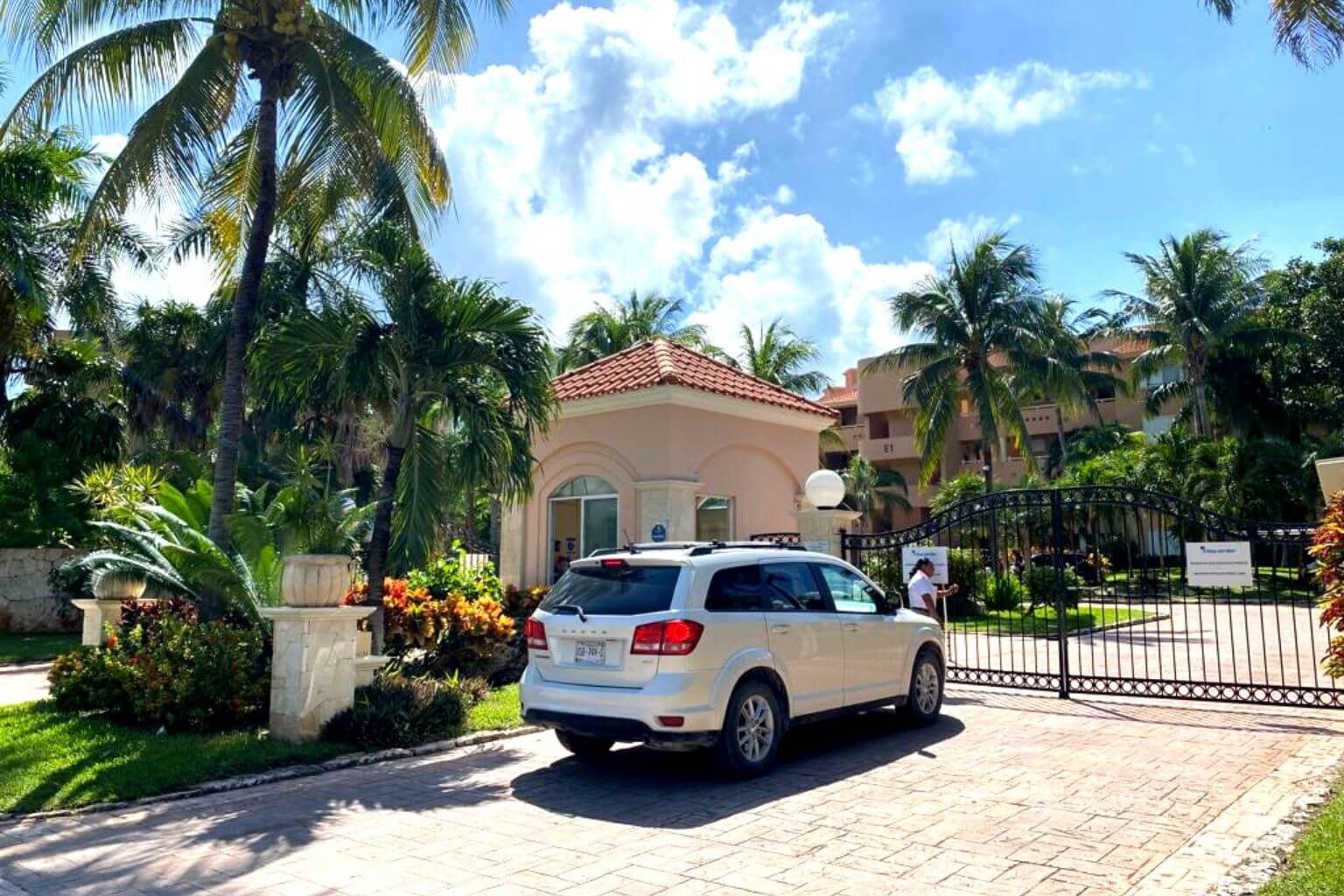 That being said, no place, including Puerto Aventuras, is 100% free from crime, but the people in this community really look after each other and the security forces here do their best to ensure that you and your property are as safe as possible.
Entering Puerto Aventuras
Puerto Aventuras resort is a secure gated community and all visitors who pass through the main entrance gate are required to show a legal ID for entry.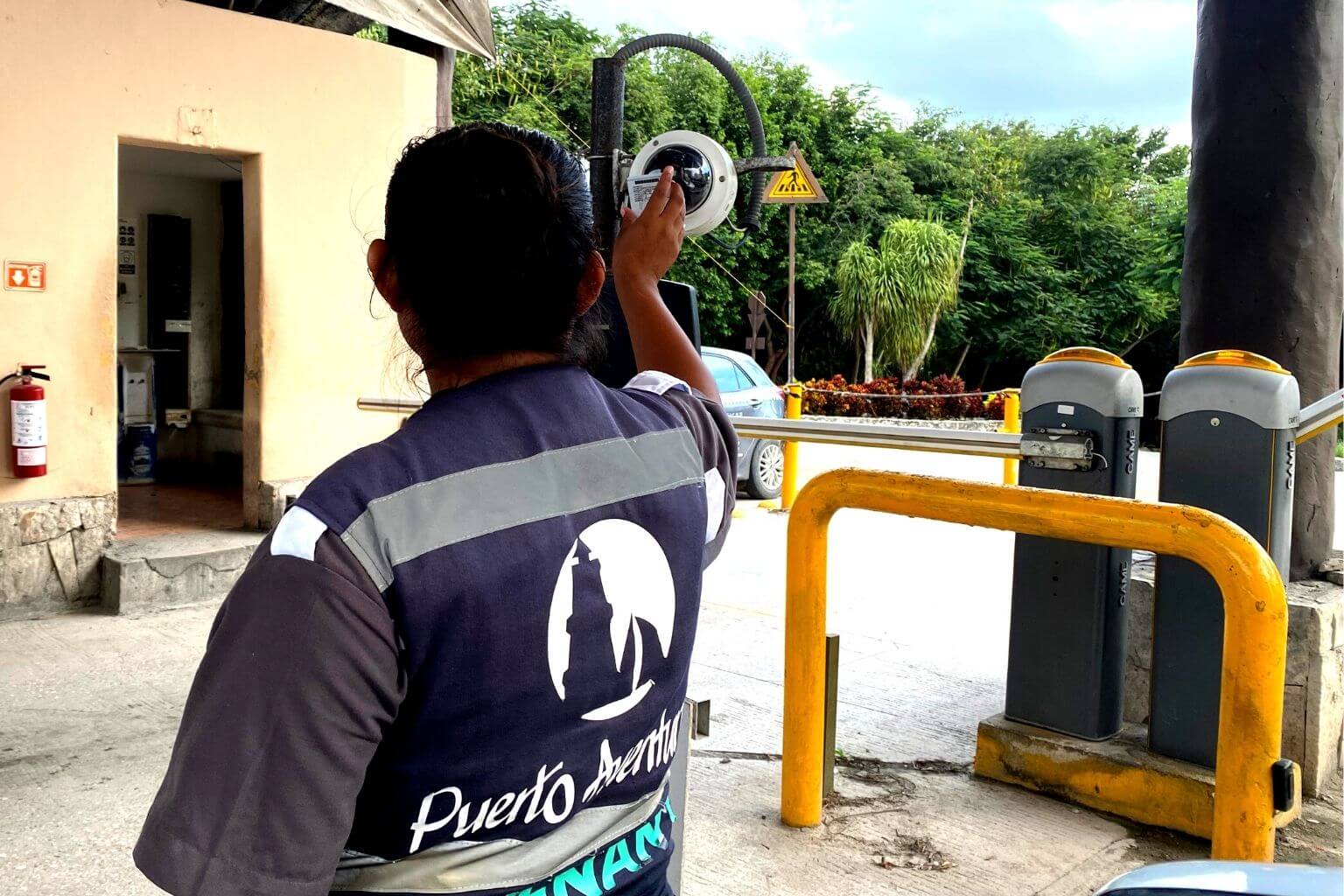 The entry gates are manned 24 hours a day by a rotation of guards whose sole purpose is to ensure that the people coming in belong here. This professional security team also routinely checks the trunks of cars or flat beds of trucks leaving the village to help prevent thievery. 
PA Passports for Puerto Aventuras Residents
Residents of Puerto Aventuras have their own local ID cards called Passports which permit automatic entry through specially designated entry gates.
Tourists and guests without PA Passports may still come in to visit friends and/or enjoy the beach club, shops and restaurants but they must present an official ID which is then scanned into the security system before they can gain entry.
QR Codes for Guests and Service Providers
Residents and guests with a PA Passport can download the app on their phone or tablet to generate QR codes for their visitors and service providers. A QR code can be easily generated and sent to whomever you are inviting into the complex. 
The guards at the gate will scan the code, confirm the identity of the person and allow them to pass. It's not a perfect system but it does help keep track of everyone entering and exiting who does not live in Puerto Aventuras.
Safety Inside the Puerto Aventuras Resort Community
Within the gated community itself, there are a number of guards circulating on motorcycles, patrolling the residential and commercial areas. The resort guards are on duty 24-7 and are easily identified by their bright red vests.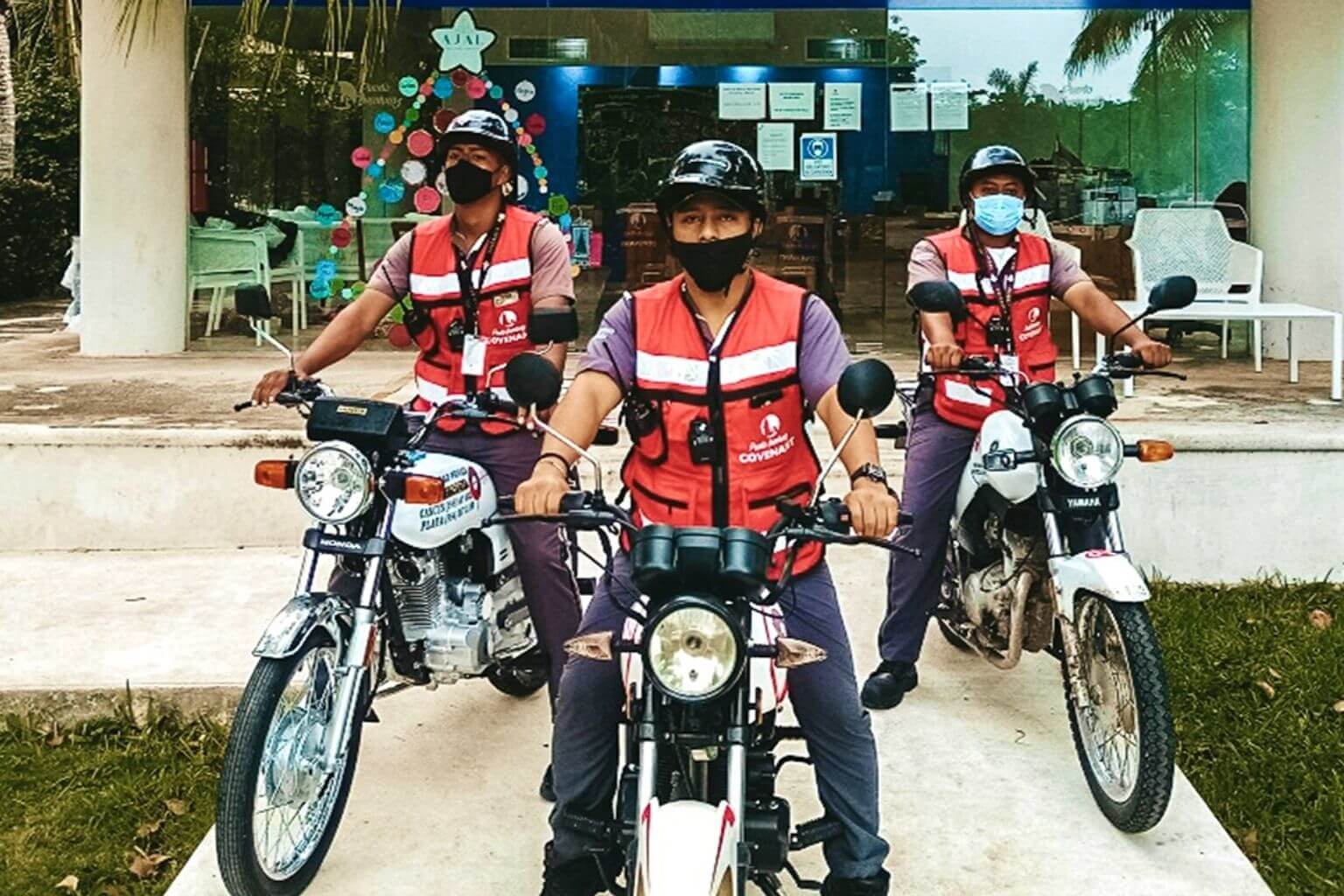 These guards are also charged with issuing parking citations, maintaining the speed limit and issuing tickets or warnings for traffic infractions. In areas of road construction, they may be called upon to direct traffic. 
These guards also respond to calls for help from any resident or guest inside the gated community and help make Puerto Aventuras Mexico a very safe place to live and visit.
In the event that you need help or want to report a crime, the Emergency Numbers for the Puerto Aventuras complex can be found here.
What can you do to live safely in Puerto Aventuras?
Inside PA, theft does occur but it is rare and these are mostly crimes of opportunity. Whether you are a resident or a guest, there are a number of things you can do to reduce your risk of becoming a victim.
Make sure your doors, windows and sliders can be locked and secured. 
Burglaries are not common in Puerto Aventuras but they do happen. It is important to make sure your windows and doors and closed and locked at night and whenever you leave the house. If you are in a single-family home or in a garden-level condominium, this is particularly important. 
We have found, over the years, the standard locks on most windows and sliding doors are of pretty poor quality. We advise installing security bars or just cutting a few lengths of thick wooden dowel or PVC pipe to secure all your sliding doors and windows to prevent them from being opened should the lock fail or be jimmied.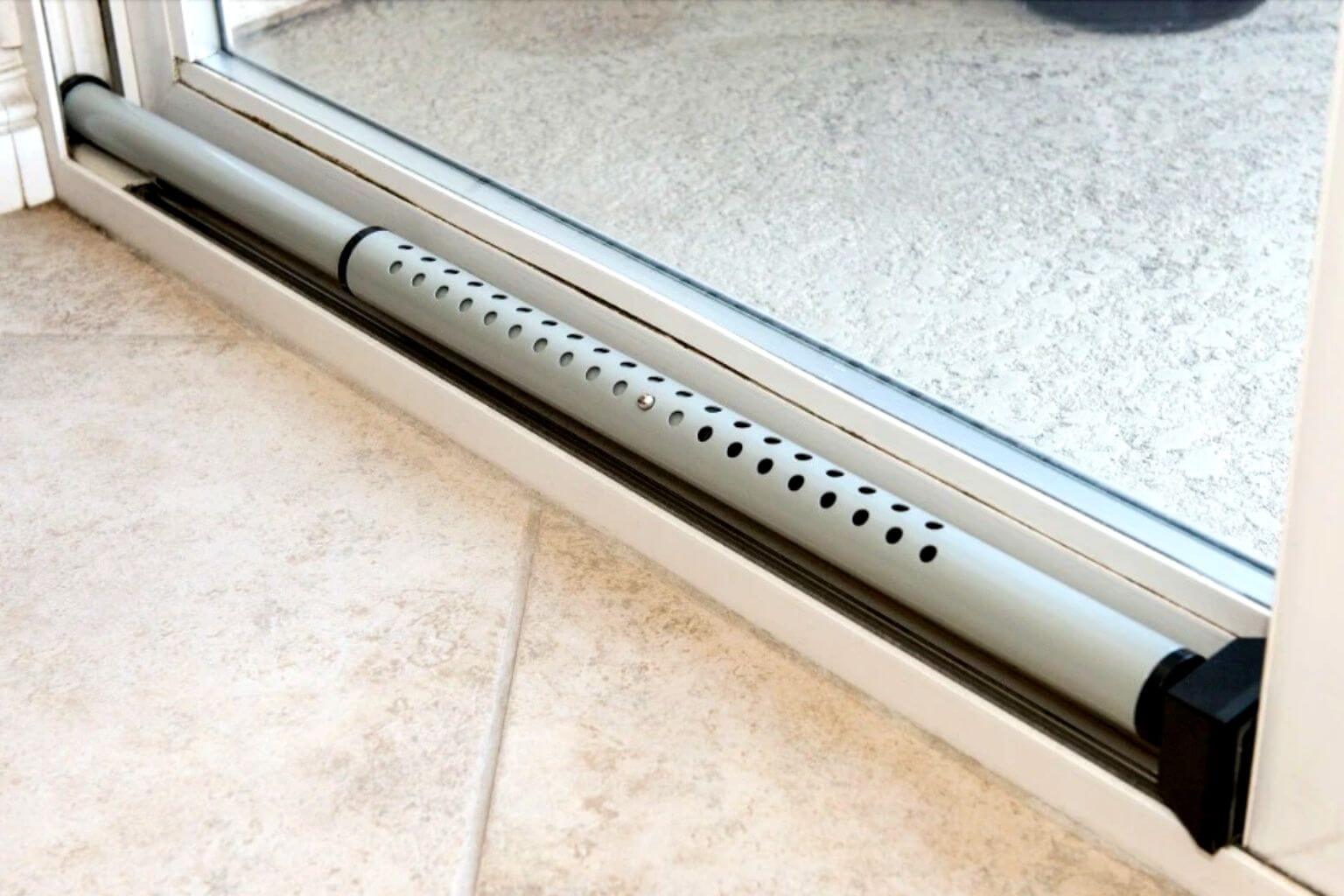 Homeowners who are not living in Puerto Aventuras full time, or those who travel frequently may wish to invest in a home security system of some sort. RING is very popular here but there are many other options to consider. Whatever system you choose make sure it has a good loud alarm to scare off any uninvited guests.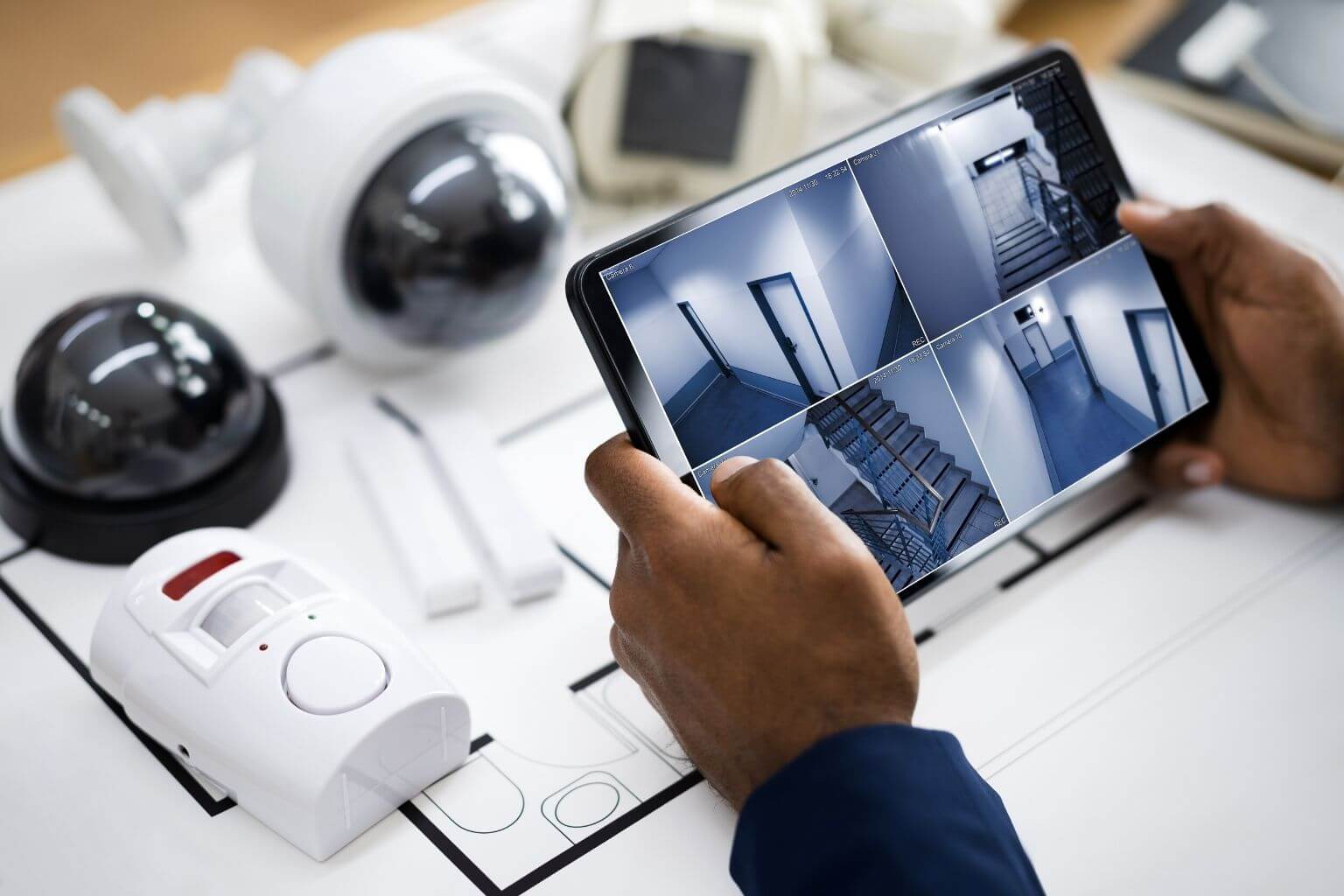 If you are going away for an extended period of time, especially during the rainy season, you may want to close and lock your hurricane shutters. They are not only important in the event of a hurricane or tropical storm but they also provide an additional level of security. 
Read our article on Hurricane Preparedness in Puerto Aventuras.

Do not leave your bicycle, scooter or skateboard unattended or unsecured. 
Unfortunately, bikes, scooters and the like are very easy to get out of Puerto Aventuras undetected. These items are easily pawned or sold and very difficult to track down.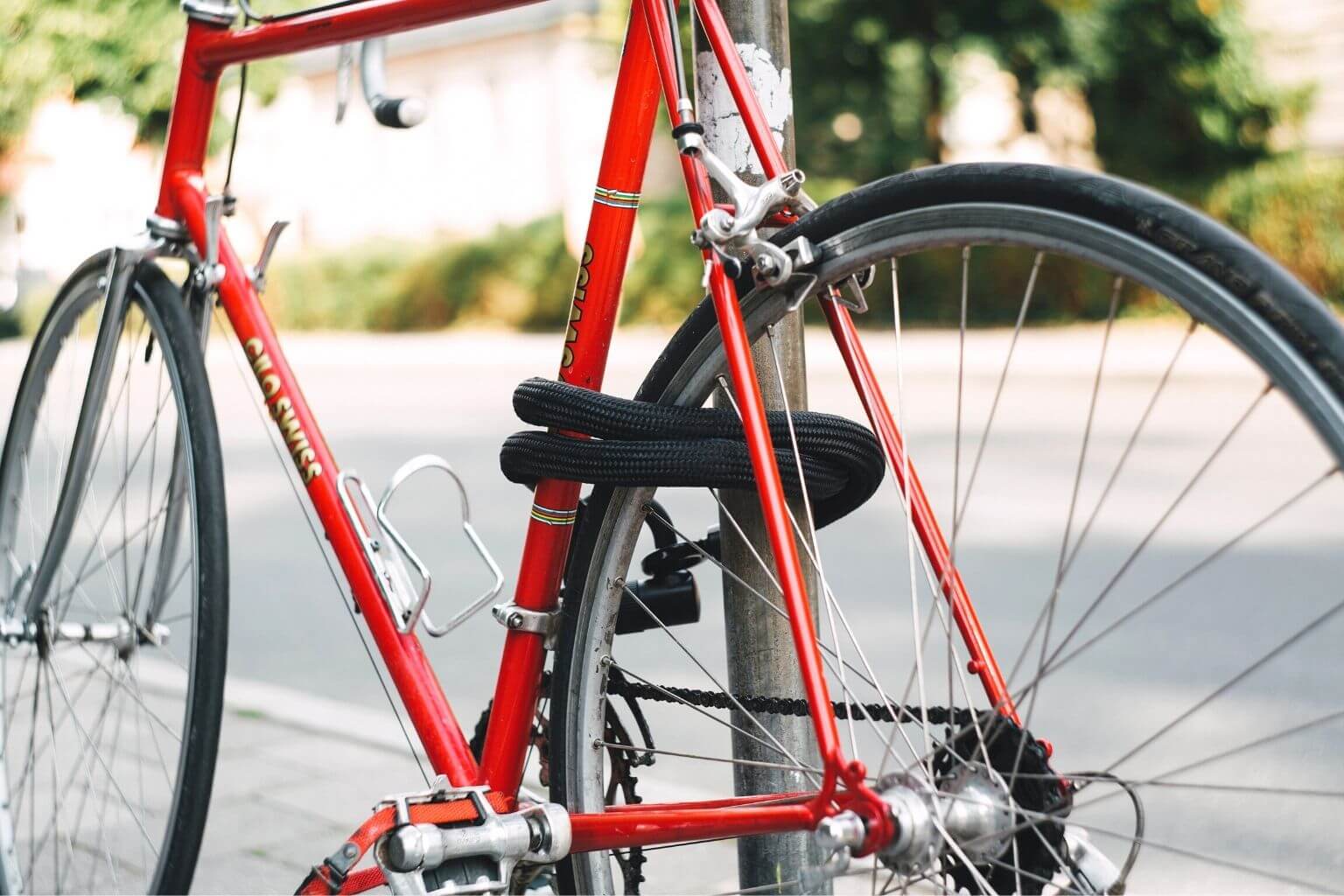 Do not leave your bike or scooter unattended even for a moment. Invest in a good quality bike lock. When you are home, bring your items inside if possible or secure them in another way.
Make sure to lock your golf cart at night. 
Golf Cart theft is not at all common inside Puerto Aventuras. The community is small and golf carts are not easy to slip past the guards at the gate. Golf cart "borrowing" for a joyride is quite common and something you can easily avoid.
Get a good quality bike lock or chain for your cart and make sure it is secured, especially at night.
Keep your golf cart battery locked securely to your golf cart with a strong lock and chain. 
Golf Cart batteries are difficult to find and expensive to replace. This makes them very desirable and they are often stolen off the back of carts. If you are going to keep your battery on your cart, make sure it is secured well. Better yet, keep it inside your home, condo or garage and only bring it out when needed.
Be careful with your valuables at the beach.
The beaches in Puerto Aventuras are some of the quietest and most tranquil in all of the Riviera Maya. Because Puerto Aventuras is a gated community, there are never hoards of people flooding in to use the beaches. Most of the people you will see on the beach actually live in the village or are staying in the hotels, resorts and vacation rental homes inside the gates.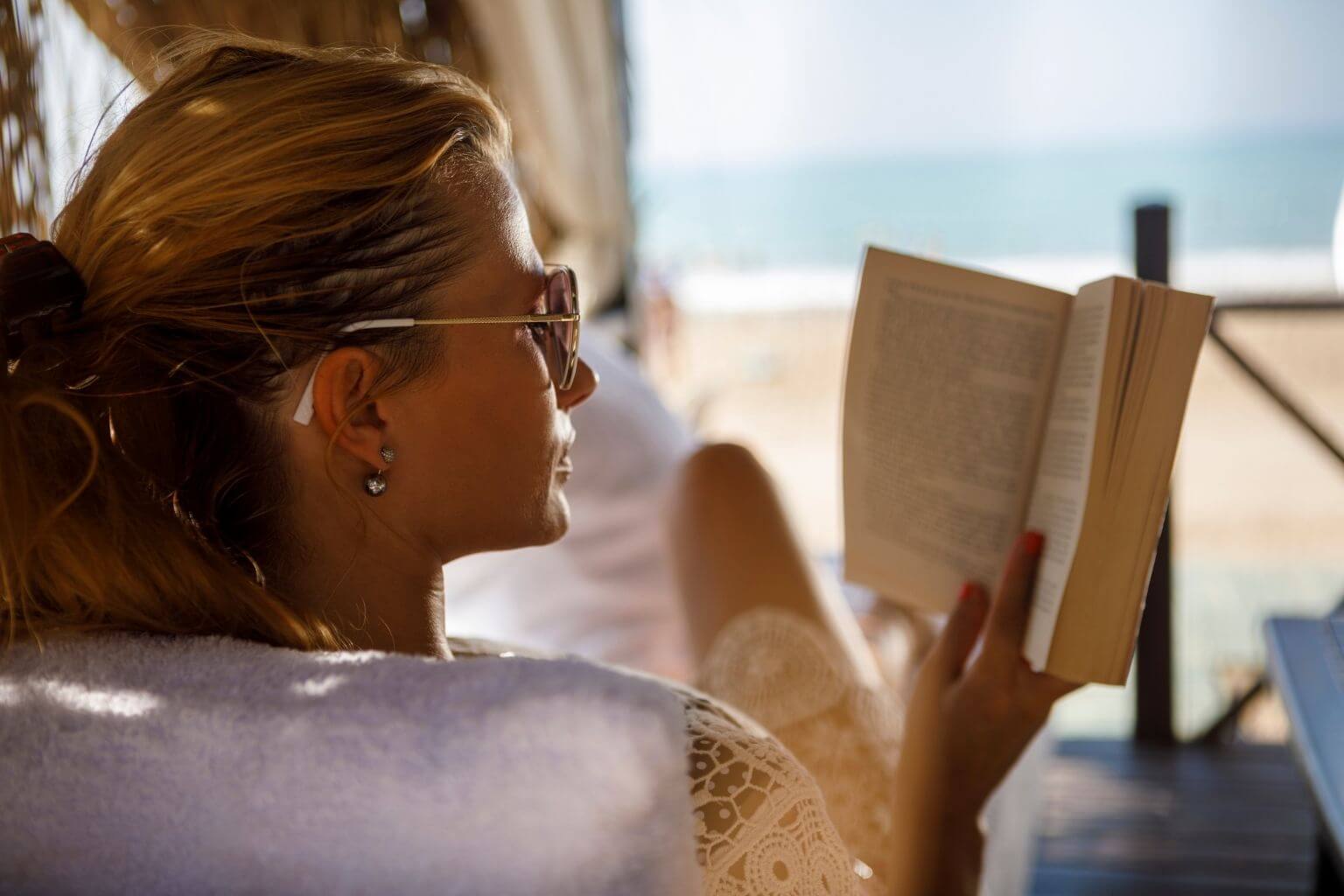 That being said, there have been incidents of people's belongings being snatched on the beach. Be safe and bring only what you need. Your towel, beach chair and a good book are all you really need!
If you want to bring your phone or your Kindle, make sure you keep them in sight at all times. If you want to go in for a swim, ask a friend to watch your things. Most of the people enjoying the beach with you will be happy to oblige.
Be careful with your purse and other personal belongings in restaurants and shops. 
This is a tourist area and while it is not common in Puerto Aventuras, there are pickpockets working the streets. In a restaurant, keep your purse on your lap or ask for a purse stand. Do not hang your purse on the back of your chair or place it on the ground. Ever.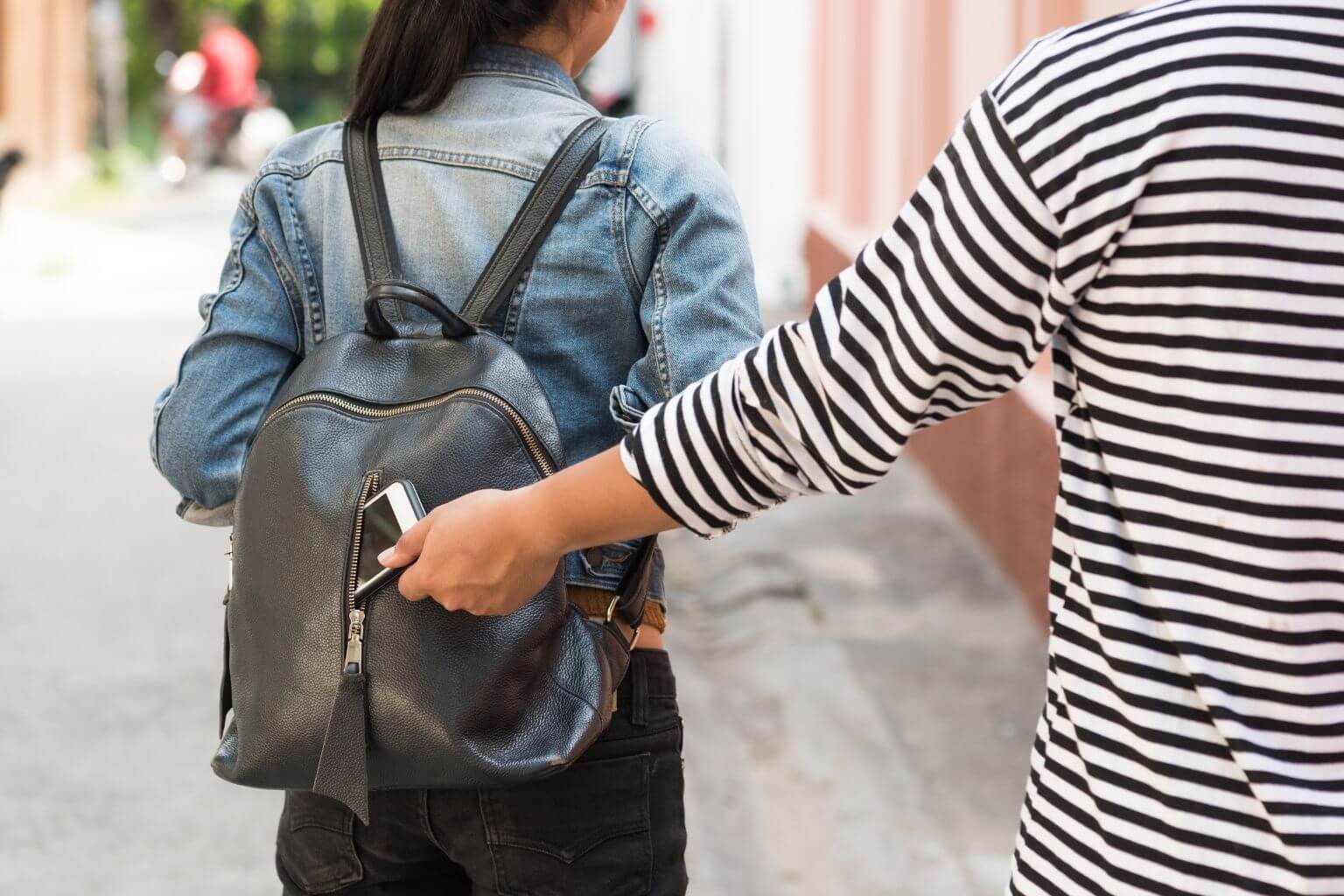 If you are walking through crowds on the marina or in the shops, be sure your bag is slung so it hangs in front of you and keep your hand on it at all times.

Keep your wits about you while driving. 
The speed limit inside Puerto Aventuras is 30 kilometers per hour. In most neighborhoods, this speed is appropriate but around the marina and other commercial areas, where there are a lot of cars, golf carts and pedestrians, err on the side of caution and go slower.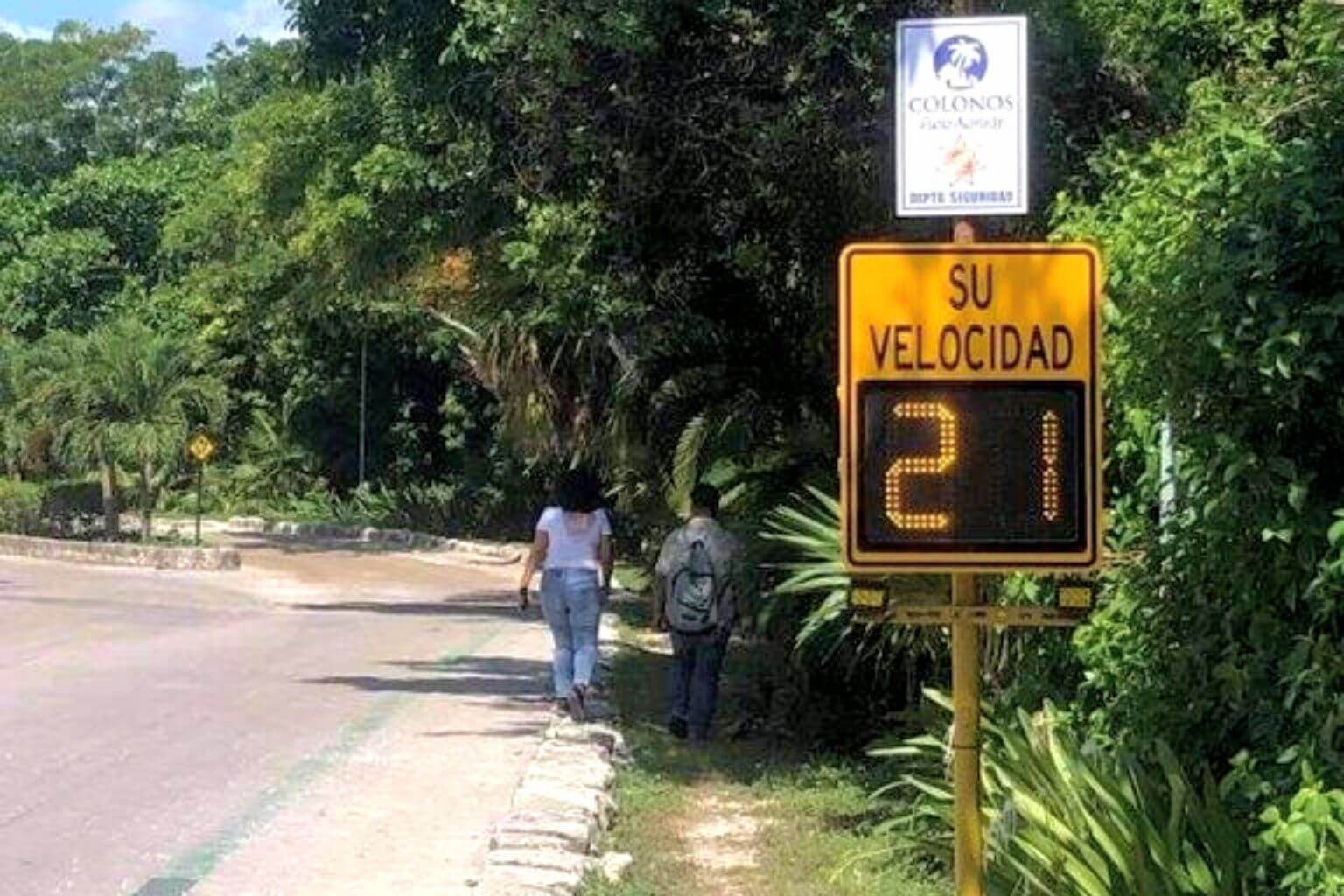 There are people on bikes, children playing, errant dogs and all kinds of things to keep an eye on while you are driving in PA. There are a lot of distractions. Take it easy and don't assume all of the drivers around you are going to do the same.
Be careful with your alcohol consumption. 
I know it's a community built on tourism and it's always "5 o'clock somewhere" but drinking too much or "being overserved" is the cause of most accidents in Puerto Aventuras. It should go without saying that you should not drink and drive.
But this also holds true for golf carts. If you have had one too many, lock your car or your golf cart and find a safe ride home. At night, the uneven streets and sidewalks can be really treacherous so if you are going to walk, find a buddy to walk with you and get you safely home.
Have an emergency plan. 
While it is extremely unlikely that any harm will come to you while you are in Puerto Aventuras, having an emergency plan is always a good idea. Keep a list of up-to-date phone numbers for the internal and front gate security officers. 
911 works in Mexico and this should be the first call you make in the event of a serious crime, fire, accident or medical emergency. Operators will be able to connect you to an English-speaking dispatcher but you may want to have a short dialogue ready, in Spanish for the first responder. You should know how to give your name, address, the cross streets and notable landmarks so that the authorities can arrive quickly. You may want to keep the contact details for your attorney, insurance agent and consular official handy as well.
Preventing Petty Crime and Theft Outside of Puerto Aventuras
Popular vacation destinations and resort communities are always a magnet for petty thieves and opportunistic criminals. The Puerto Aventuras resort community is no different although many of the reports of crime perpetrated on guests and residents of PA happen OUTSIDE the gated community in public spaces, notably in mall parking lots, gas stations, inside grocery stores and at ATMs. Long-time residents and frequent visitors to the Riviera Maya are already all too aware of the shenanigans to look out for but here is a quick rundown for the newcomers.
Only use ATMs that are bank-affiliated and in a secure location. 
It is unlikely (although not impossible) that a bank-affiliated ATM will have a "skimmer" or card reader attached to it. As such, these are the ATMs to look for. They can generally be found inside a bank atrium, just outside or in a major supermarket.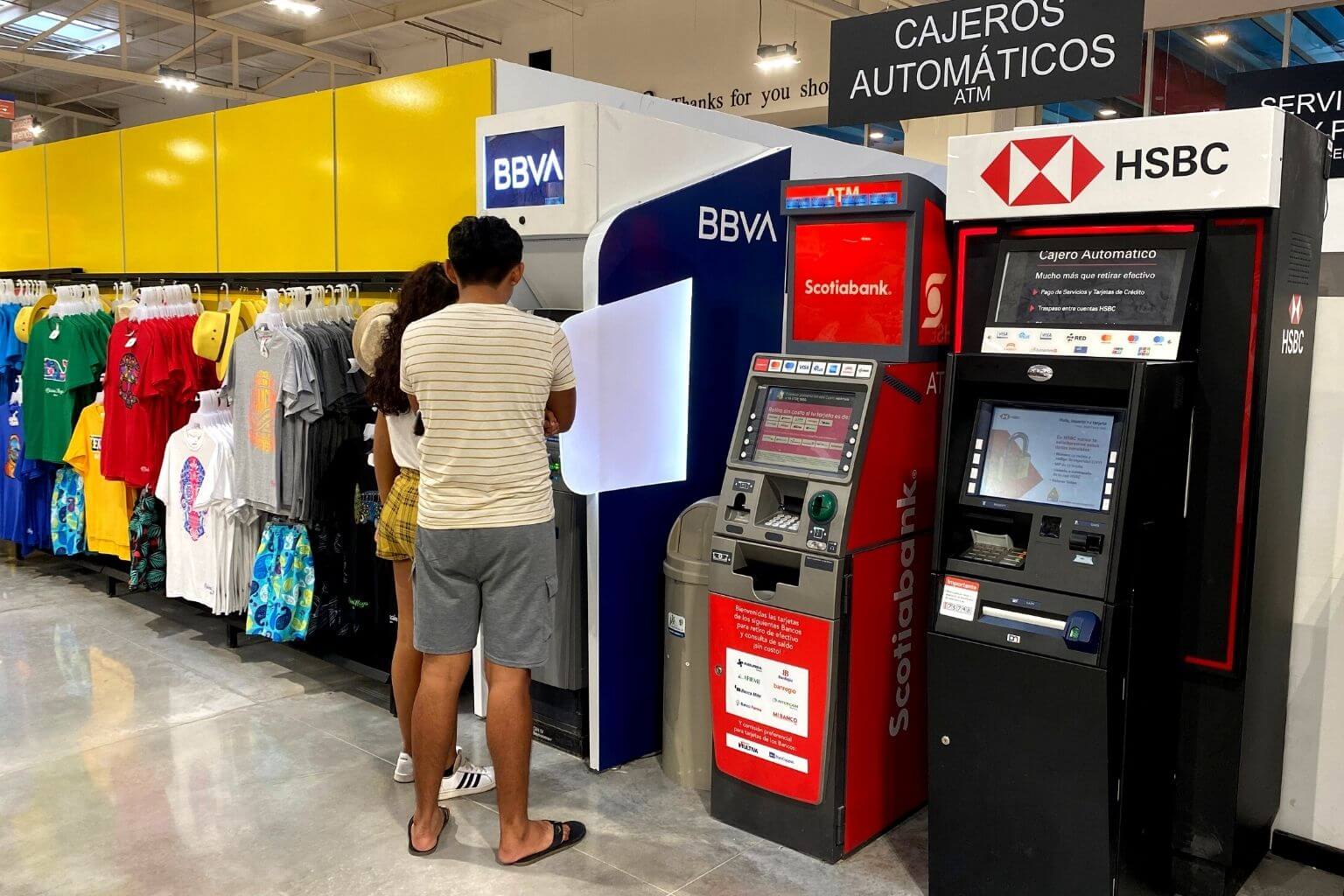 Inside Puerto Aventuras, there are safe ATMs inside Dolphin Discovery. Across the highway in the MultiPlaza, CIBanco has a safe machine with very good rates. There are also three bank-affiliated ATMs inside Chedraui, HSBC, Scotiabank and BBVA. 
The free-standing machines on the streets that dispense pesos and USD are to be avoided at all costs. The fees alone are criminal.
Keep your transactions at ATMs discrete and do not give your PIN number to an unknown person. 
Not all ATMs have an option for English and at times the instructions may be confusing. The kind stranger offering you help may be a good Samaritan or he may be an opportunistic thief. Best to err on the side of caution and find another machine.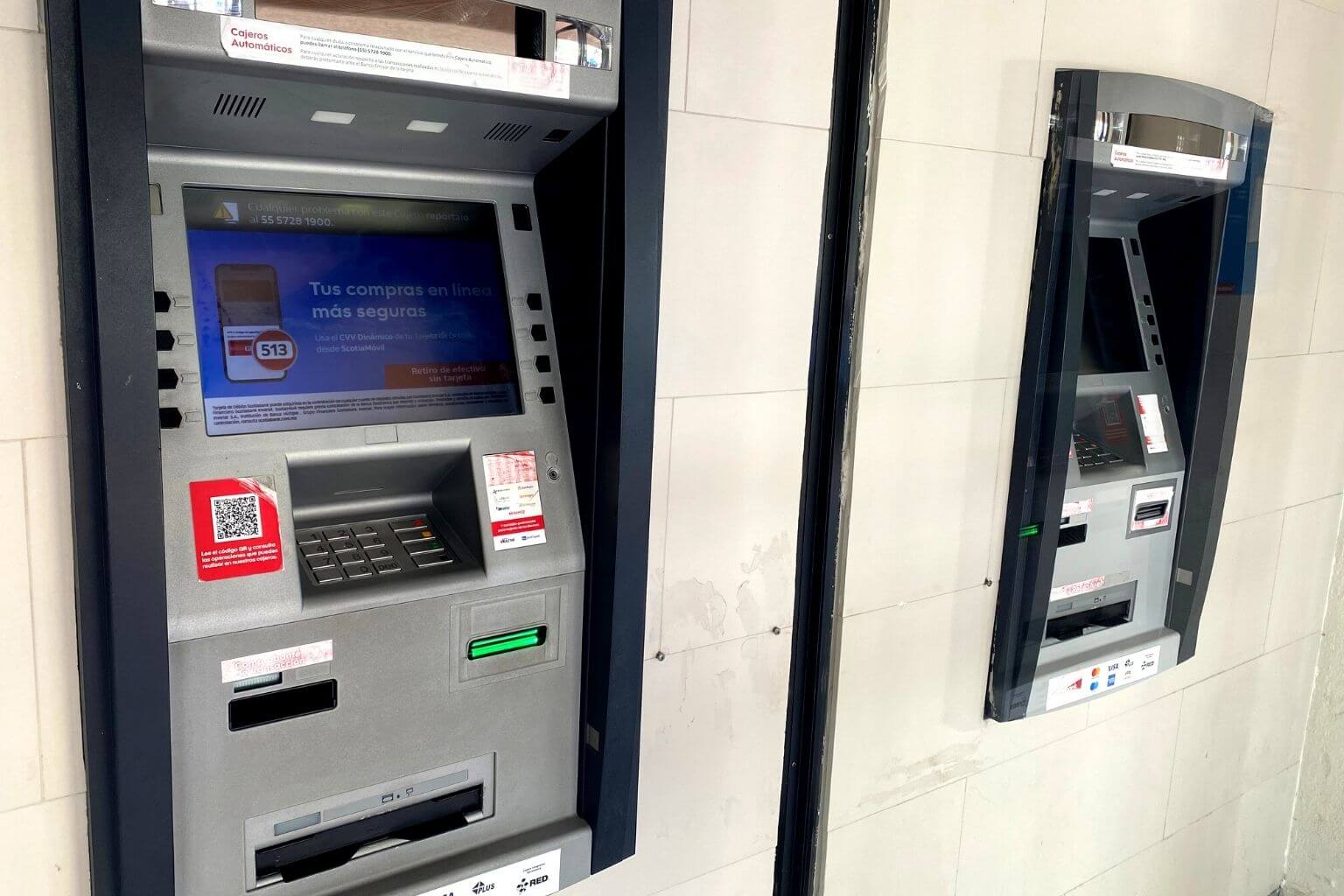 Most banks will have a security officer or other bank personnel on duty in the atrium. They are there to assist with the transactions as needed. If you need to make a large withdrawal, either from the ATM or a bank teller, you can ask to be safely escorted to your car. Again, better safe than sorry.
Always be aware of your surroundings in supermarket and mall parking lots. 
These areas are a popular spot for pickpockets and muggers. Keep your eyes open for any unknown individual who approaches you, especially if there is more than one person. Thieves very often work in pairs and come asking for help or directions or offering you help to clean off bird poop, blood etc from your clothes. [Also see: The Mustard Bandits] Do not be afraid to yell and scream and make a fuss. In most circumstances, this alone will scare them off quickly.
Do not put your purse or other personal belongings in the car while you are loading.
Thieves who prowl the parking lots are watching for this and will snatch it while you are distracted loading your grocery items into the trunk, hatch or back seat. They are craftier than you can imagine and you may not even notice your belongings are missing until after you have driven away. Always keep your purse on your person until you are safely back in your car.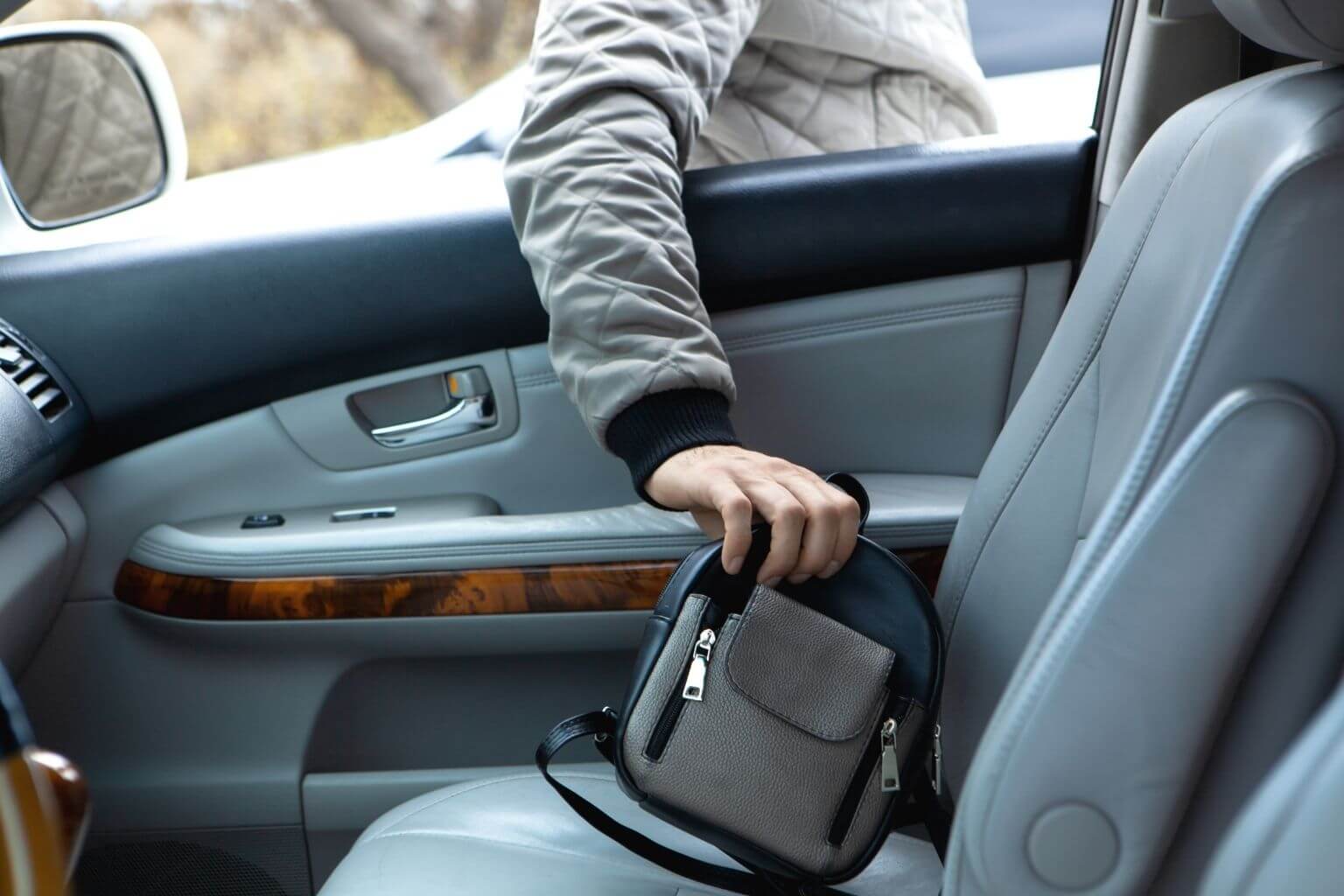 Beware The Mustard Bandits! 
It can be mustard, ketchup or anything easily squirted but the con is always the same. Working in pairs, Bandit #1 slips close by undetected and carefully squirts something on the back of your shirt. Bandit #2 approaches and shows you the mess, offering to help clean it up. At this point Bandit #2 will either start to wipe it off with a rag while Bandit #1 who has been watching, sidles in and steals your wallet, purse or other personal belongings while you are confused and distracted.
In some cases, they will try to lead you to the restroom to clean up and there they will finish what they came for. Again, keep your wits about you and do not be afraid to make a big scene in the store if anything like this occurs to you or anyone close by. Keep in mind, these Bandits are generally well-dressed and well-spoken and not people who you would ever suspect.
Keep one eye on your money and one eye on the pump at the gas station. 
There are any number of scams that you might fall prey to the gas stations in Mexico. I know this because it has happened to me and almost everyone I know. Rather than go through every scenario, I'll iterate how to safely get gas at any gas station. *Results may vary*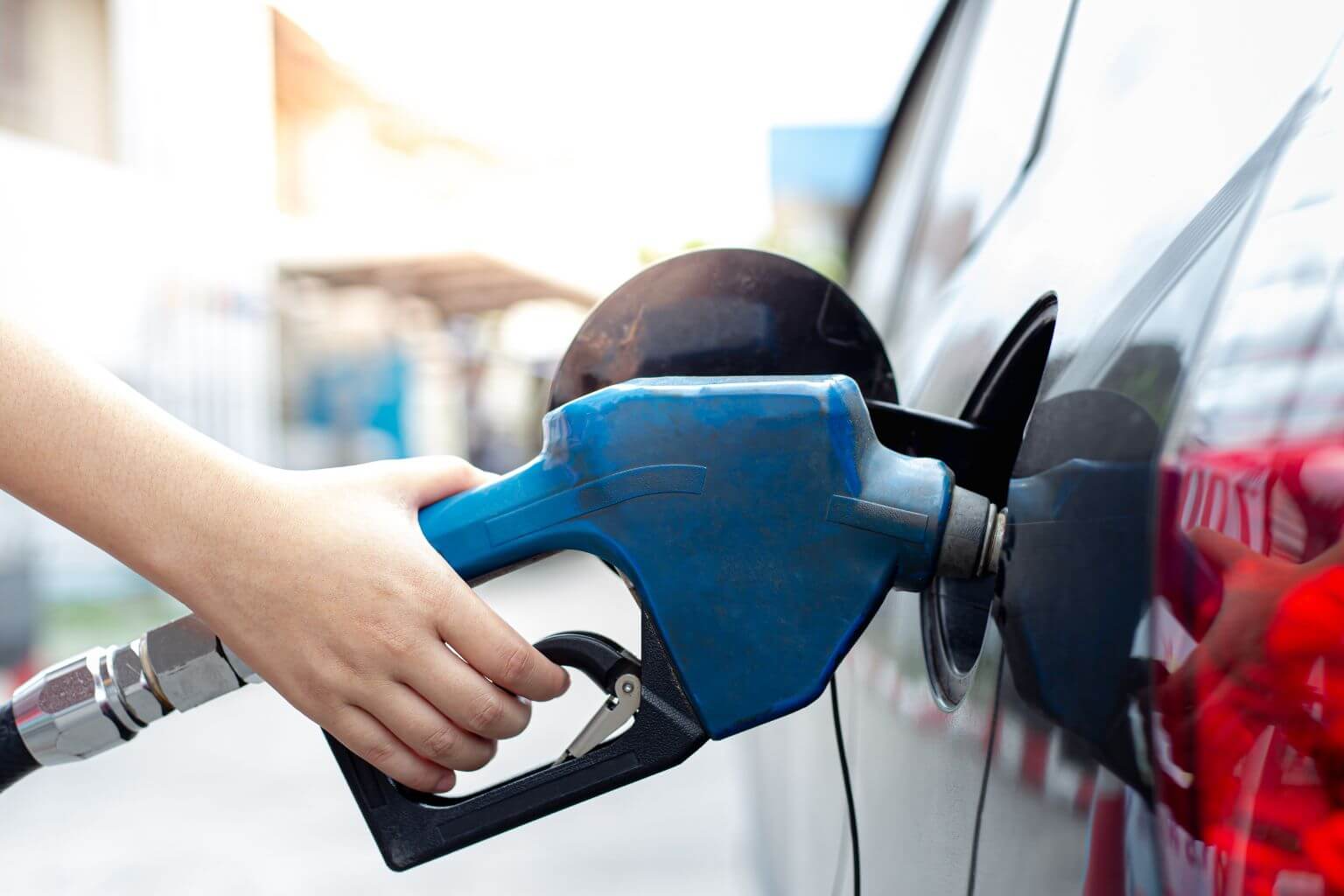 Approach the pump, release your gas tank cover and step out of the vehicle. 
Move to a place where you can see the meter easily. 
Ask politely for an exact amount of gas in pesos and make sure you have that exact amount ready. 
The attendant will zero out the meter and ask you to verify it. Make sure it reads 0000 and give acknowledgment. 
Watch the meter at all times during the filling process. Do not engage in any conversation with any other attendants no matter how friendly they are. Do not take your eyes off the meter until the meter stops at the requested amount and the attendant removes the nozzle from the tank. 
Count out the peso bills one by one to the attendant. Acknowledgment should be immediate. 
Say "Gracias", tip for good service and be on your way.
If something goes wrong and you feel like you are being scammed. Ask for the manager and hold your ground calmly and politely until the issue is addressed appropriately.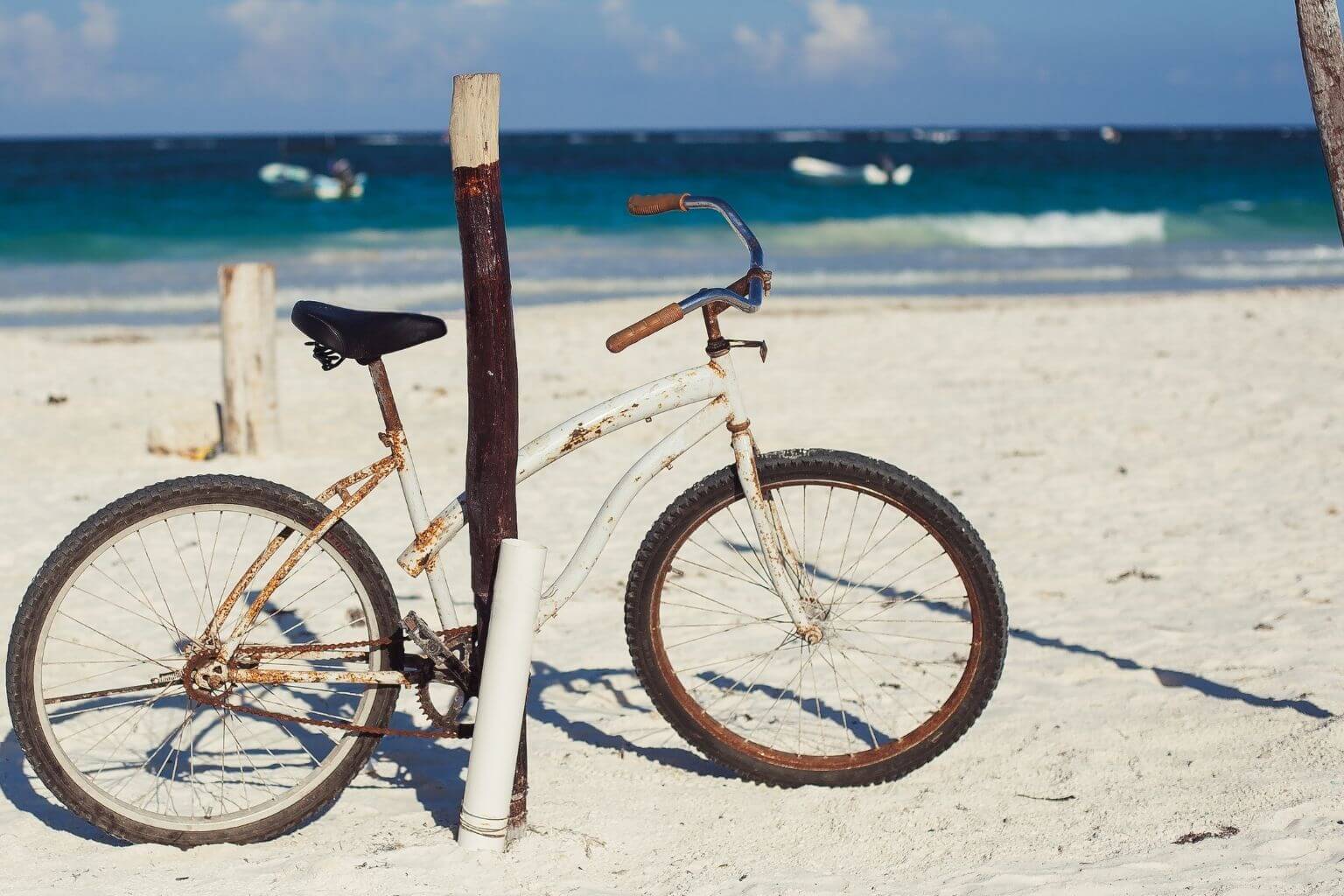 Is Puerto Aventuras Safe
Whether you are living here full-time or just visiting, I think you will find that Puerto Aventuras is one of the safest places to live and vacation in Mexico, if not all the world.
In general, daily life here and in most parts of the Riviera Maya is peaceful and incident free. The majority of the people here are good and decent. Just like anywhere else in the world, if you are aware of your surroundings and stay alert, you can avoid almost any problem before it arises. 
While you are here, use good judgment, don't overindulge and have a good emergency plan in place in the remote chance that you need it.