The New Smoking Laws in Mexico – Everything You Need To Know
The smoking laws in Mexico are changing and, as you can imagine, there has been an uproar from smokers and non-smokers alike. It's been just a few months since the new restrictions on public smoking were rolled out and already, we are seeing the clash between smokers and non-smokers in our local restaurants and beach club. 
If you have been following the conversations in the Puerto Aventuras Living group on Facebook, you will have seen it played out there as well with strong feelings and strong words on both sides.
Read Our Top 10 Reasons for Living in Puerto Aventuras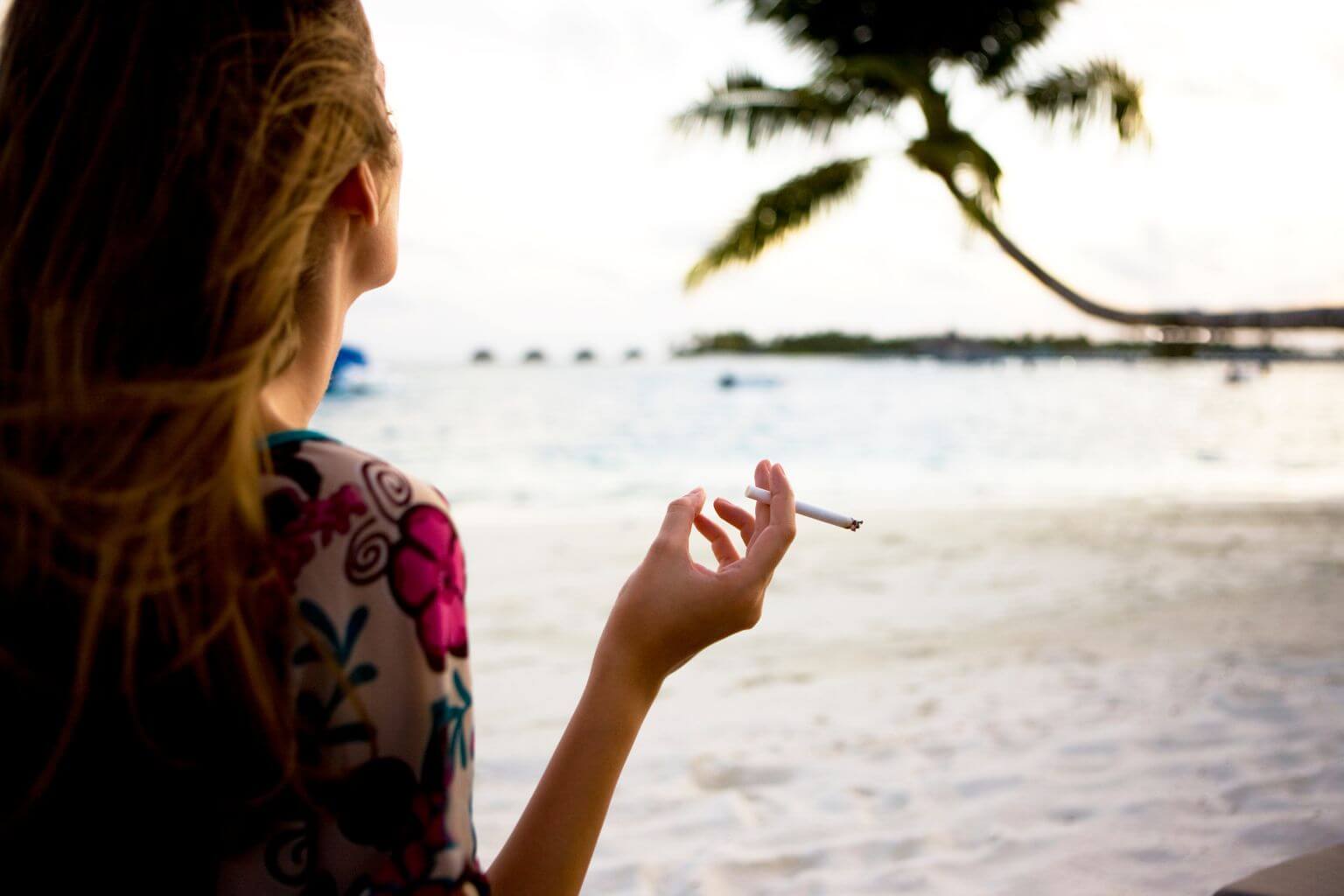 What has always been a contentious issue….smokers wanting to be able to indulge freely and others demanding a space free of second-hand smoke….has only gotten more heated with the passing of this new law which went into effect at the beginning of 2023.
Touted as one of the world's strictest no-smoking regulations, the new law completely bans smoking in all outdoor public places including streets and sidewalks, beaches, parks and plazas. Those coming to the Riviera Maya who like to enjoy a smoke with their margarita while lounging on the beach may be disappointed.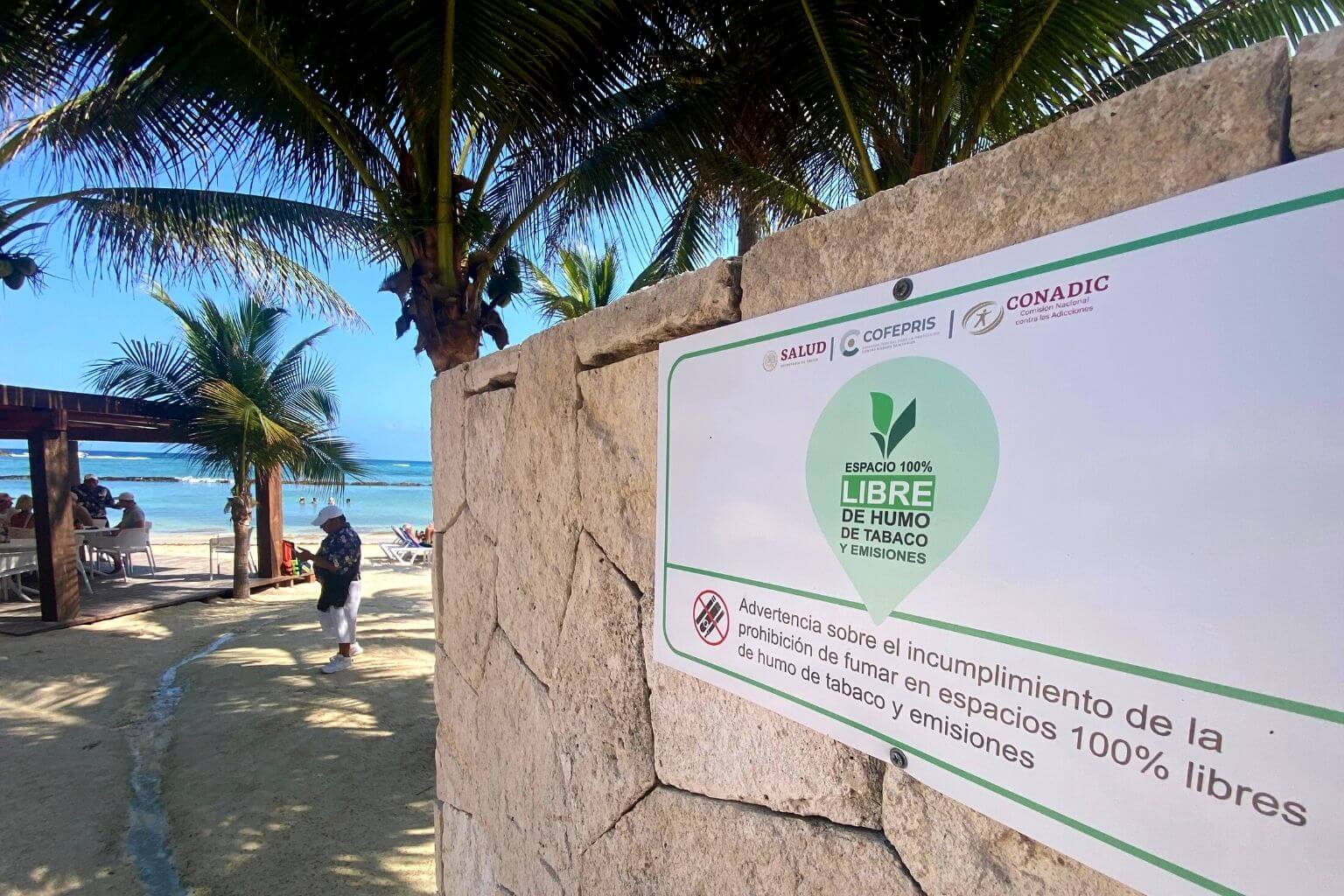 Where is smoking no longer permitted?
An existing law in Mexico, in effect since 2008, called for smoke-free spaces inside bars, restaurants and workplaces among other indoor spaces. The new law is much more specific, detailing the spaces where smoking is prohibited. 
The reach of the restriction has now been extended to ban use of tobacco products in all public spaces including parks, beaches, hotels, offices and public transportation. 
The new smoking laws in Mexico forbid smoking in:
Event rooms, conference centers and rental halls
Patios, terraces and balconies with public access
Amusement parks, playgrounds or areas that attract children
Beaches, parks and plazas
Entertainment centers and concert venues
Stadiums, courts and other sporting arenas
Shops, grocery stores and markets
Rooms in hotels, inns, hostels and rented accommodations
Hospitals, health centers and medical clinics
Churches and all places of religious worship
Bars, restaurants and anywhere food and beverage are served
Airports, train stations, bus depots and all transport stops
Streets, sidewalks and parking lots
Public transportation including taxis, busses and trains
Schools and daycare centers
Workplaces of any kind
Government offices
Public areas of prisons and detention centers
The ban also extends to electronic cigarettes and other vaping devices, which are also not allowed in public spaces.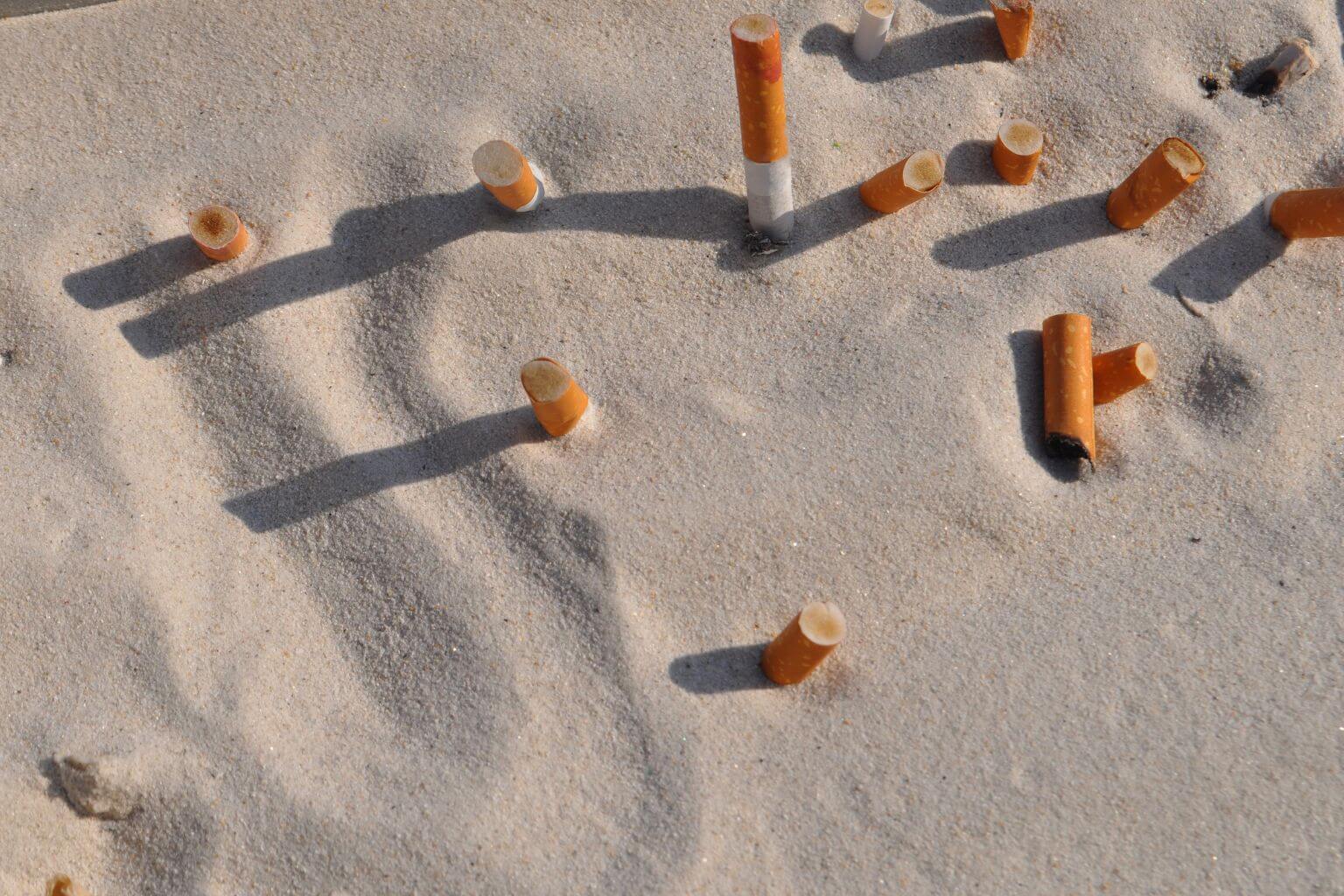 Reactions to the new smoking laws in Mexico
The new restrictions, which are some of the most strict anti-smoking regulations in the world, have received mixed reactions from both Mexican nationals and tourists. Some have welcomed the ban, citing the public health benefits and the reduction in air pollution caused by cigarette smoke. 
Others have criticized the ban for being draconian and infringing on personal liberties. The new smoking laws in Mexico effectively restrict people to smoking only in their homes or other private residences. Designated smoking areas indoors are no longer permitted. Hotels are no longer permitted to offer "smoking rooms".
Many have raised questions about the practicalities of enforcing the law. With police corruption a very real issue in Mexico, many fear that rather than issuing real fines for smoking in public, the police will use these new regulations as another means to extort "mordidas". 
Tourism industry experts have expressed concern that travelers will take their tourism dollars elsewhere favoring destinations where they can smoke freely. There has certainly been enough chatter in social media to suggest that they may be right. 
Fan pages on Facebook for resorts like Dreams Puerto Aventuras, Hard Rock Riviera Maya and Barcelo are full of threads about the new restrictions, enforcement and information about where the designated smoking areas are if any.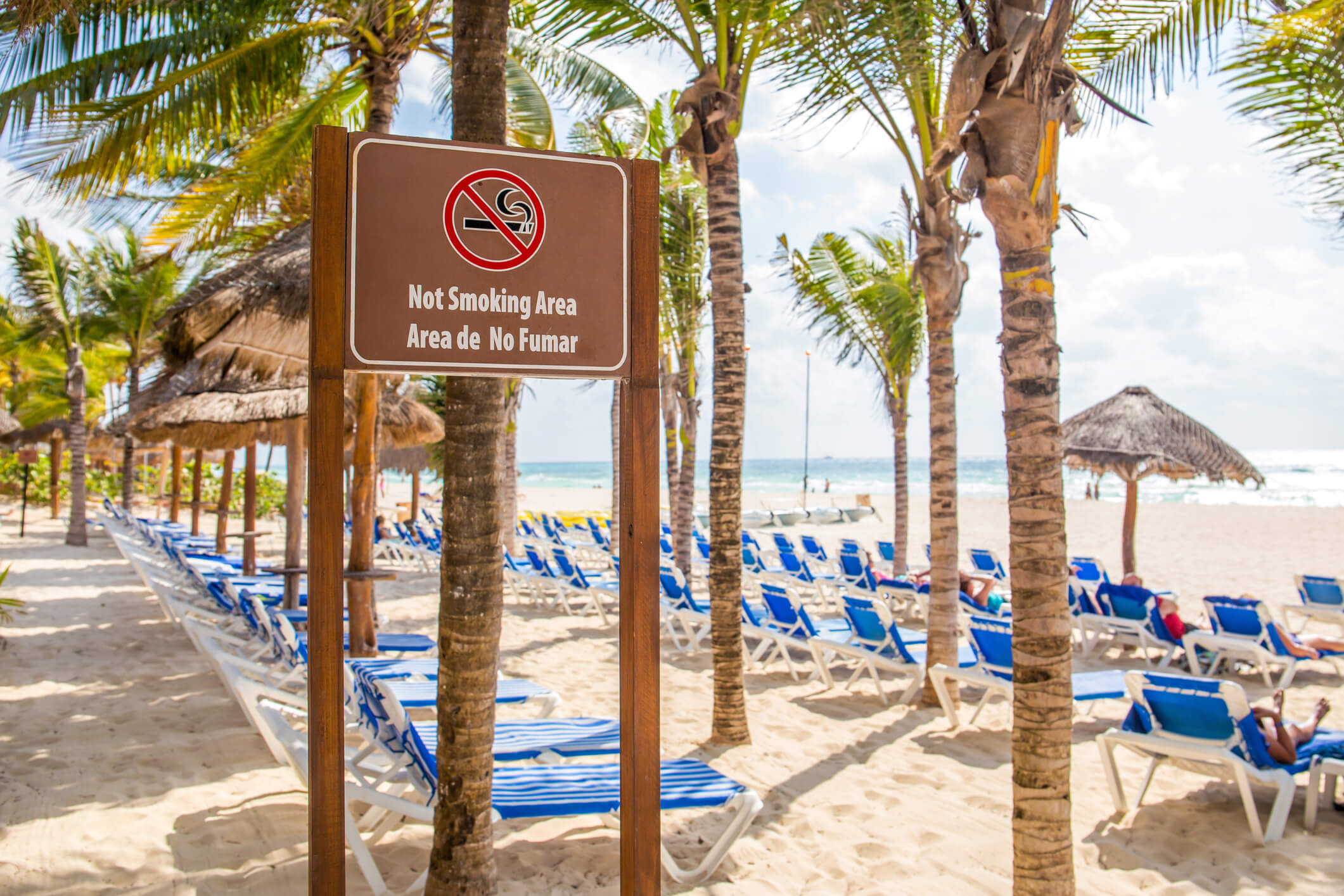 Compliance in Puerto Aventuras
You may have noticed some changes in local retail establishments as the new law also states that, displaying and advertising cigarettes is also banned in Mexico, including in convenience stores such as Oxxo. You may have noticed that the cigarette boxes at the checkout lanes in Chedraui have all been painted black, effectively hiding their contents from public view.
The Mexican government is already taking steps to enforce the new laws, including fines and penalties for those caught smoking in public spaces. At the moment, warnings are being given in an effort to educate the public about the new smoking laws and give the public time to adjust their habits.
In Puerto Aventuras, some (but not all) of the restaurants are asking guests who smoke to leave the dining area to indulge. No-smoking signs have been installed at the Puerto Aventuras Beach Club, both on the beach in around the pool.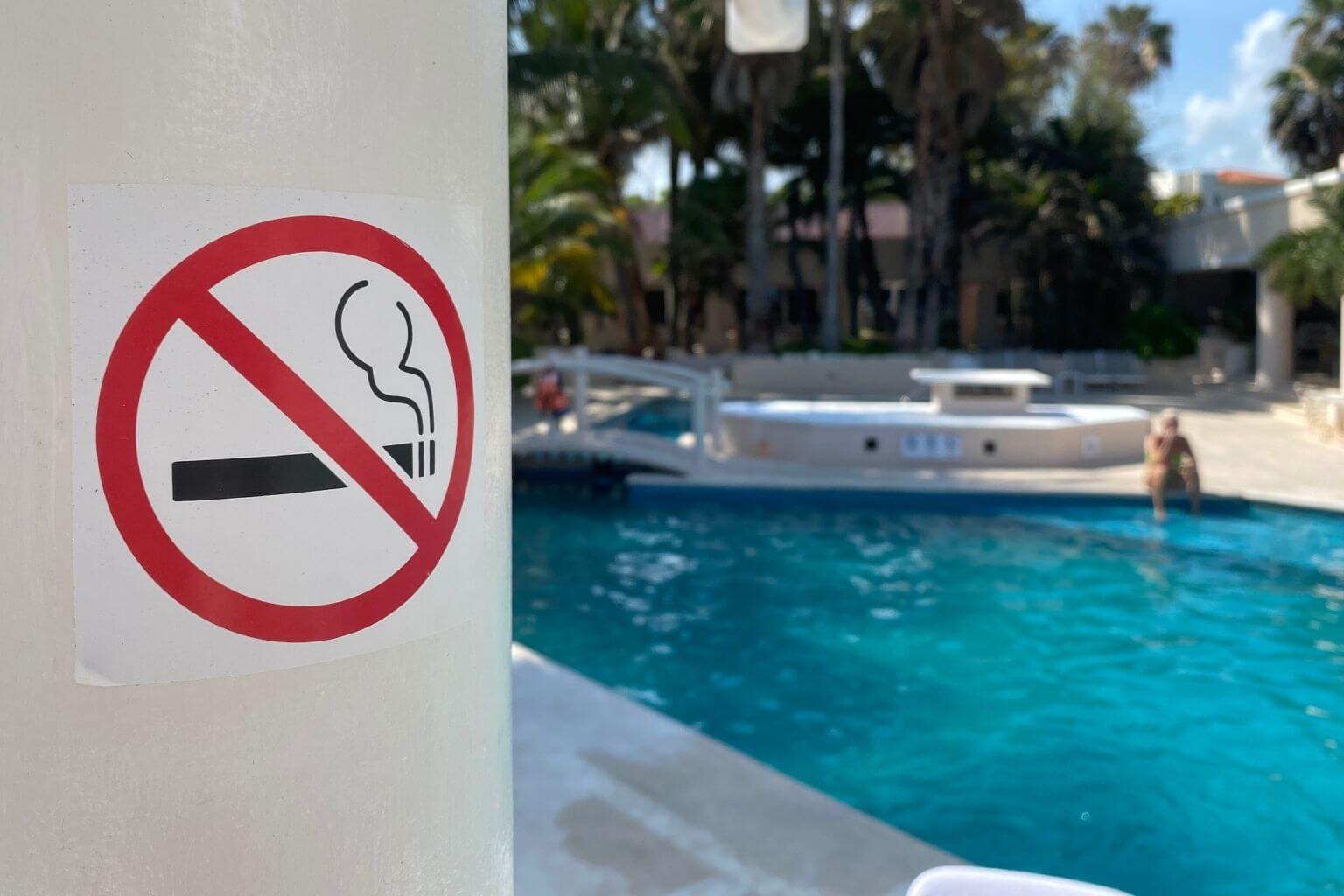 Due to the nature of our gated community, police and other officials only come when called. To date, we have not heard of any enforcement of the new rules inside Puerto Aventuras. Only time will tell if government officials will find this new law interesting (or profitable) enough to come in and actually confirm compliance.
Ultimately, violators may face fines of up to 1000 pesos for a first-time offense and up to 5000 pesos for repeat offenses. How this will be tracked is anyone's guess. Business owners who fail to enforce the ban may face suspension and fines of up to 200,000 pesos. 
Businesses already struggling to keep up with governmental requirements that seem to change daily can add this to the neverending list of fines to prepare for when inspectors come around, waving their clipboards.
You may also want to read Is Puerto Aventuras Safe – All the Facts
Smoking Areas in Puerto Aventuras
Many if not all of the resorts in Puerto Aventuras and all over the Riviera Maya have already responded to the new smoking laws in Mexico by setting up special areas to accommodate their guests who smoke. Dreams Puerto Aventuras Resort & Spa actually has 4 designated smoking areas set up around the property.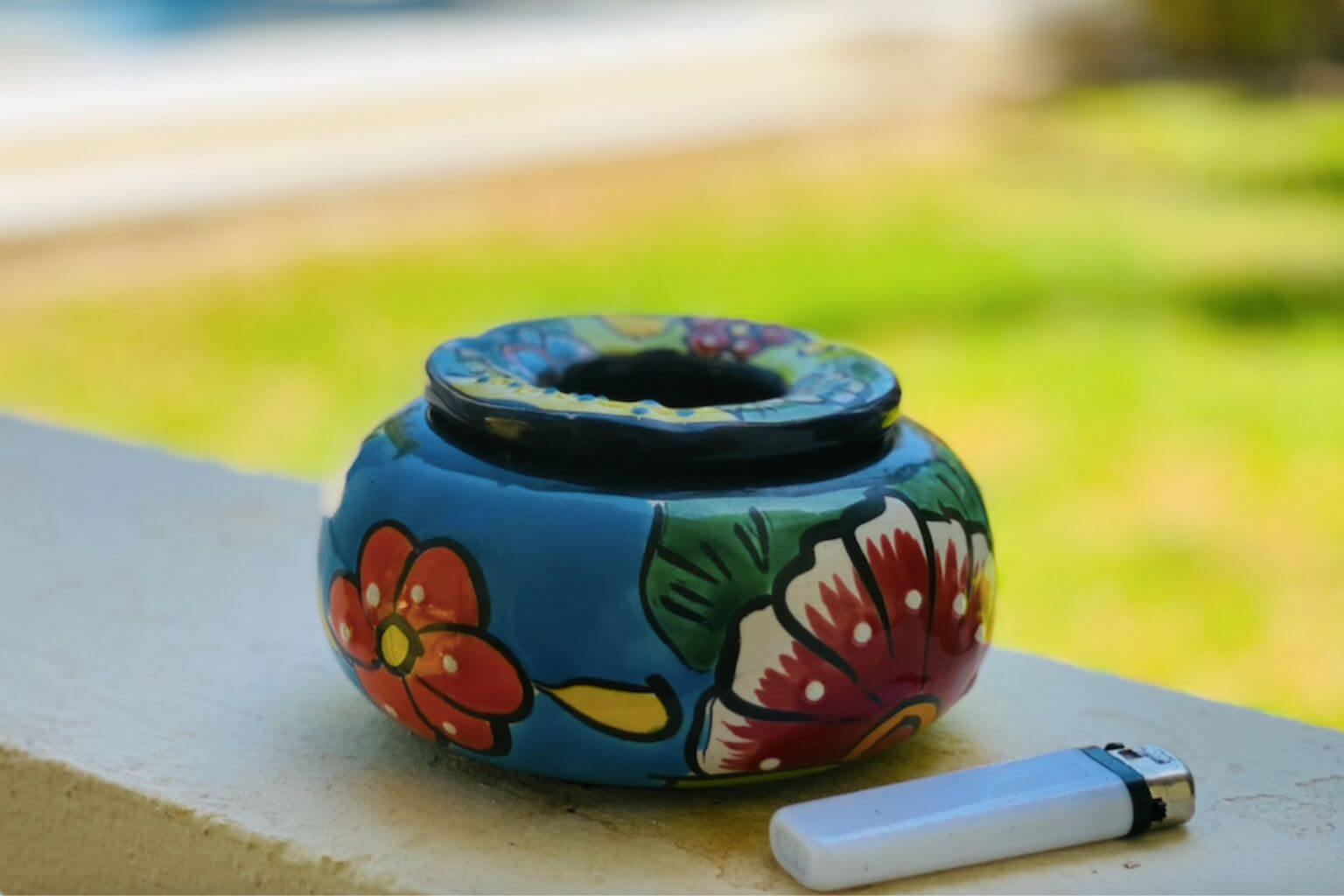 According to the new smoking laws in Mexico, designated smoking areas MAY be established, but they must adhere to these rules:
Smoking areas must be outside
Smoking areas must be physically separated and isolated from areas that are 100% smoke-free
The designated area must not be in a location necessary for the general public to pass through
It must be located at least 10 meters away from entrances, exits, and air intake ducts of buildings
Smoking areas must not occupy more than 10% of the total surface area of the establishment.
Smoking areas must have signage posted that prohibits entry to minors and graphic health warnings about the effects and harms of exposure to tobacco smoke.
Given the parameters to set up a smoking area that is compliant, most Puerto Aventuras businesses will struggle to find a suitable spot, particularly around the central marina where shops and restaurants are right on top of one another.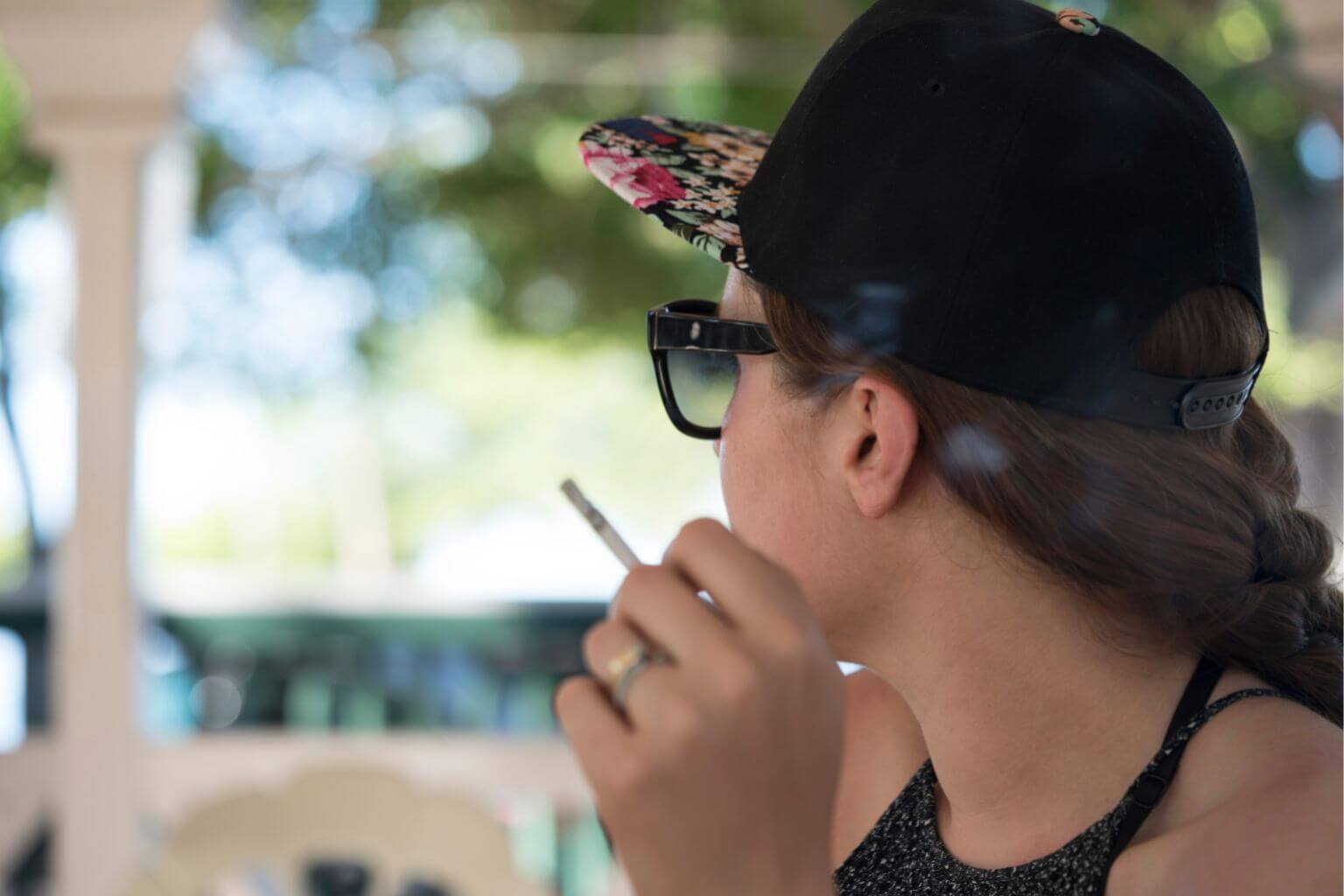 It's anyone's guess how Mexico's smoking laws will be enforced, especially in tourist areas like the Riviera Maya. Ultimately, it may be up to all of us to act responsibly and respectfully, especially in our local restaurants and beach clubs. 
Up until now, as all of the restaurants in Puerto Aventuras have outdoor or at least open-air dining spaces, up until now, smoking in restaurants and bars has always fallen in a gray area. With the new law now in effect and no realistic way for each establishment to designate a compliant smoking area for guests, some compromise must be reached.
The hope is that those who wish to smoke will excuse themselves to a remote area, away from diners to help restaurant owners, managers and servers who ultimately will bear the uncomfortable weight of daily enforcement. 
I think we can all agree that what we do NOT want is a rash of people reporting smokers to the police and calling in officials to fine businesses already stressed by increasing restrictions on music and other live entertainment.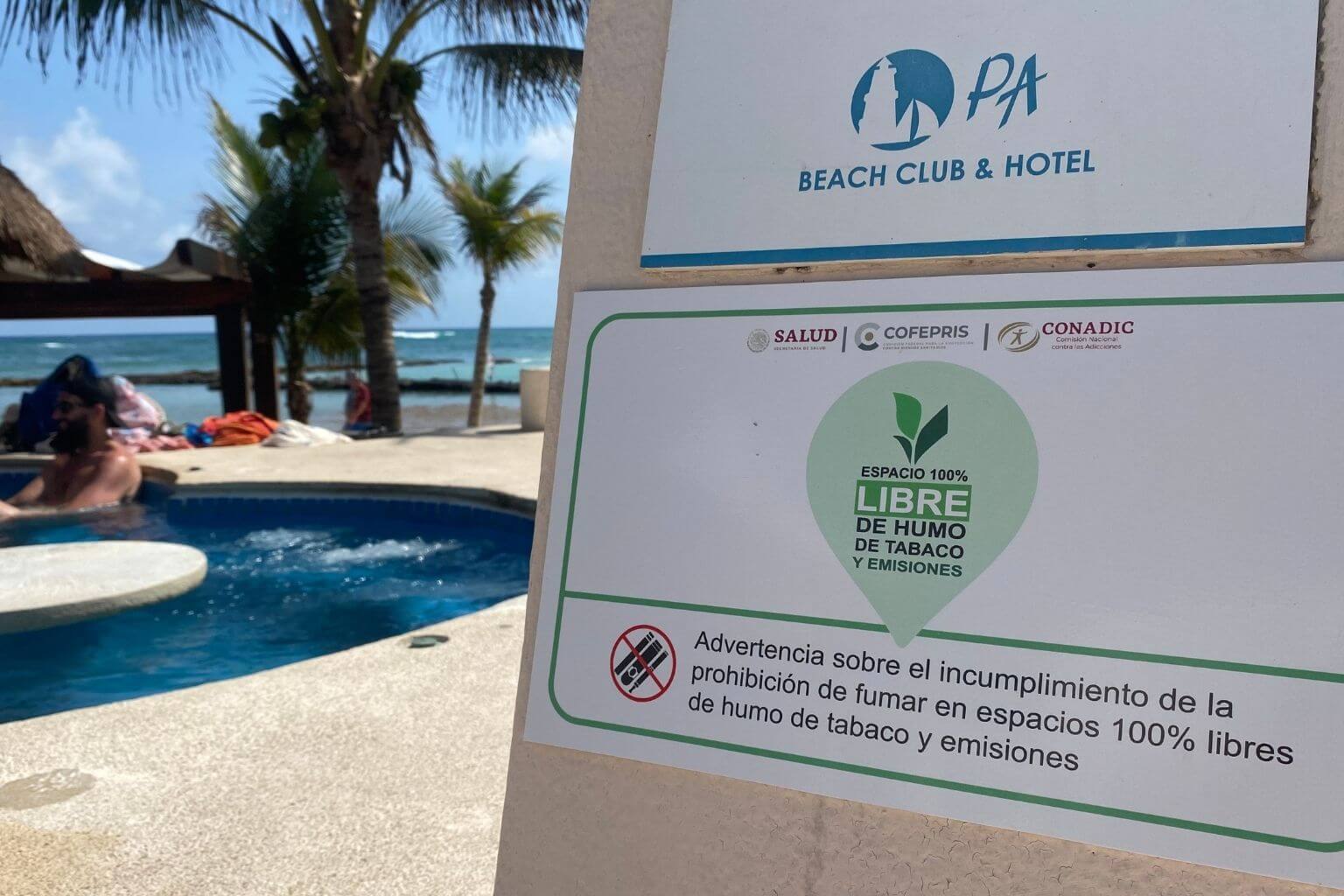 How effective will Mexico's new smoking laws be?
The new smoking laws in Mexico are part of a global effort to reduce tobacco use and improve public health. Still, the tobacco industry remains a powerful force in Mexico. As long as our neighbors to the north remain unwilling or unable to ban the sale of tobacco products there is little chance that Mexico will lead the charge to stop the sale of cigarettes altogether.
According to the World Health Organization, smoking is the leading cause of preventable death worldwide and is responsible (directly or indirectly) for approximately 8 million deaths annually. The Mexican government hopes that the new laws will encourage smokers to quit and discourage young people from starting.
It remains to be seen how effective the ban will be in reducing smoking rates, in a country where approximately 16 million people (one in eight Mexicans) smoke. But it is clear that the Mexican government is committed to taking bold action to address this public health crisis.