Discover the Best Things to Do in Puerto Aventuras

When we moved to the Riviera Maya back in 2004, the playful nickname for Puerto Aventuras was "muerto aventuras". Perhaps an unfair moniker but at the time there was not a lot going on here in Puerto and, for most of the year, not a lot of people.
Many vacationers came to spend a few days or a few weeks but not more because there was just not enough to do.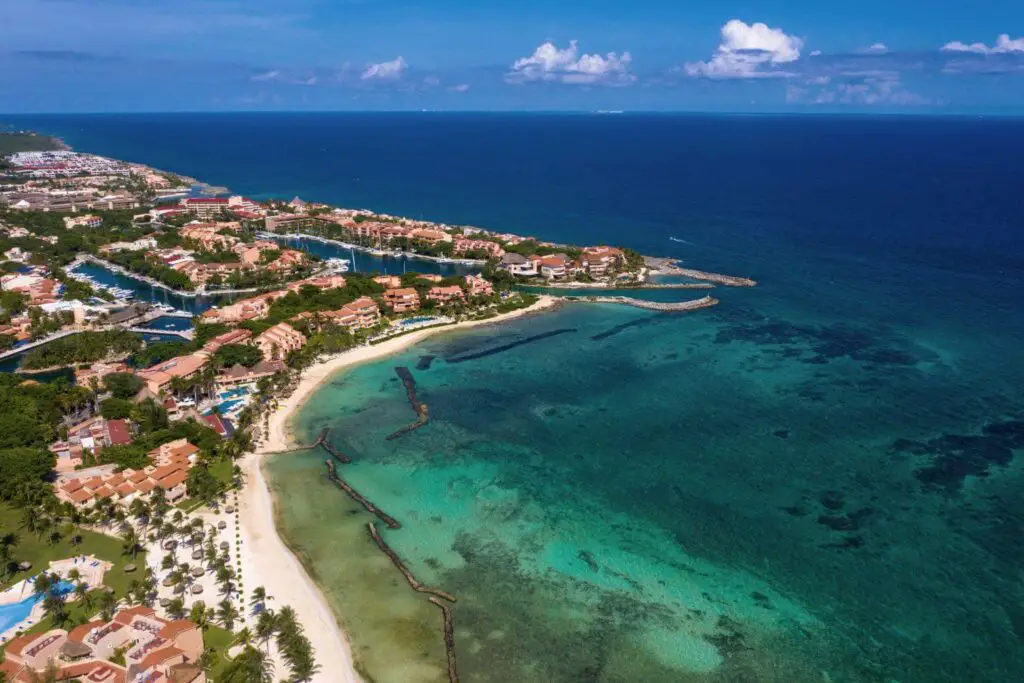 Flash ahead almost two decades and Puerto Aventuras is now a vibrant year-round community, bustling with activity. Hundreds of families from all over the world have chosen to call this idyllic marine community home. In response to this growth, we have experienced a sharp increase in development, not only residential but commercial.
The number of restaurants, bars and cafes in PA has grown. The number and variety of activities for children and active adults have also increased to meet the needs of the community.
Puerto Aventuras has finally grown into not only a world-class vacation destination but also a highly desirable place to live and work and raise a family.
Here are some of our recommendations for the best things to do in Puerto Aventuras.
Exploring Puerto Aventuras Beaches
One of the most popular things to do in Puerto Aventuras is to enjoy its white sandy beaches! We think that Puerto Aventuras beaches are some of the best-kept secrets on the Riviera Maya! The main beach in Puerto Aventuras is Fatima Bay.
The best sandy areas are in front of the Puerto Aventuras Beach Club and Villas del Mar 1 and 2. At the very southern end, the beach is wide and people regularly gather there to watch the antics on the party boats in the cove or play beach volleyball.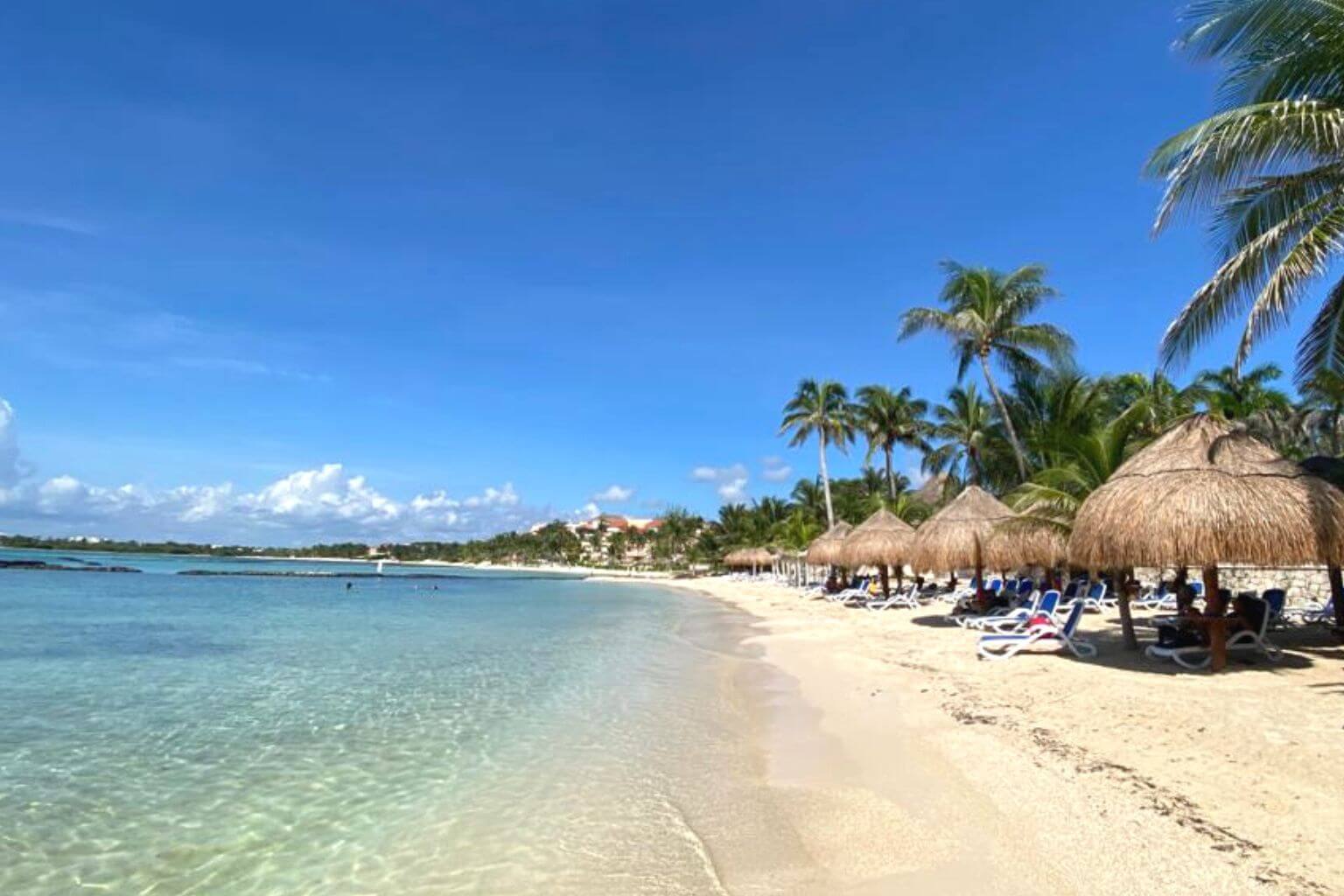 The beach is open to the public so anyone who is a guest or resident of Puerto Aventuras is welcome to enjoy it! Guests of the PA Beach Club and Hotel and residents or visitors with PA Passport ID cards can access the beach through the hotel.
Guests and visitors without a PA Passport can purchase a day pass for the beach club or use the public entrance path located along the southern wall of the beach club and restaurant.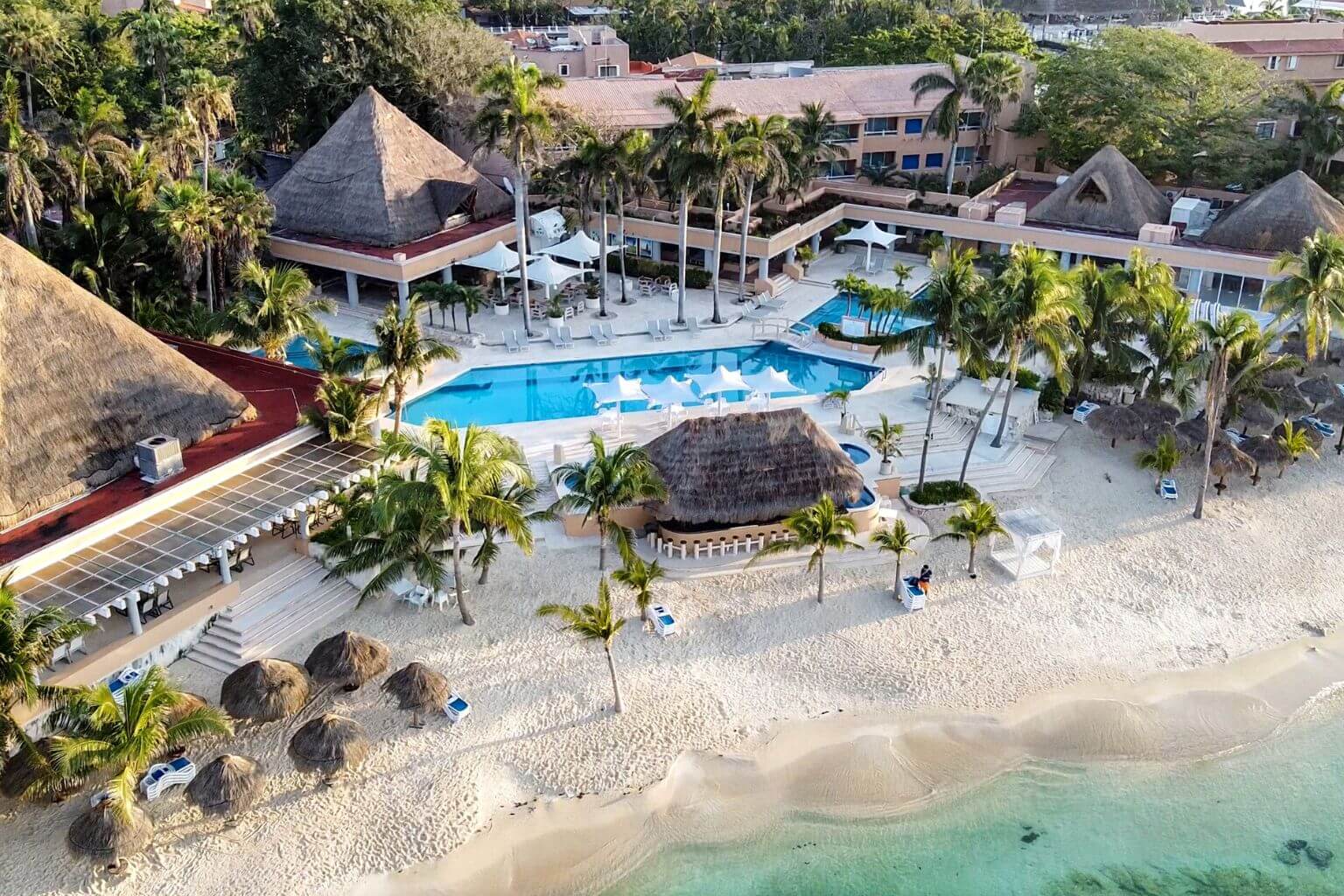 Chan Yu Yum is another beautiful beach to the north. It is great for snorkeling and the reef just offshore is an active dive spot. The beach is open to the public with access from Bahia Yanten but some visitors complain that Catalonia resort's loungers and guests take up most of the usable beach space.
Still, it's a pretty beach with good water access and some good snorkeling opportunities. Inexperienced swimmers and families with children will want to mind the currents.
Outside of Puerto Aventuras and within a very short drive are several wonderful beaches you may want to also explore during your stay in Puerto Aventuras. Read our guide to The Best Riviera Maya Beach Clubs Near Puerto Aventuras for more amazing beaches to visit!
Snorkeling in Puerto Aventuras 
Snorkeling in Puerto Aventuras is fun and easy for swimmers of all levels. In Fatima Bay, the entrance to the water is sandy with a gentle slope. The faux-reef barriers installed to protect the shoreline, have become a wonderful ecosystem for crustaceans and small tropical fish.
The water in the bay is remarkably clear and the currents are usually quite gentle making for a very relaxing and enjoyable experience.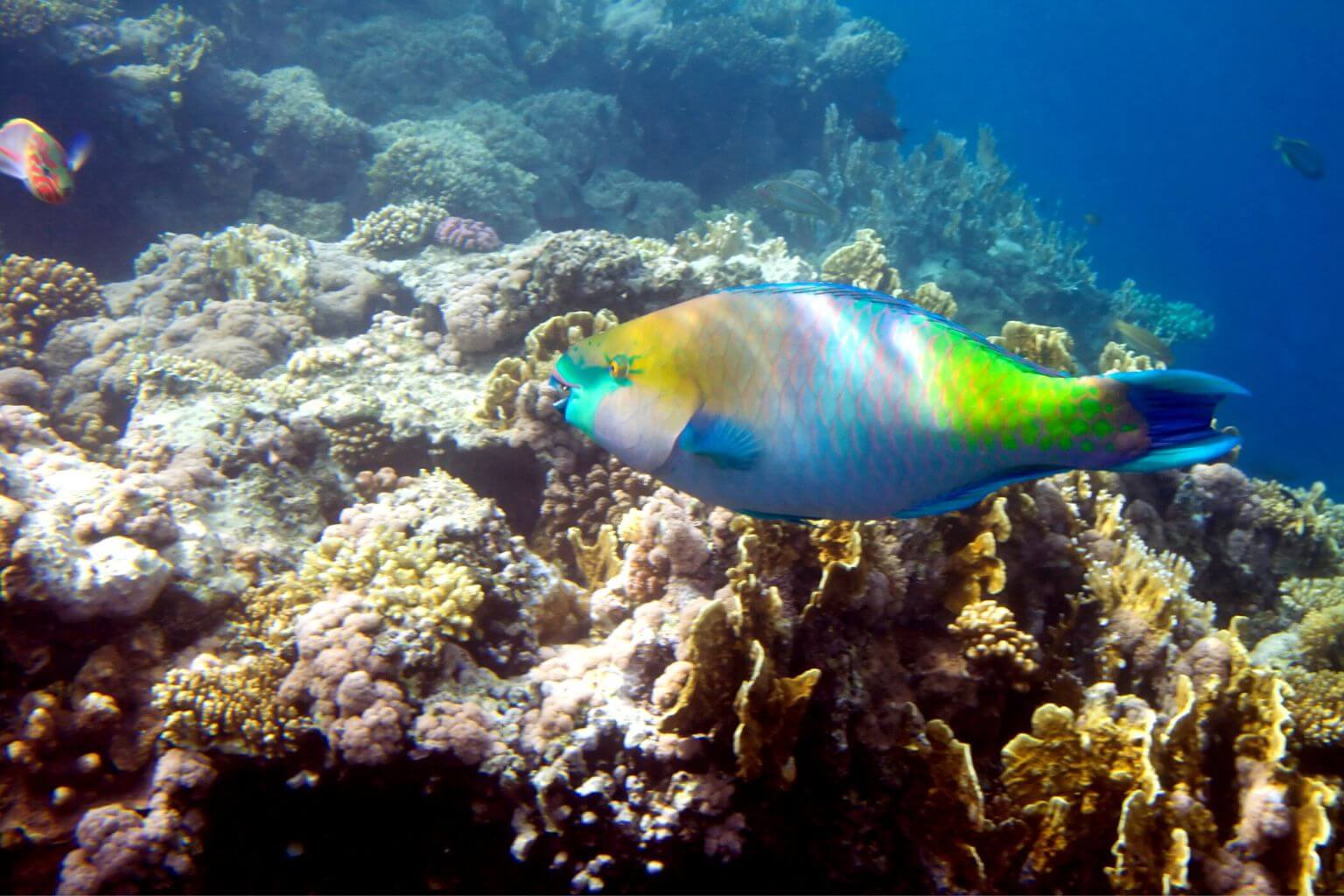 The shallow waters of Bahia Chan Yu Yum are another popular spot for snorkeling in Puerto Aventuras. Here you can examine the wide variety of living coral formations and discover the marine wildlife that call the Mesoamerican reef home. Tropical fish, eels, lobsters, stingrays and other marine creatures can regularly be seen quite close to shore.
Of course, no trip to the Riviera Maya would be complete without a trip to Akumal where you can swim with the majestic marine turtles that return each year to this region to nest and lay their eggs.
Marine turtles can be seen year-round in Akumal Bay and are one of the area's biggest attractions. Akumal is also where you will find Yal-kú Lagoon, another snorkeling hot spot that you should not miss!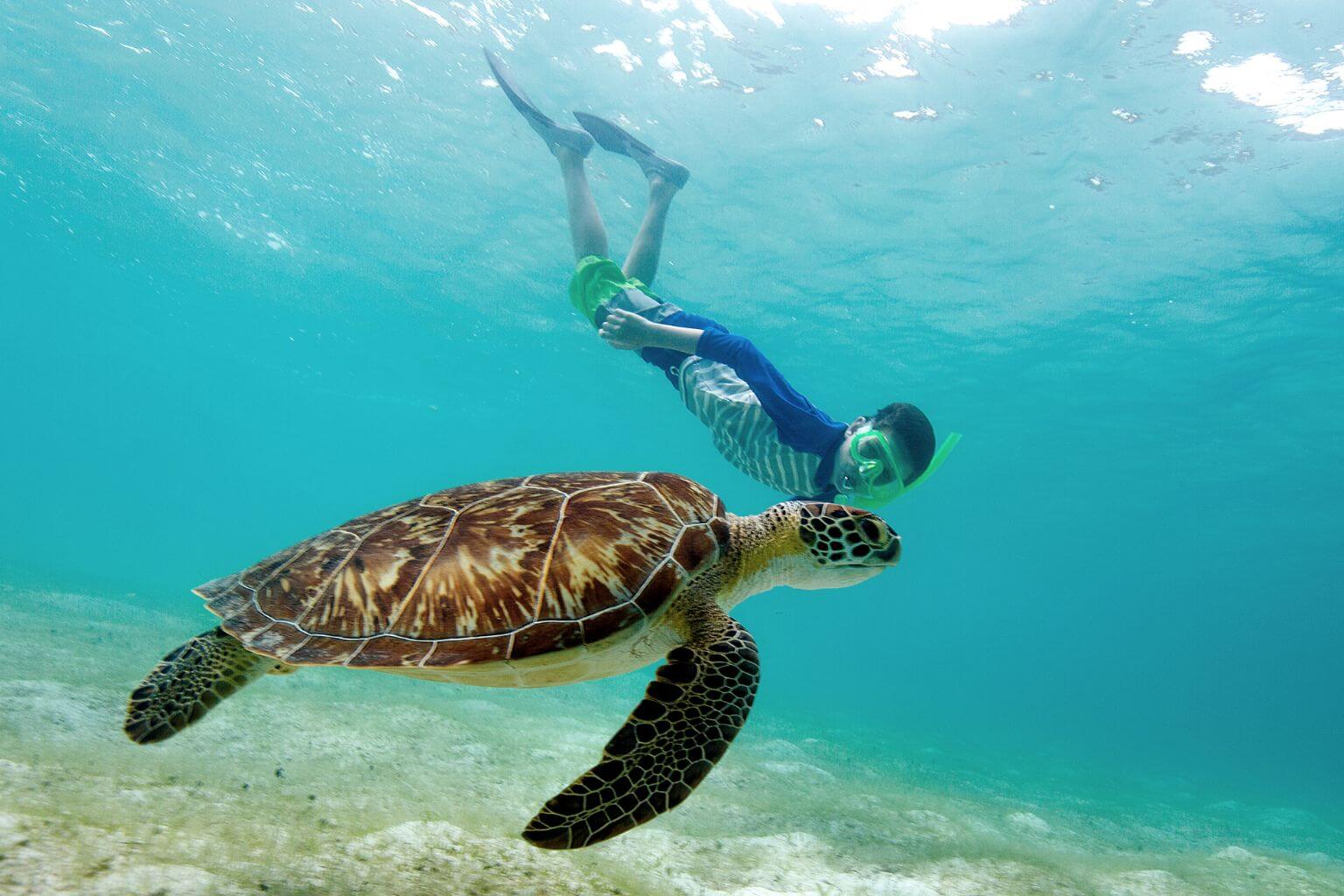 Cenotes offer another completely different snorkeling experience. In fact, if you visit one or more of the Riviera Maya cenotes and you do not bring your mask, you are really missing out. Half of the beauty is below the surface so be sure to bring your snorkel gear to find out what lies beneath.
Puerto Aventuras SCUBA Diving
If you are a SCUBA diver or interested in learning to dive, Puerto Aventuras has some excellent SCUBA operators with fully licensed and accredited instructors and dive masters.
Puerto Aventuras SCUBA outfits are equipped with state-of-the-art equipment and custom dive boats that will ensure you have a safe and enjoyable experience.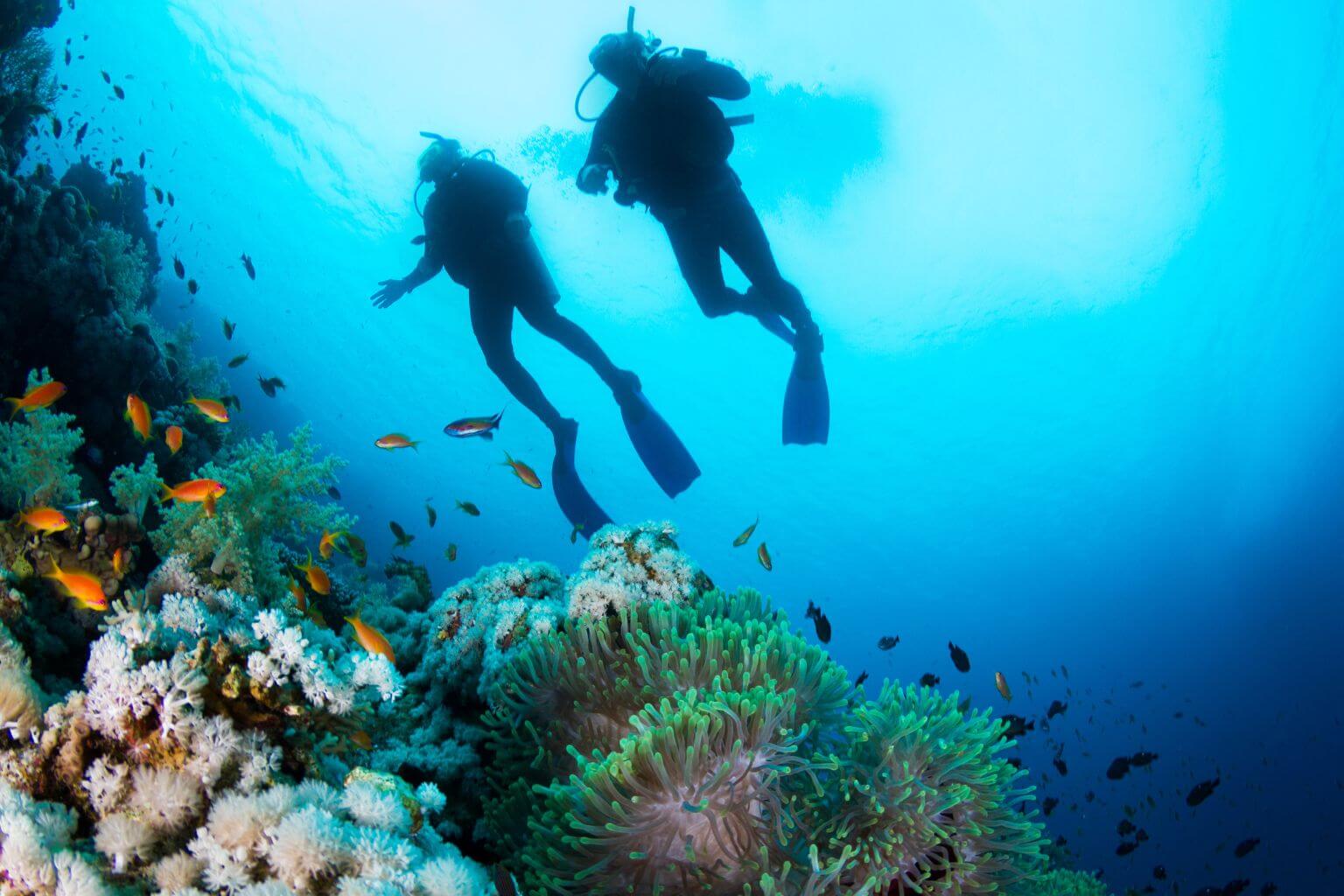 The MesoAmerican reef is only about 100 feet from the shore, so you can easily do two dives in a day with not a lot of transportation time needed. There are options for open water dives, cenote diving and cavern diving.
The local SCUBA companies have dive trips that go out in the morning and afternoon. Some even offer night dives, if you are brave enough!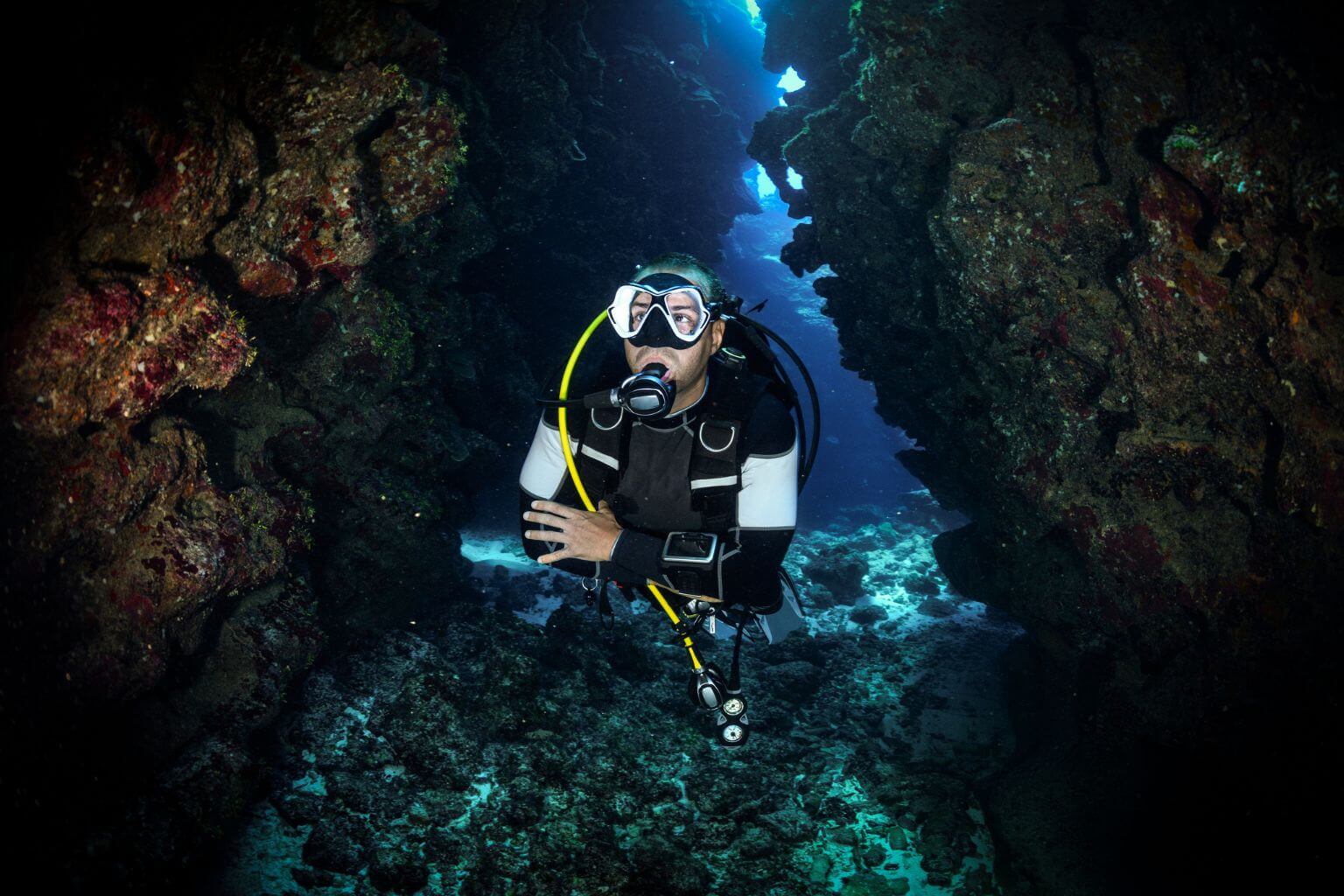 Speaking of brave….SCUBA enthusiasts will not want to pass up the opportunity to dive in one or several of the famous Riviera Maya cenotes and caves. Cenote and cavern diving can be done without any special certification.
If you want to take your diving to the next level, enroll in a cave diving course and start to explore the longest underground river system in the world!
Visit the PA Living Directory for a complete listing of all the SCUBA diving operators in Puerto Aventuras.
Deep Sea Fishing Charters
Regardless of where you are staying on the Riviera Maya, whether in Playa del Carmen or Tulum, the deep sea fishing charter you arrange will very likely be departing from the Puerto Aventuras marina.
There are over a dozen licensed deep-sea fishing boats, operating in Puerto Aventuras. They vary in size and amenities offered as do the costs.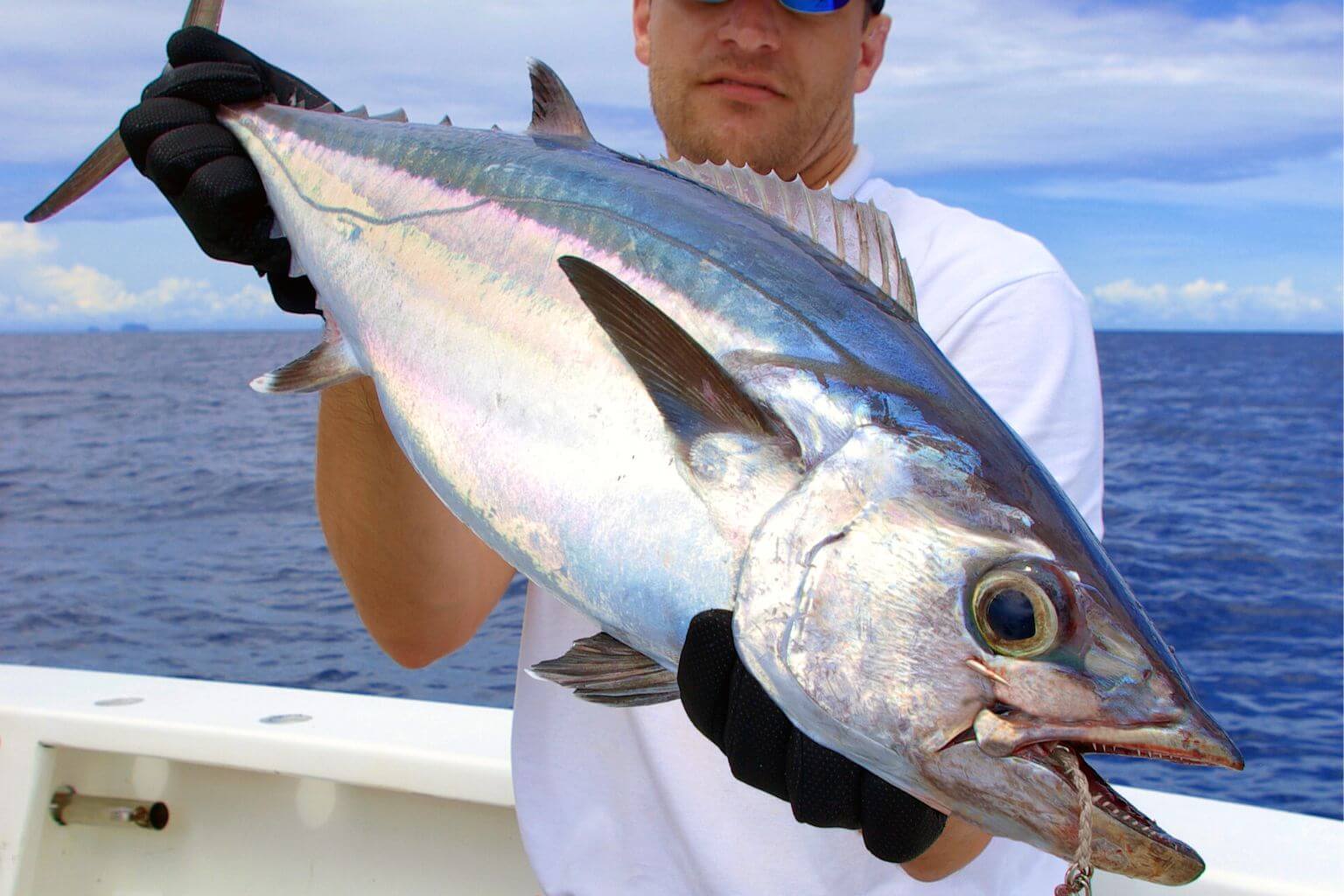 The charters will all be led by a qualified captain and his experienced crew. All the fishing gear and bait will be provided as well as a cooler of beverages to keep you refreshed throughout the day. Depending on the season, anglers can potentially catch dorado, wahoo, red snapper, grouper, barracuda and sailfish.
You can find a great list of deep-sea fishing charters and check their availability here.
Catamaran Cruises and Yacht Rentals
One of the most popular activities in Puerto Aventuras is to spend a few hours on the open sea on one of the many luxurious yachts and catamarans in the PA marina. There are many options for private yacht rentals with boats to accommodate groups of all sizes.
This is a particularly fun activity for bridal and bachelor parties, birthdays, family reunions and other special occasions. The boats can be fully catered with food and beverages and even a full bar.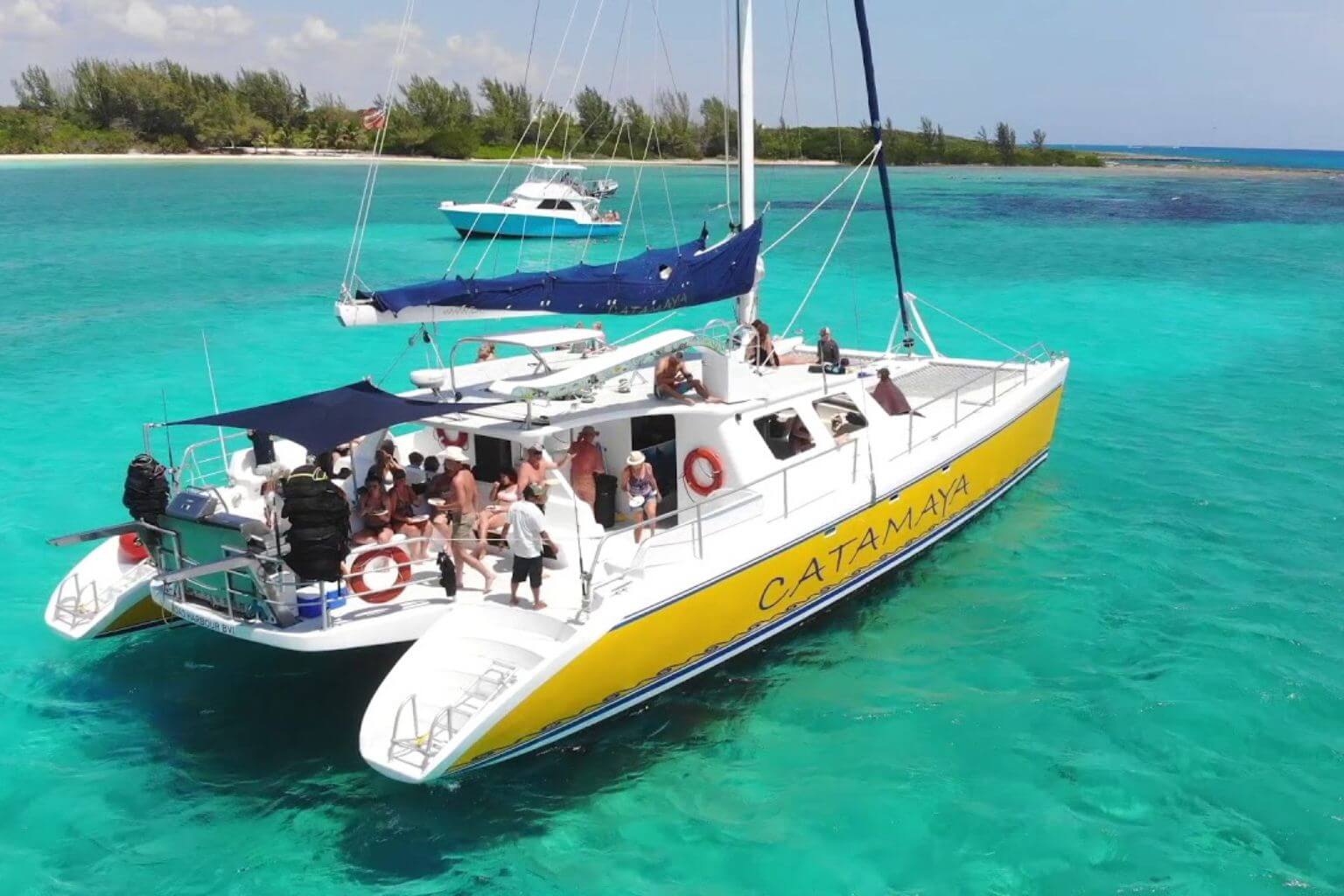 If you have just a few people, there is the option to go out on a group cruise. You will leave from the Puerto Aventuras marina on a full-service catamaran that provides a delicious lunch and open bar.
The boat will take you to a marvelous snorkeling spot on the reef where the guides will show you turtles and stingrays and many other colorful marine creatures.
Visit Cenotes Near Puerto Aventuras
Some of the best Riviera Maya cenotes are located close to Puerto Aventuras and are very easy to visit in the morning or the afternoon.  Some are situated in clusters and it's possible to visit more than one a day. Many of these cenotes are located just off highway 307 in the stretch between Puerto Aventuras and Tulum.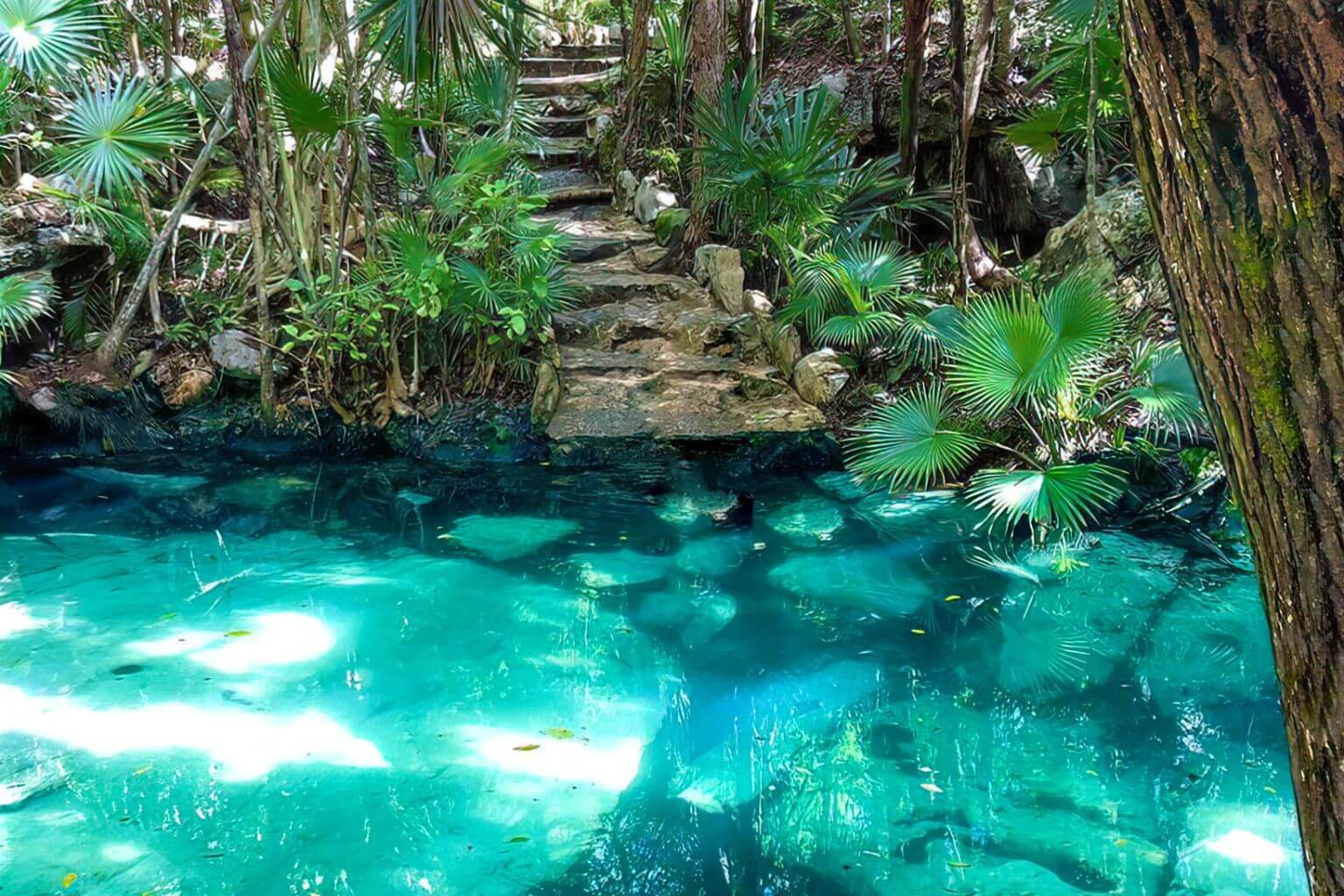 Going to a cenote is a very popular activity for visitors and locals alike. If you go on a Sunday you may find yourself sharing the jungle with several hundred other people! We recommend making your plans for a weekday and going early before the crowds arrive.
There are at least two known cenotes located inside the Puerto Aventuras resort complex. One is on private property and only accessed with permission. The other is an "ancient" cenote which appears more like a lagoon. It is located close to the end of Puerto Aventuras Boulevard in Phase 4. There is a small palapa that marks the entrance to the path to the cenote.
While interesting to visit, it is not advised to swim in because of the resident alligator rumored to lurk in its depths.
Click here for a complete guide to The Best Cenotes Near Puerto Aventuras.
Shopping in Puerto Aventuras
If it's a gloomy day, or perhaps if you have had a bit too much of the hot Caribbean sun, doing some shopping is a nice distraction. If you need a few gifts to take home to friends and family, there are a dozen souvenir shops all along the main marina.
For special gifts, seek out Matahari and Origen All Market or wander across the highway to the touristy Mexican Market for handblown glassware, Mexican chocolate, vanilla and of course, tequila!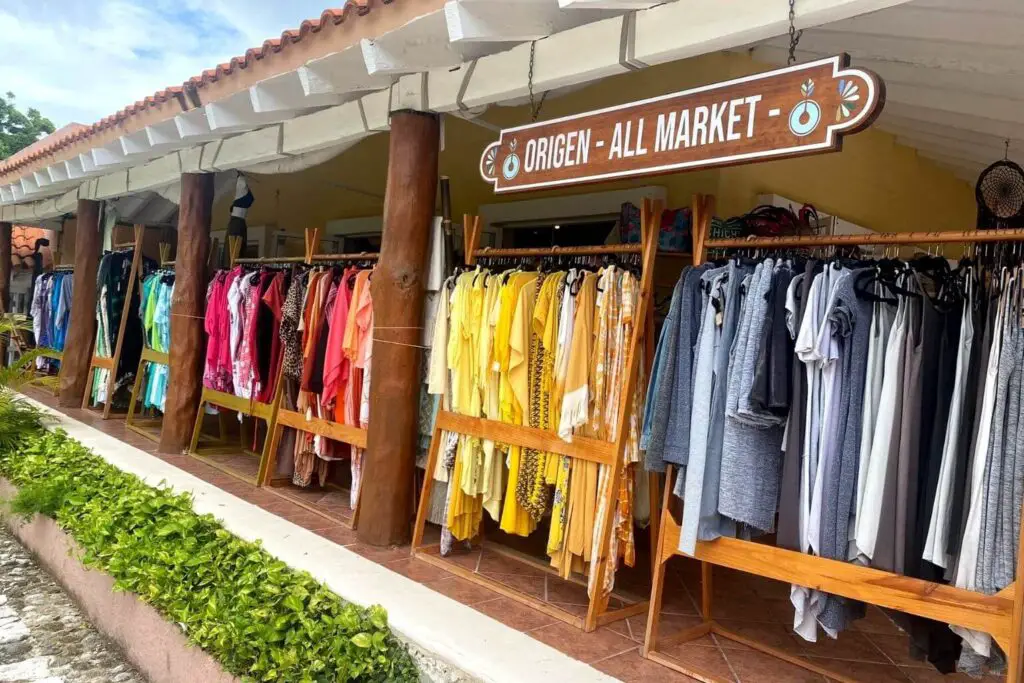 On Wednesdays and Saturdays, there is a farmers market set up at the bandstand/kiosk where fruits, vegetables, fresh juices, eggs and other local items are sold. You can even find shrimp, lobster (in season) and other seafood brought in from Campeche. This is a convenient option if you are staying in a vacation villa or condo and like to cook at home.
Read our complete Puerto Aventuras Shopping Guide for more information.
Exploring Puerto Aventuras by Golf Cart
Another of the fun things to do in Puerto Aventuras is to rent a golf cart for the day and explore the entire marina community. Puerto Aventuras is actually quite large and it might be ambitious to try to cover all of it by foot. 
There are many options for golf cart rentals in Puerto Aventuras. Depending on your needs, you can rent one for the day, for a week, a month or even for a season! Rates can vary from 25 USD per day to almost 100 USD per day so be sure to shop around a little bit.
Check out our article Puerto Aventuras Golf Cart Rentals to see where you might find the best rates.
Puerto Aventuras Restaurants and Dining
There are more than 40 restaurants in Puerto Aventuras resort and even more to investigate across the highway. Most of the Puerto Aventuras restaurants, bars and cafes are located around the marina. Here you will find cafes, gelato shops and pizzerias and much more.
You can choose from restaurants featuring sushi, Japanese and Thai cuisine, Italian, Mexican, Tex-Mex and a wide variety of all-American fare. There is truly something for every taste and budget.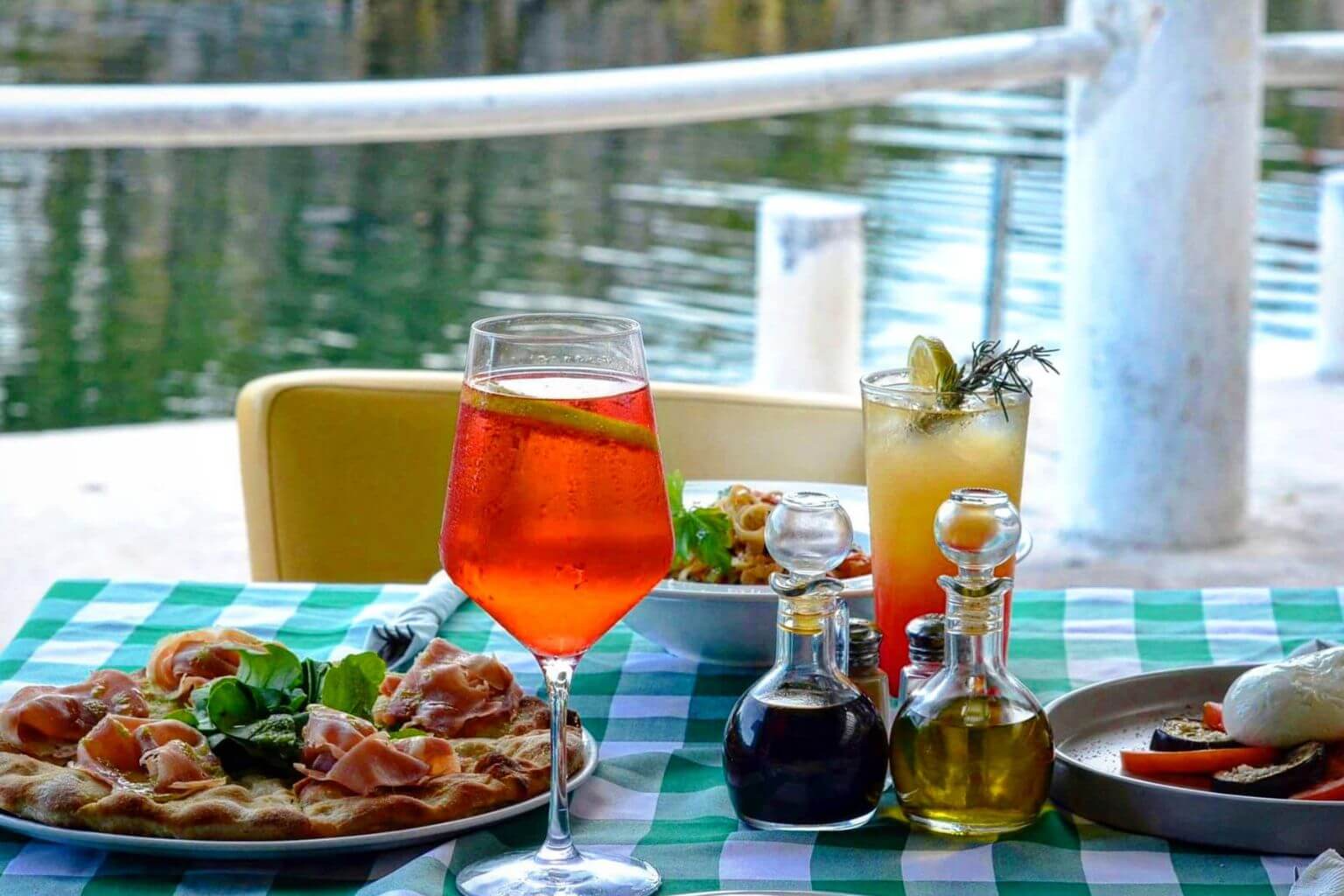 Friends and families all flock to the marina in the evening to share a meal, a drink or maybe a gelato. Overlooking the dolphins and the luxury yachts, the dining experience on the Puerto Aventuras marina is truly something special.
But, don't limit yourself to just the dining options on the marina. Some of the most popular restaurants in Puerto Aventuras are located off the beaten path. These are the places most likely to be frequented by locals and where you can find some of the best food and the best deals.
Take the time to explore the various neighborhoods that make up Puerto and you will certainly find some delicious and memorable dining experiences.
Puerto Aventuras Golf
The Puerto Aventuras Golf Course is an exciting and challenging 9-hole, par 36 golf course, designed by Thomas Leman in 1991. It is regarded by golfers as one of the best-kept secrets in the Riviera Maya.
The course is covered by a smooth carpet of Bermuda grass, and enveloped by palm trees, bougainvillea, flowering plants, and lush tropical foliage. The course has just nine holes but you will play a round of eighteen meaning you have a second chance to get your "front nine" just right.
A par 3 9-hole course and a driving range have recently been built to complement the existing offerings.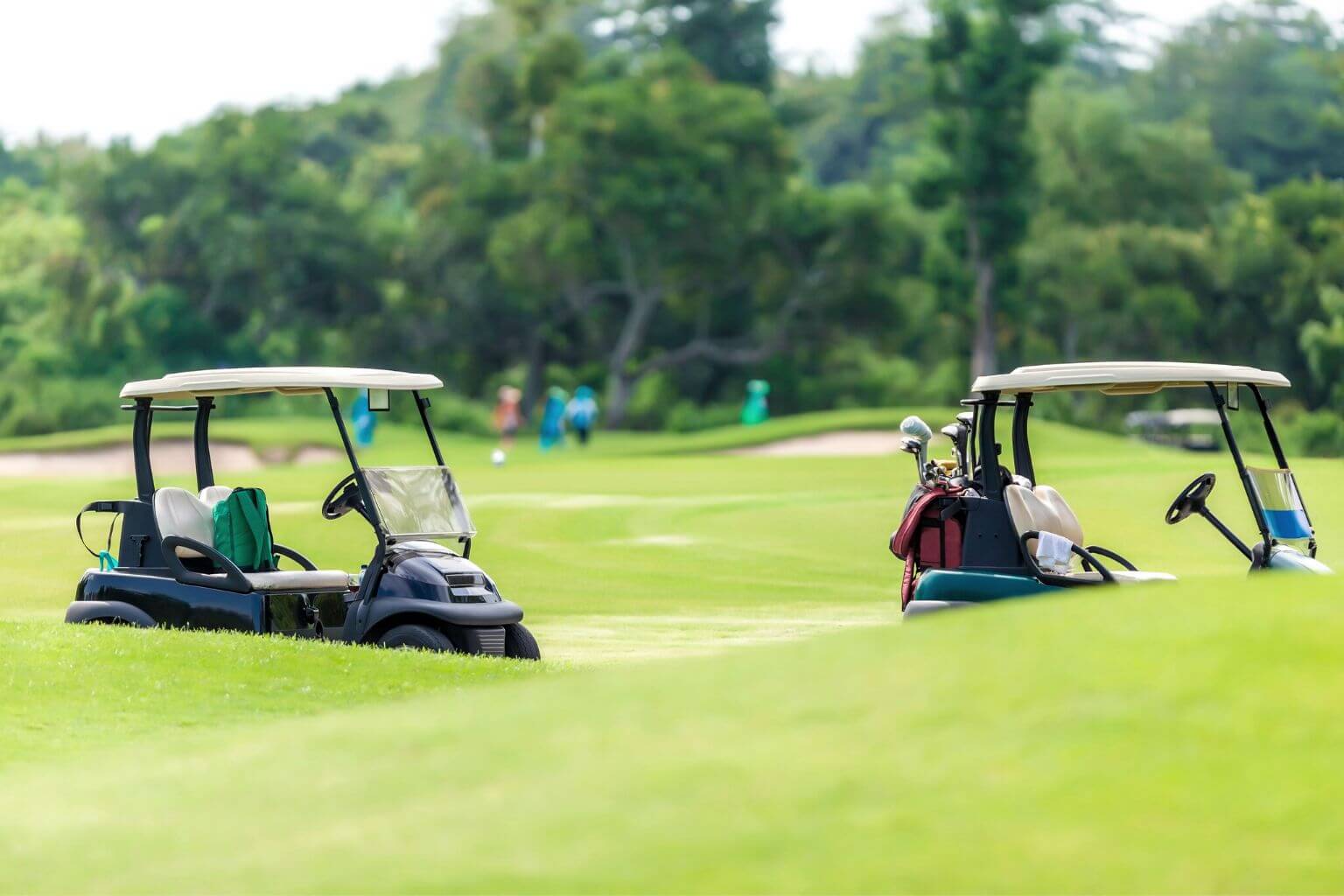 The Puerto Aventuras Golf Club is open daily from 7:30 am until sunset. Golf carts are available but not mandatory. Amenities include a pro shop offering a selection of golf items, and club rentals.
Golf instruction is also available. Stop by "Hoyo 19" after gameplay for a cocktail, or "The Divot" for a nice dinner, and dancing. 
Within a short drive of Puerto Aventuras, you will be able to find another half a dozen world-class courses to play. This is our list of the Best Golf Courses Near Puerto Aventuras.
Tennis in Puerto Aventuras
The Puerto Aventuras Golf & Tennis Club has courts that are open from 7:30 am until dusk. These are synthetic grass courts that are well maintained and book up quickly, especially in the cooler morning and late afternoon time slots. 
To book your court time, visit the Golf pro shop or call +52 984 873 5109.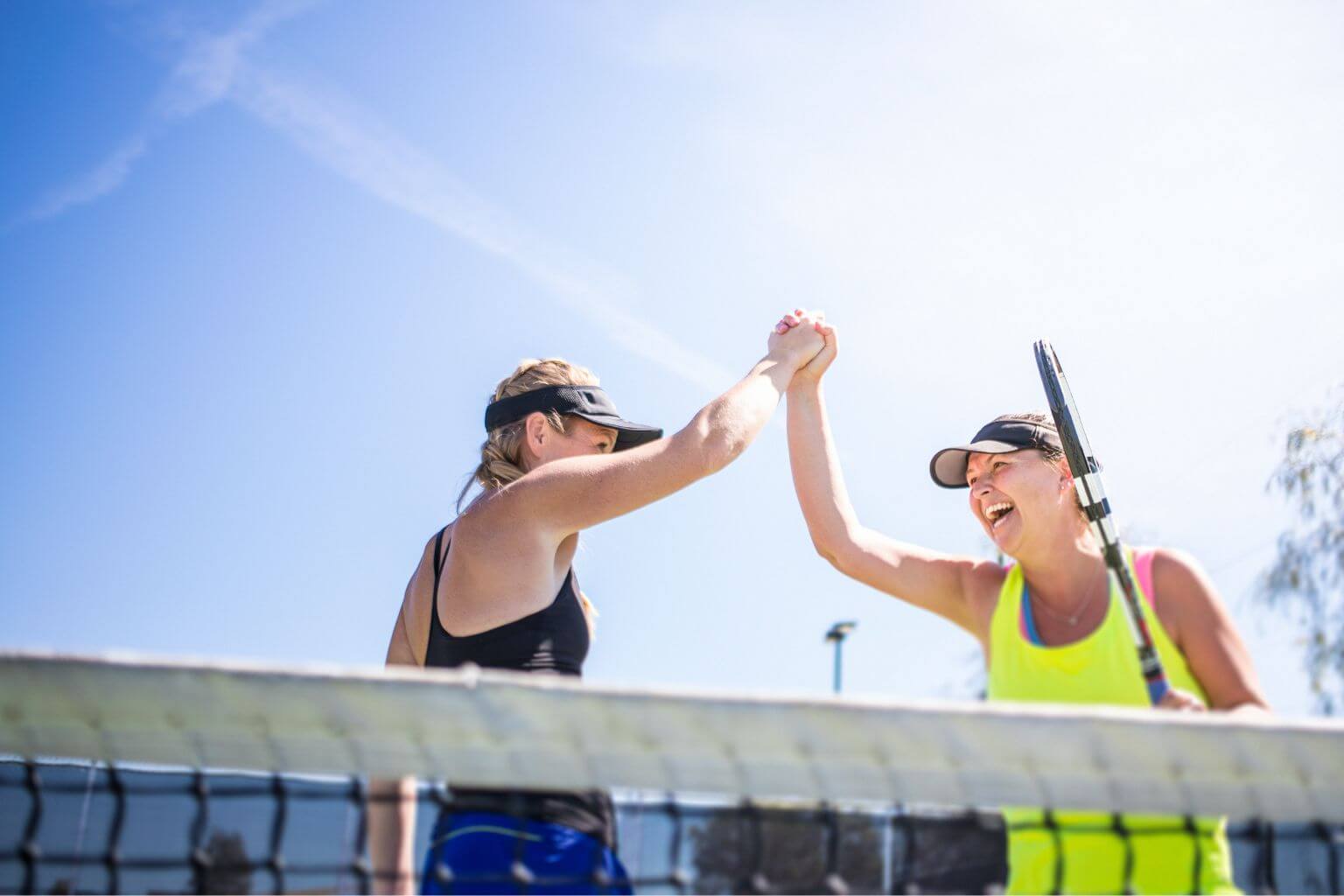 Serious tennis players visiting Puerto Aventuras may want to consider staying in one of the local resorts that offer tennis courts among their amenities. Catalonia Yucatan and Riviera Maya both have tennis facilities and are located within the gated community.
Other resort options with tennis courts close by are Hard Rock Riviera Maya and Barcelo.
Pickleball in Puerto Aventuras
One of the more popular activities in Puerto Aventuras is pickleball. There are loads of players living here in PA if you want to hook up other enthusiasts. Playa del Carmen also has a large pickleball community and there are tournaments held throughout the year attracting players from all over the Riviera Maya.
There are three locations inside the gated community to play Pickleball. There are two dedicated pickleball courts in Central Park with nets. The basketball courts in Central Park can also accommodate 3 pickleball courts for those who can provide nets.
The condominiums Villas del Mar 1 also has a pickleball court that has lighting allowing play into the evening hours. 
Click on the link to book your Pickleball Court Time in Puerto Aventuras and join the Puerto Aventuras Pickleball group on Facebook to connect with the pickleball community of players!
Adventure Parks, Tours & Excursions
Because Puerto Aventuras is situated in the very heart of the Riviera Maya, it is the perfect launching pad for exploring all that this beautiful region has to offer. Less than an hour from the main entrance you can find dozens of fantastic parks to visit.
Xcaret, Xplor, Xenses and Rio Secreto to the north and XelHa, Kantun Chi and the Akumal Monkey Sanctuary going south toward Tulum are all places you may want to explore. All of these parks are easily accessible from Puerto Aventuras by car or taxi.
Another great way to explore the Riviera Maya has to offer is to book a tour. If you would like to spend a day exploring one of the local Maya archeological sites and combine it with a visit to a cenote, this may be a great option.
With an organized tour, you will have the convenience of transportation provided and a knowledgeable tour guide to help you get the most out of your excursion.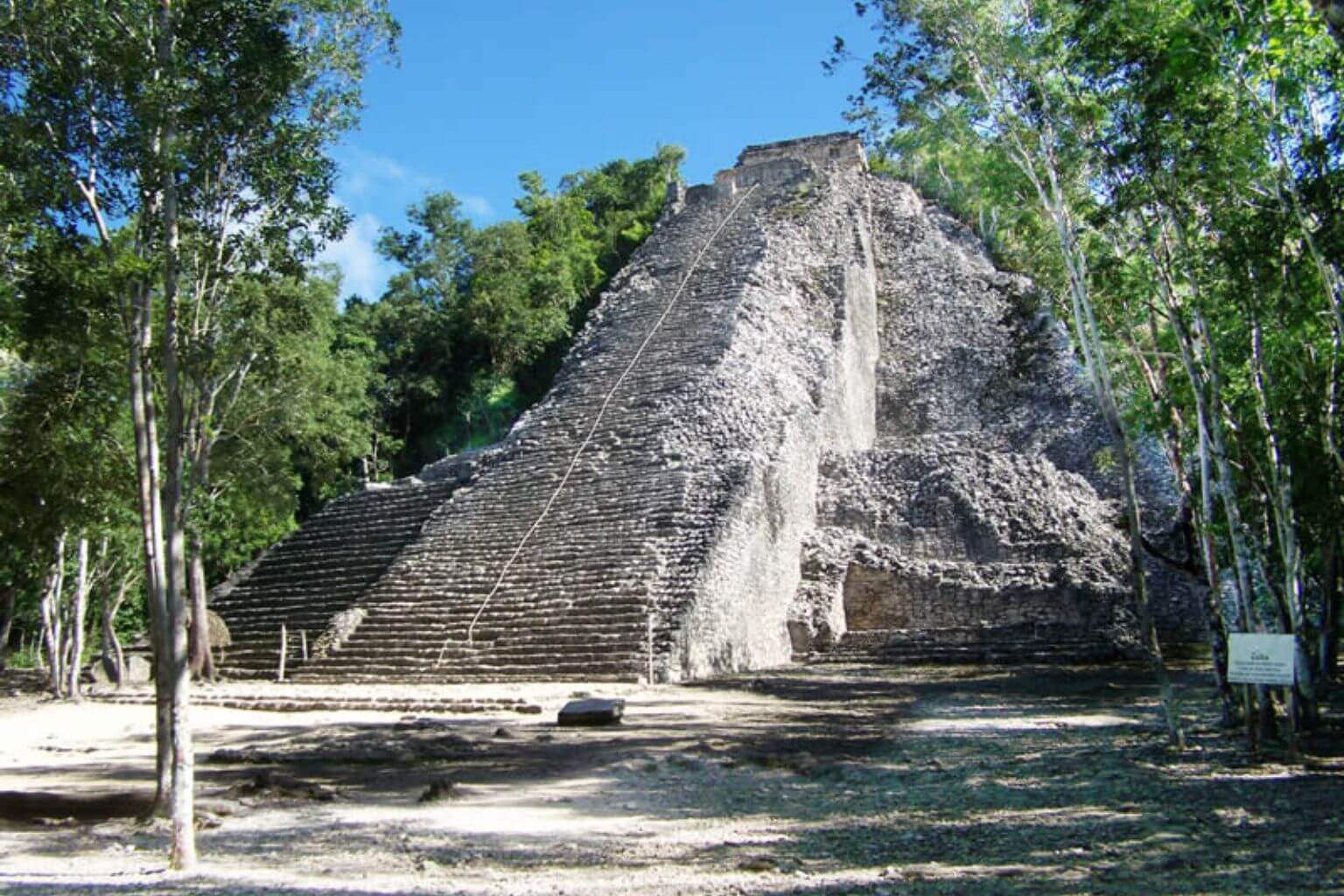 Lunch is usually offered on these tours and sometimes an opportunity to do some souvenir shopping. If your time is limited and you want to make the most of your precious vacation days, sit back and let a reputable Riviera Maya tour operator provide you with a fun and educational experience.
Making New Friends
If you are new to Puerto Aventuras, the first thing you may want to do is make some new friends or find a social group that meets regularly. It could be a book club, your "mommy group" or a few people who enjoy the same sports you do. There are several social groups for women in Puerto Aventuras that always welcome new members and help them assimilate into the community. 
Ladies Who Lunch (LWL) meets every other Thursday for lunch and conversation. The location is different every week encouraging participants to try new restaurants and support local businesses. The make-up of this group tends to be ladies who are older and retired. Several of the ladies are very active in local not-for-profit organizations and participate in a number of charitable endeavors.
These luncheons are a great way to find out what's going on, hear what the needs of the community are and see how you might help. LWL meets, every other Thursday and the events are always posted in advance on the Puerto Aventuras Events Calendar.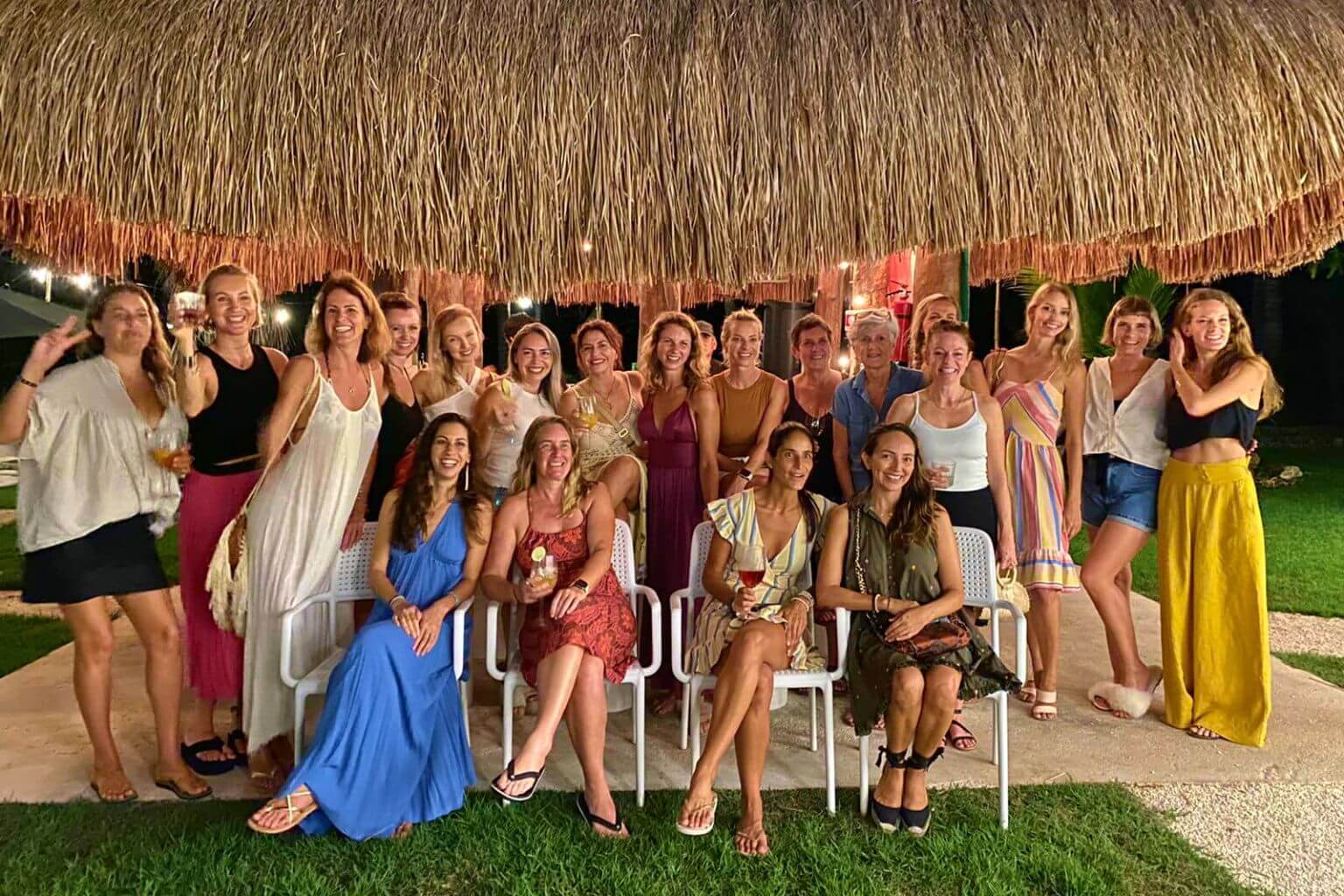 Puerto Aventuras Women's Club (PAWC) is another social group that organizes regular events through its Whatsapp and Facebook groups. This tends to attract a younger crowd and most of the women are mothers and local business owners.
They too support the community through fundraising and outreach. If you are new to Puerto, reach out in the Puerto Aventuras Living Group on Facebook, and someone will happily put you in touch with the group organizers.
If you haven't figured it out already, there are so many things to do in Puerto Aventuras, it may be difficult to decide where to start! Whether you enjoy nature and exploring the great outdoors, games and competitive sports, trying new cuisines or just socializing with friends, you are sure to find the activities you are looking for here in our diverse and vibrant community.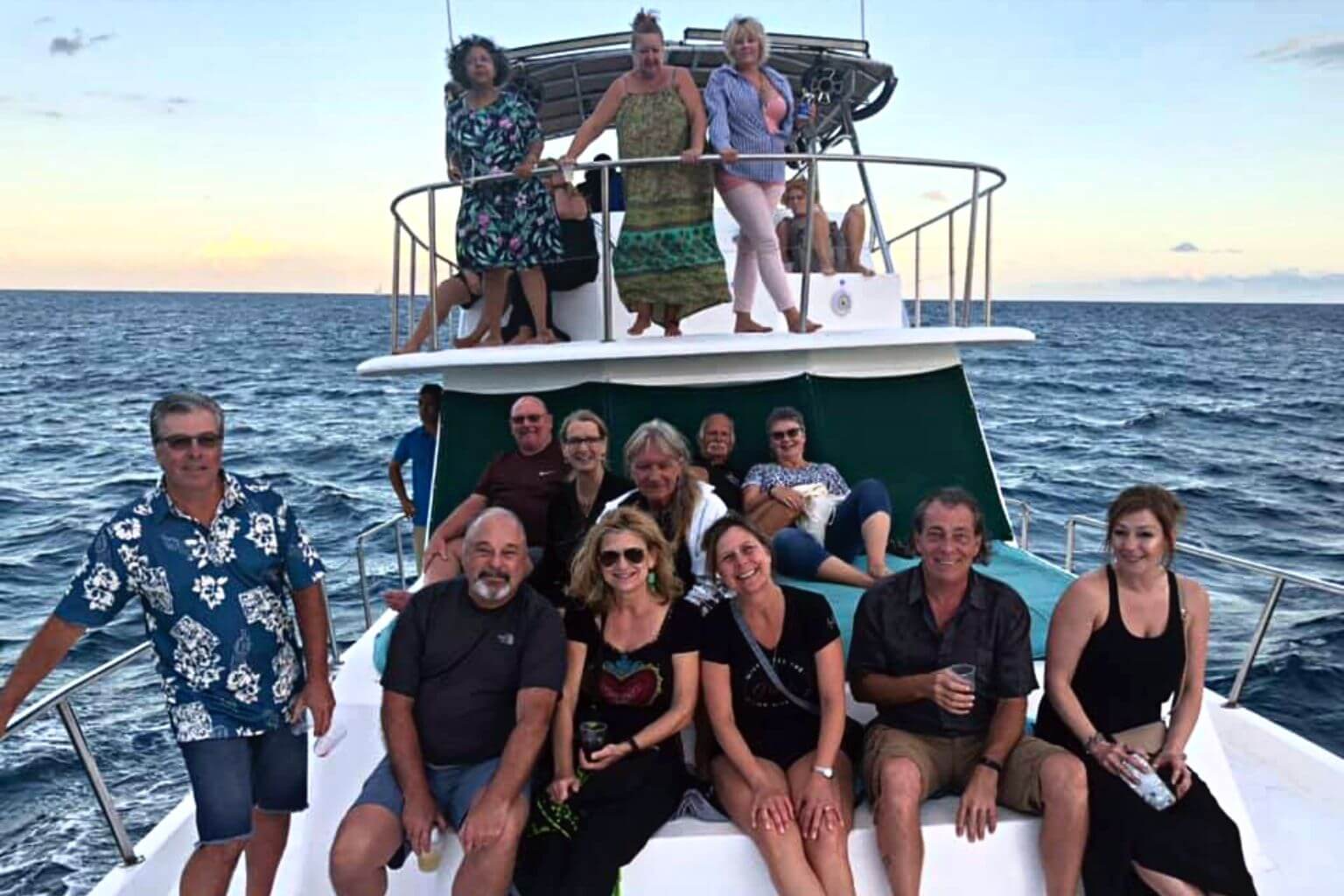 This list is really just a taste of all the fun things to do in Puerto Aventuras. We would like to hear about your favorite things to do and see in Puerto Aventuras so leave your recommendations in the comments.