Check Out Some of Our Favorite Riviera Maya Beach Clubs
Undoubtedly, THE biggest attractions on the Riviera Maya are its white sandy beaches and the turquoise blue waters of the Caribbean. No trip to Puerto Aventuras could possibly be complete without exploring at least a few of the various beach clubs that are inside or very close to the resort community. Each of these beach clubs offers a unique experience and each will have its own set of rules for entry and use. 
In general, if you are coming to a Riviera Maya beach club, it's expected that you will spend money in the restaurant or bar. Most beach clubs will allow your guests to use their facilities for free as long as you are purchasing food and drink. Some will charge additionally for parking or the use of sun beds and/or loungers. Some have a minimum consumption for you to use the beach beds and chairs at no additional charge. Others may be "all-inclusive" and you will be free to eat and drink whatever you please!  All of the following beach clubs have a different scheme so it's good to know before you go.
Top Riviera Maya Beach Clubs in and around Puerto Aventuras
Puerto Aventuras Beach Club
Located on the grounds of the PA Hotel, the PA Beach Club is touted as the beach club for all residents of Puerto Aventuras. The beachfront is clean and quiet and stretches in a crescent along Fatima Bay from the northernmost point of Chac Hal Al to the southern end of Villas del Mar. The man-made wave breaks just offshore keep the water calm and help to keep the sand on the beach even after a storm.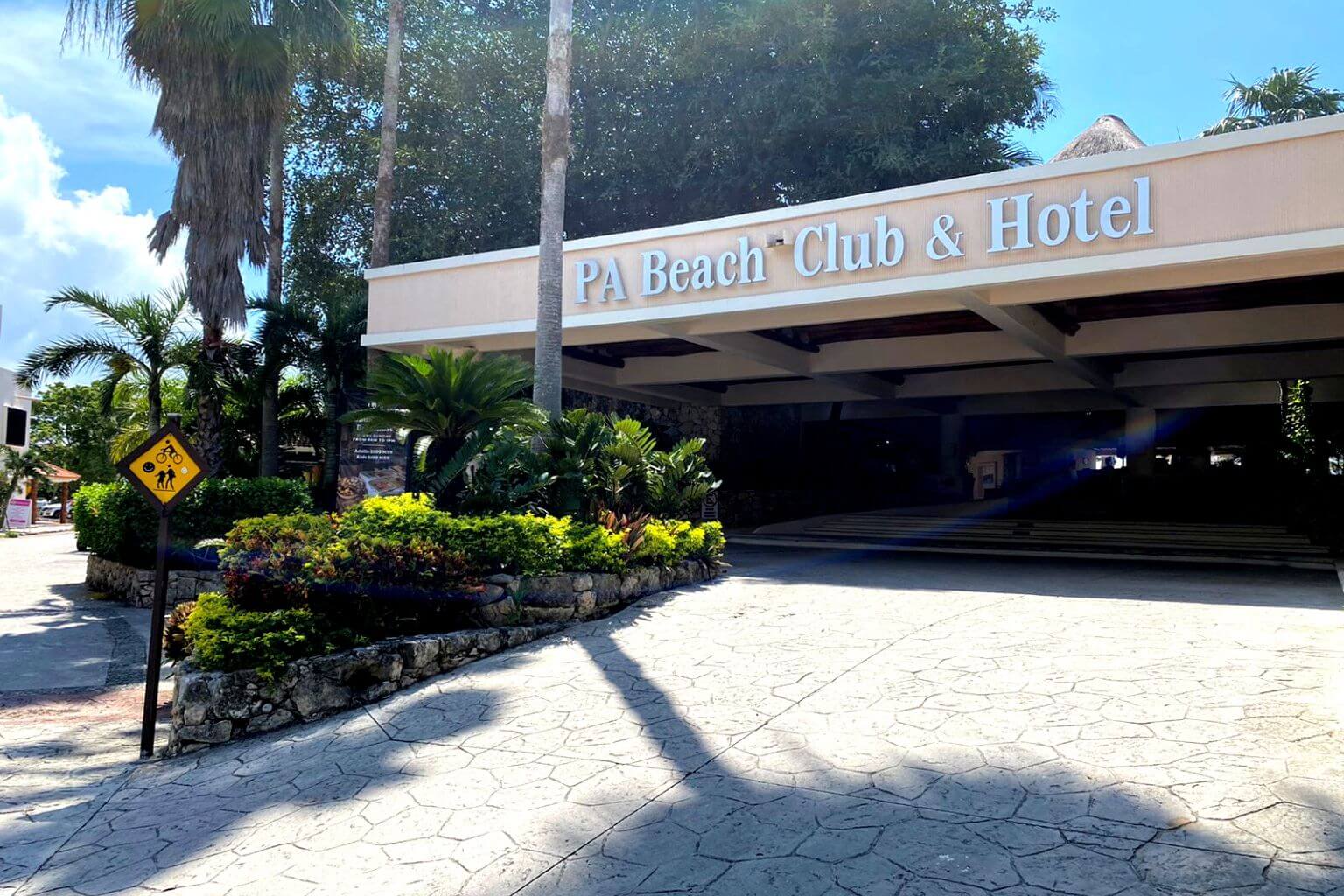 The PA Hotel staff work tirelessly to make sure the beach is free of seaweed and other debris. The beach is dotted with small palapas and lounge chairs and a few coveted and expensive day beds. The PA Beach Club also has a fantastic pool that is available to guests of the hotel and the beach club alike. There are shallow areas for small children and a separate swim-up pool bar for the grown-ups to enjoy.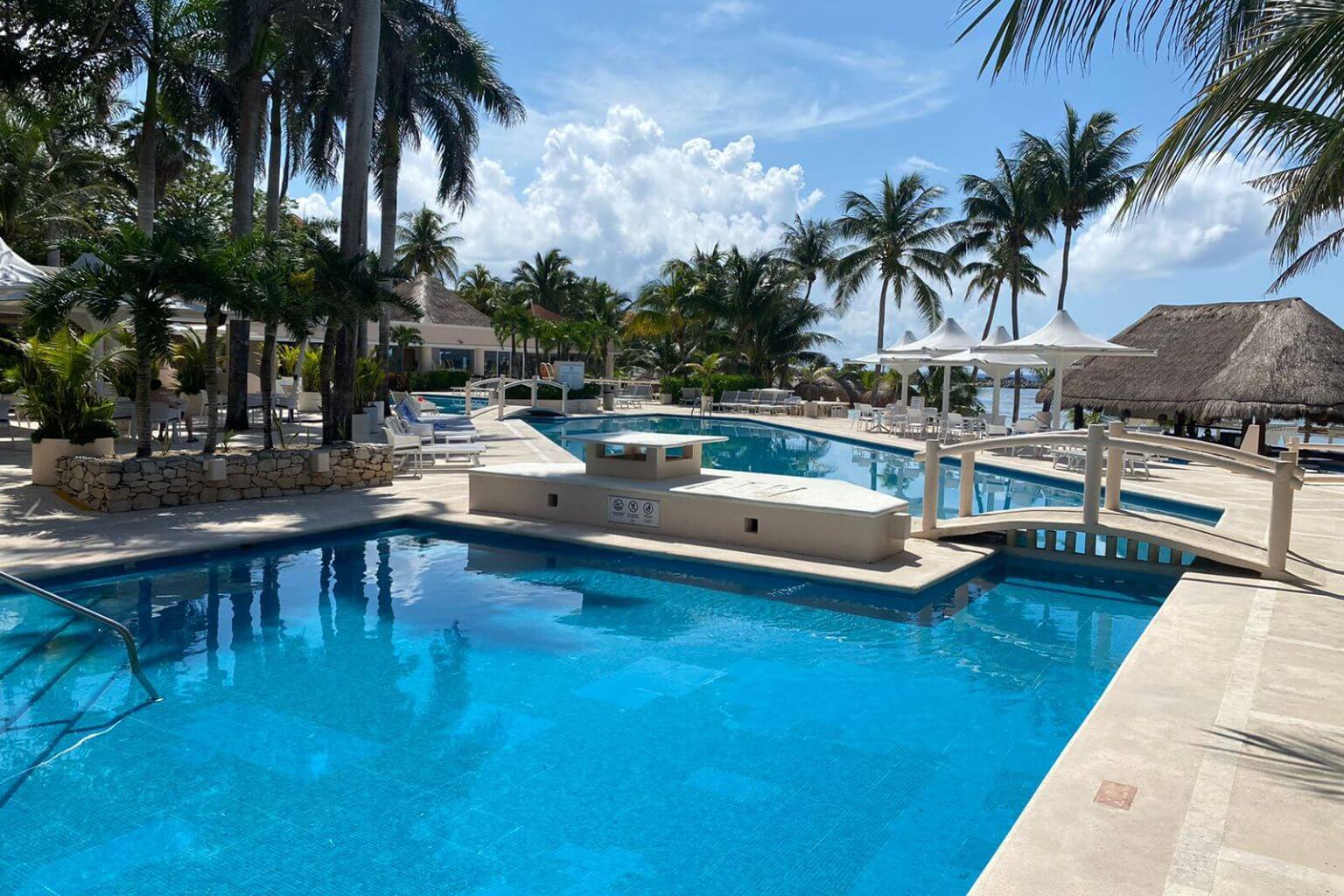 Food service is available on the pool deck as well as the beach with offerings such as pizza, club sandwiches and some remarkably good sushi. Of course, there is full bar service offered as well.
All residents and guests in Puerto Aventuras are welcome to use the beach club. PA Passport holders receive a 25% discount on food and beverages. No pets are allowed on the beach or inside the facilities. In compliance with the new smoking laws in Mexico, the PA Beach Club is 100% smoke-free.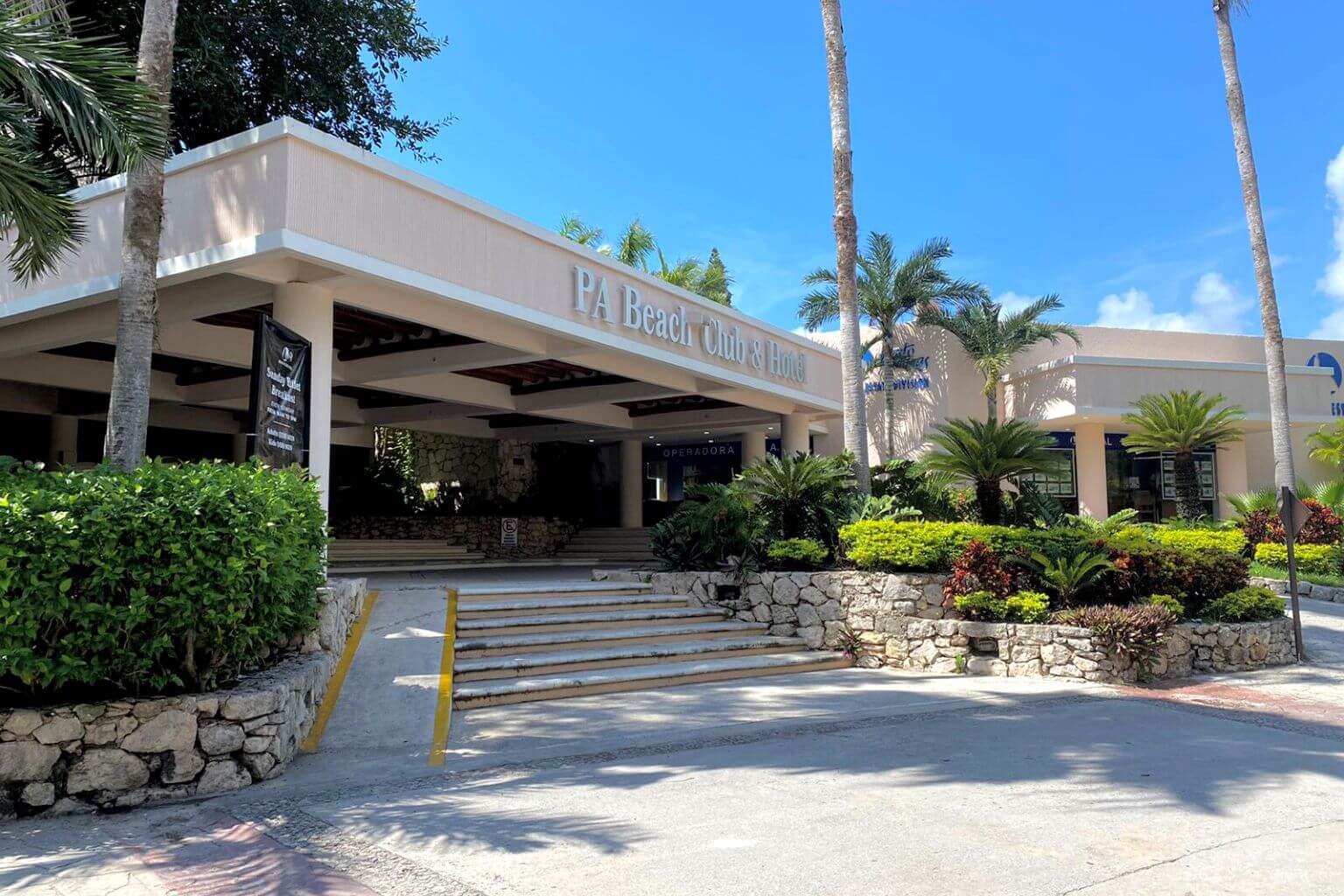 La Playa Xpu Ha Beach Club
In business since 2000, La Playa is one of the oldest beach clubs along the Riviera Maya. Frequented mostly by local residents coming from Playa del Carmen and Puerto Aventuras, La Playa at Xpu ha offers an old-school tropical beach club atmosphere that is fun for all ages.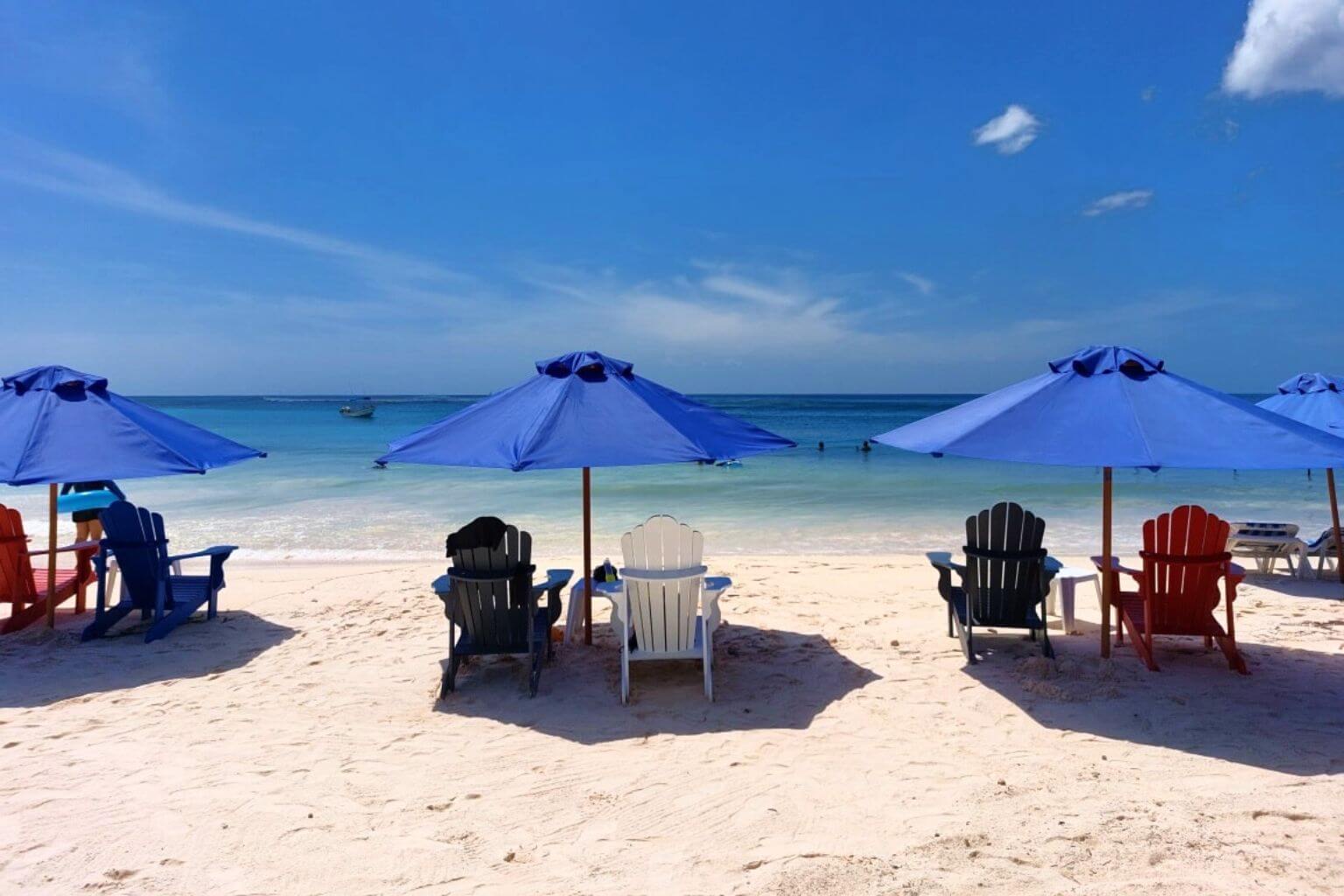 The beach club has loads of tables and chairs for dining under cover and an extensive menu with offerings including nachos, loaded french fries, thick juicy burgers, ceviche, tacos and whole fried fish among many other items. There are long lines of loungers stretching along the shore but the rental of beach chairs is managed separately from the restaurant. If you would like to use the loungers, you will be approached by men selling bracelets, which provide you use of the loungers for the day and access to the restrooms and shower facilities. 
La Playa is open 7 days a week from 10:00 am until 6:30 pm. Most days there is great live music and everyone is invited to come up and hit the sandy dance floor. While still relatively undiscovered by tourists, La Playa tends to get very full very quickly, particularly on the weekends during the high season so come early and claim your spot at this idyllic beach bar. No pets allowed.
Serenity Beach Club Xpu Ha
If you love the beach at Xpu ha but you are looking for a more upmarket beach club experience, you will want to check out Serenity Beach Club. This elegant beach club is attached to Serenity Camp, an Eco Luxury Tented Resort managed by Xperience Hotels. 
Located just south of La Playa Beach Club, Serenity is easily recognizable with its striking red and black sun beds. The beach here is spectacular and the water entry is sandy making this a great option for swimmers. You can also easily find kayak and paddle board rentals so you can really explore the whole bay. 
A day pass, purchased at the front reception desk, will cost you 500 pesos per person, (children under 12 pay 100 pesos) all of which goes toward consumption. The menu is varied and offers more interesting selections than your typical Riviera Maya beach club fare. We like the Peruvian-style ceviche and the tuna wontons. There are even some nice options for vegetarians such as hummus, a Thai salad and the portobello burger. 
Your pass gives you access to the beach club, loungers and super comfortable sun beds. There is plenty of shade so it's a very comfortable place to spend the day. You also have access to their lovely, zen-like pool area, which is a fantastic place to cool off and finish up the day.  Serenity Beach Club is open 7 days a week, from 10:30 am until 6:00 pm. No pets are allowed.
Lol Ha Beach Club Akumal
Located just 10 minutes south of Puerto Aventuras is the quiet beach community of Akumal. Known world-over as "the place of the sea turtles", Akumal is a very popular destination for day-trippers from Playa del Carmen and Tulum all hoping to catch a glimpse of the marine turtles that call Akumal Bay home. In an effort to protect this unique habitat, access to the beach is restricted and visitors may only enter through certain spots.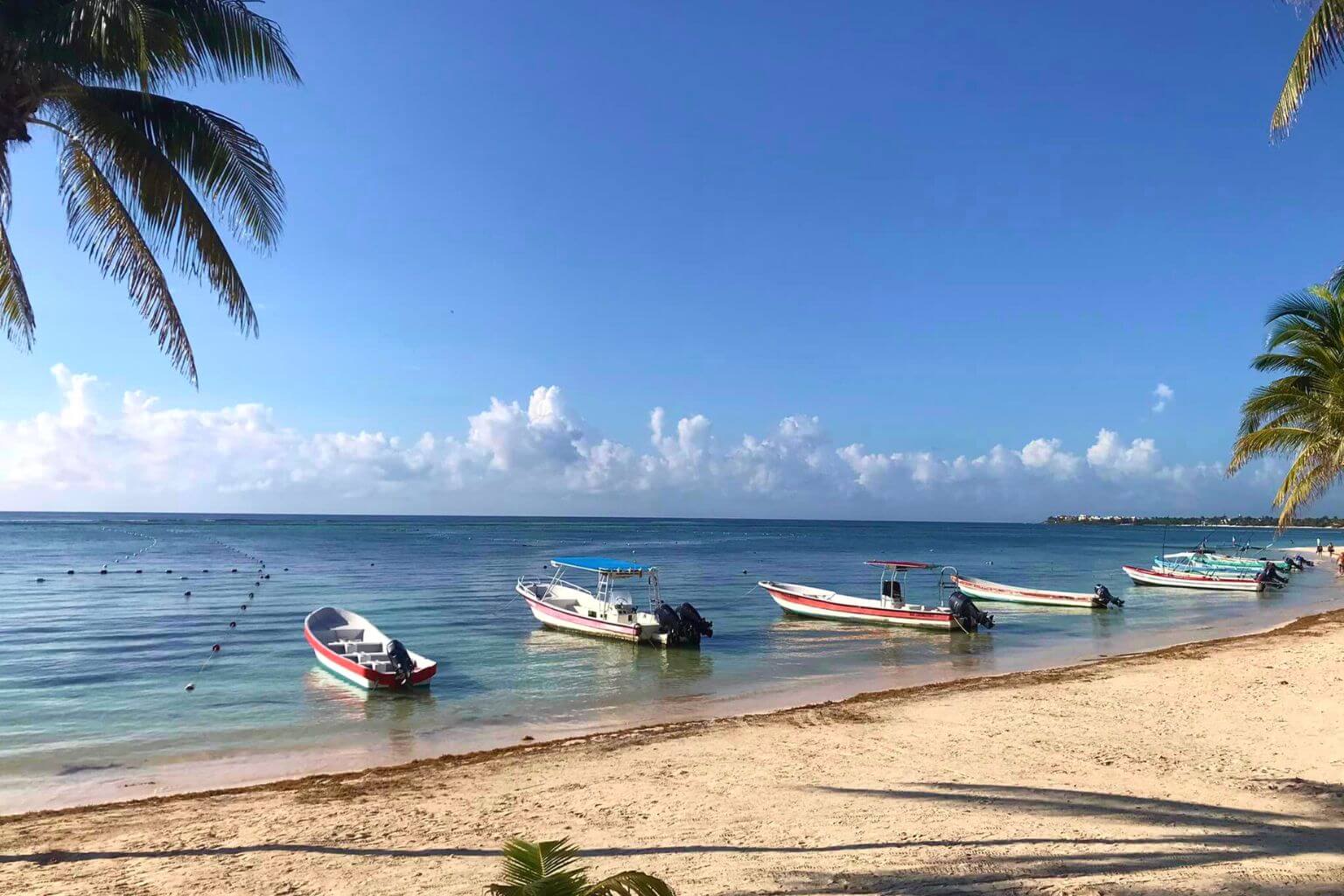 Akumal Dive Shop offers access to the beach but our favorite place to go is Lol Ha. Lol ha, has been serving up fantastic food and beverages on the shores of Akumal Bay since the 1980s. The restaurant and the Hotel Akumal Caribe have both grown and changed over the decades without losing an ounce of charm. 
The restaurant is open daily for breakfast, lunch and dinner, 8:00 am until 8:00 pm, and offers some our favorite dishes like the Lol ha Burger stuffed with manchego cheese and poblano peppers, the Shrimp Diablo pasta and the rib eye "Philly cheesesteak" sandwich. Their cochinita pibil is prepared authentically and is not to be missed! All of the food is top notch and the service is spot on.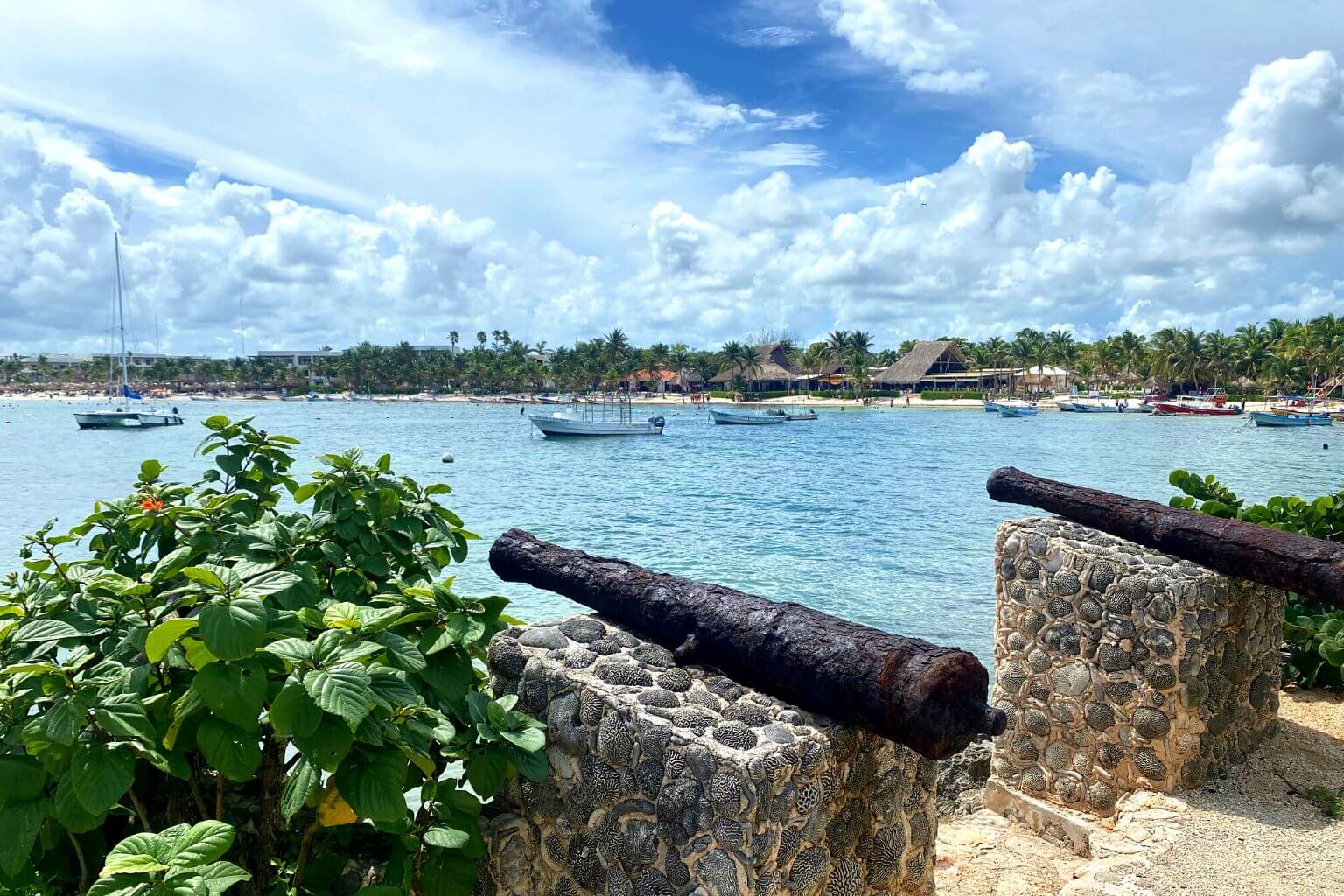 Lol Ha has maintained many of the same staff members for decades and their dedication shows. Lol Ha is not a beach club in the traditional sense but they offer a day-pass option, which gives you access to their beautiful beachfront of course, but also the pool at Hotel Akumal Caribe, showers and restrooms for changing. 
The cost of the day pass is 450 pesos but this does not apply to food and beverages consumed in the restaurant. Another option is to come and dine at Lol Ha and then stay to enjoy the beach for the day. There is no beach service but you can easily skip up to the palapa bar and grab a cerveza when you need one. Lol Ha is pet-friendly and well-behaved dogs on leash are welcome.
Jungle Fish Beach Bar
The go-to spot for many Puerto Aventuras residents, Jungle Fish is the official beach club for the TAO Beachfront Residences but it is also open to the public. Jungle Fish is a small property, situated toward the southern end of Jade Bay. During the season, the beach is dotted with signs marking the locations of turtle nests and the conservation of this area is taken quite seriously.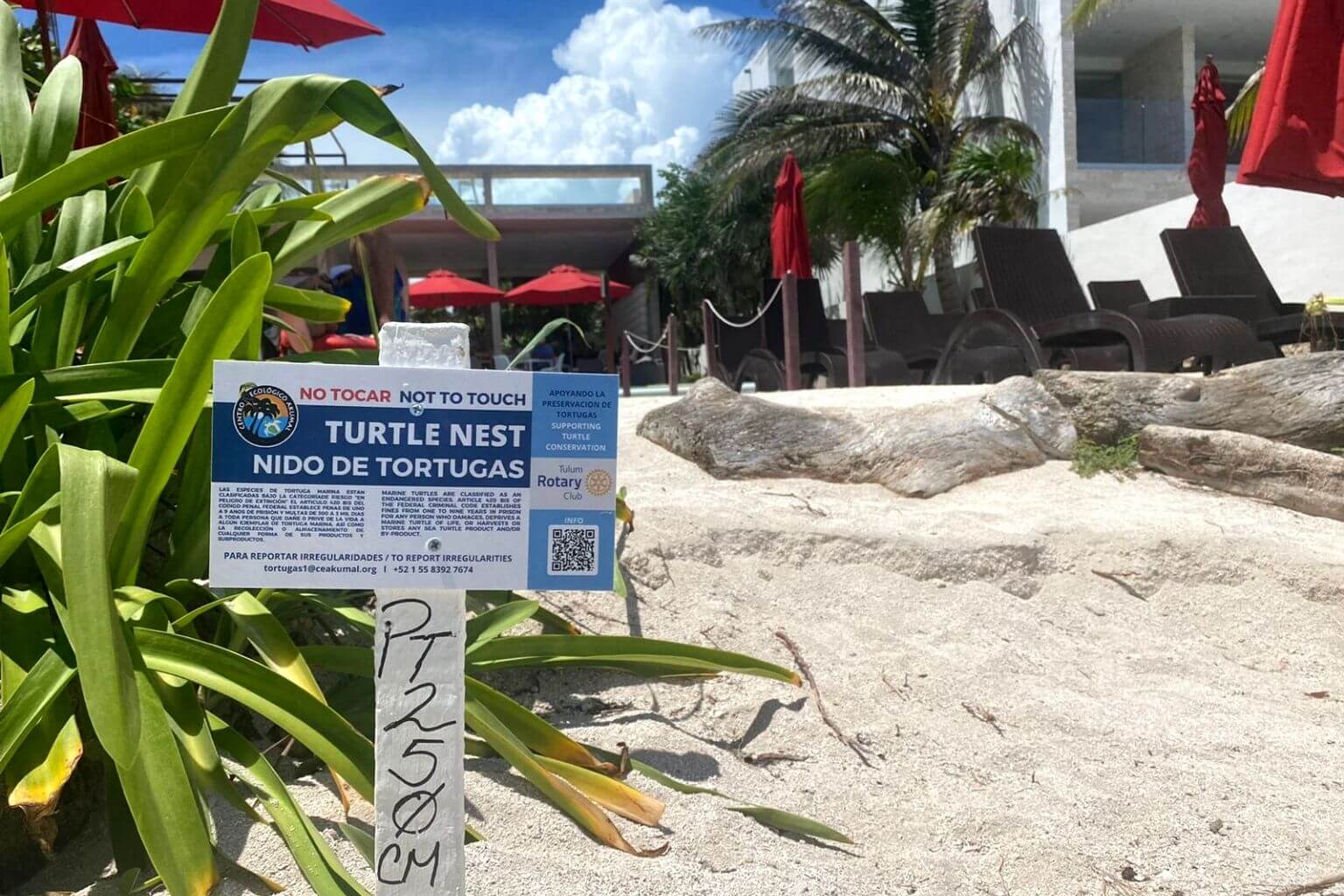 There is a small area of open sand but the loungers and bright red umbrellas are all set up a bit off the beach in an area behind the protected coastal dune, so as to not disrupt the eco-system. The location on the bay is stunning but the water entry is rocky. If you want to get out on the water in one of their kayaks for hire or do a bit of snorkeling, you will want to bring water shoes.
One of the most popular features of Jungle Fish Beach Club is actually the infinity edge pool, which is the perfect place to cool off and enjoy a cold drink while taking in the views out over the bay.  It is large and clean and just deep enough to stay cool even throughout the heat of summer. Jungle Fish has a full restaurant and bar offering up excellent representations of Mexican beach club fare. They have fresh-made guacamole, fried calamari, chicken wings, tacos and quesadillas, super fresh ceviche and a variety of seafood entrees that can be ordered in a variety of preparations.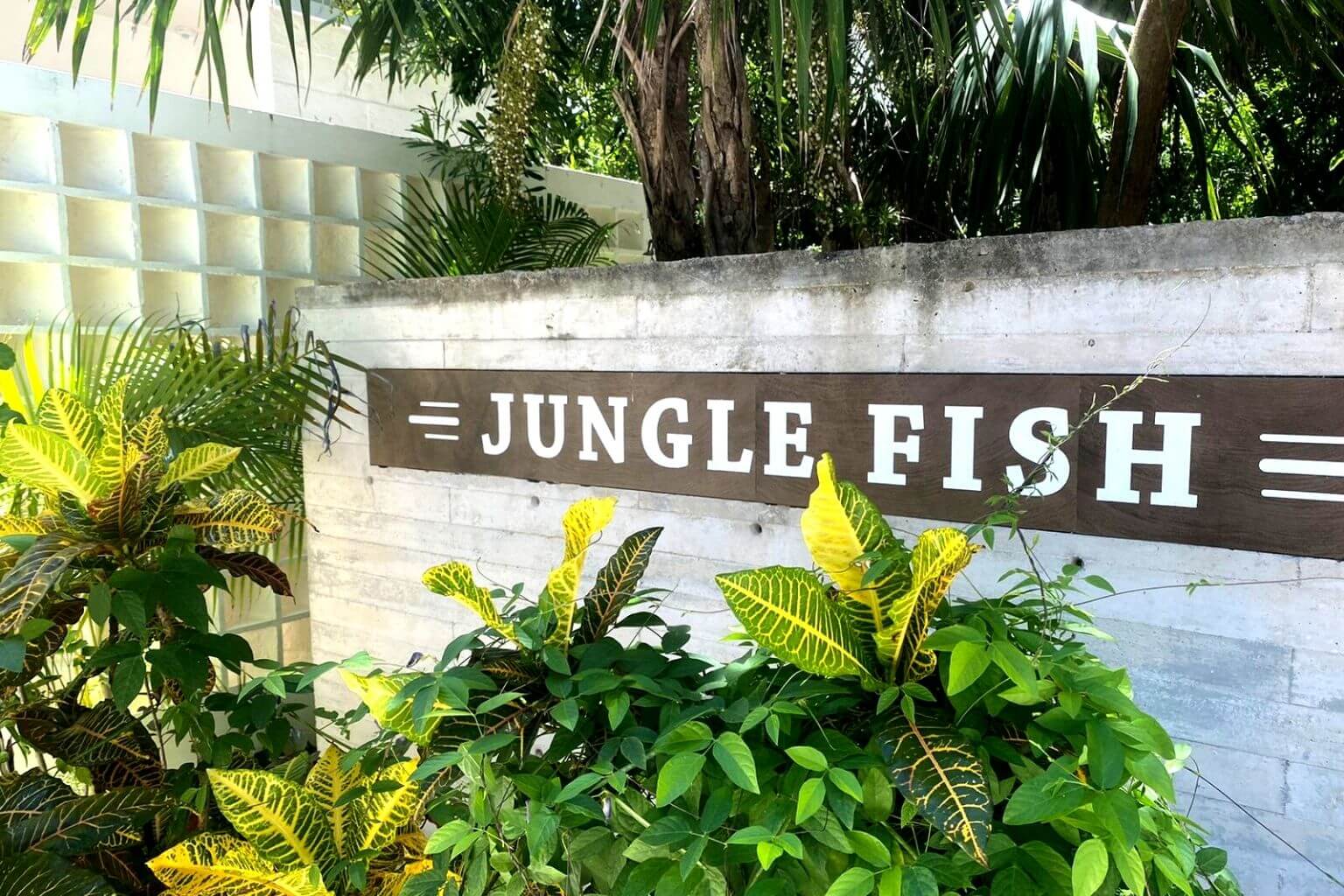 The guys at Jungle Fish are out on the bay every day looking for fresh fish to offer their guests including Caribbean lobster when it is in season. The prices for food and drink are very accessible, particularly for a beachfront venue and the service is spot on making this a place where we find ourselves quite regularly. Jungle Fish is pet friendly. Dogs on leashes are welcome making it one of our favorite Riviera Maya beach clubs.
Beached Bikini Beach Bar 
Looking for a Riviera Maya beach club with an authentic old-school vibe? Then Beached Bikini Beach Bar is the place for you. This tiny venue in Aventuras Akumal has quietly been in business for years and is the local watering hole for the folks living and vacationing in this sleepy beachfront enclave south of Akumal.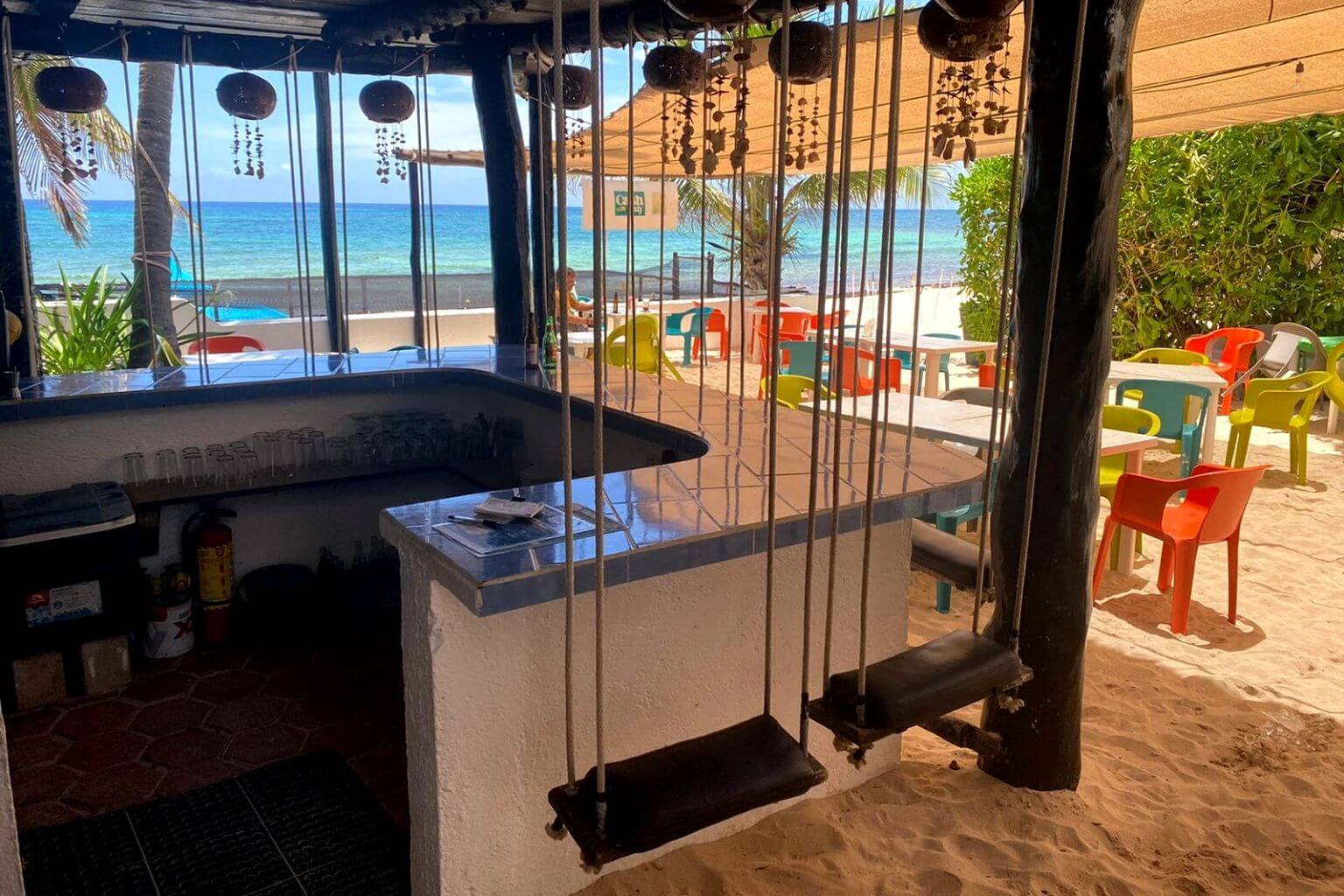 Situated on the property of Villas de Rosa, Beached Bikini can hardly be called a beach club and that's just fine. With its charming swing bar and plastic tables in the sand, this spot harkens back to the early days long before the Riviera Maya became the international hot spot that it is today. Beached Bikini is located on a spectacular stretch of beach and is a great place to sunbathe, snorkel the reef just offshore or go for a long walk.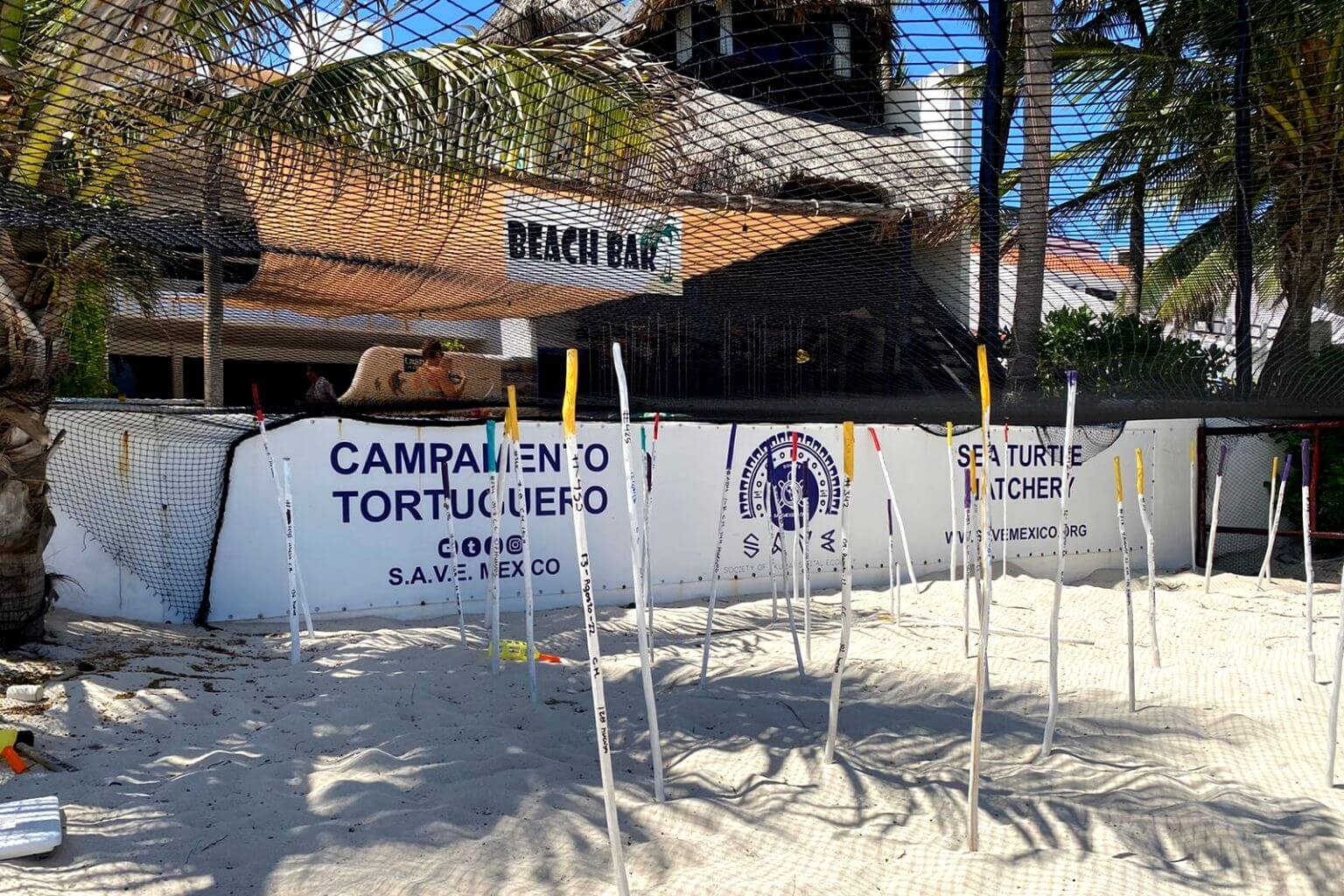 The bar and restaurant are open from 11:00 am until 9:00 pm daily. During the marine turtle nesting season, May 1 – November 30, they close at sunset to avoid unnecessary artificial light on the beach. The turtles come first here and during the season, Beached Bikini plays host to a turtle nursery and hatchery, watching over nests that have been relocated from less suitable sites.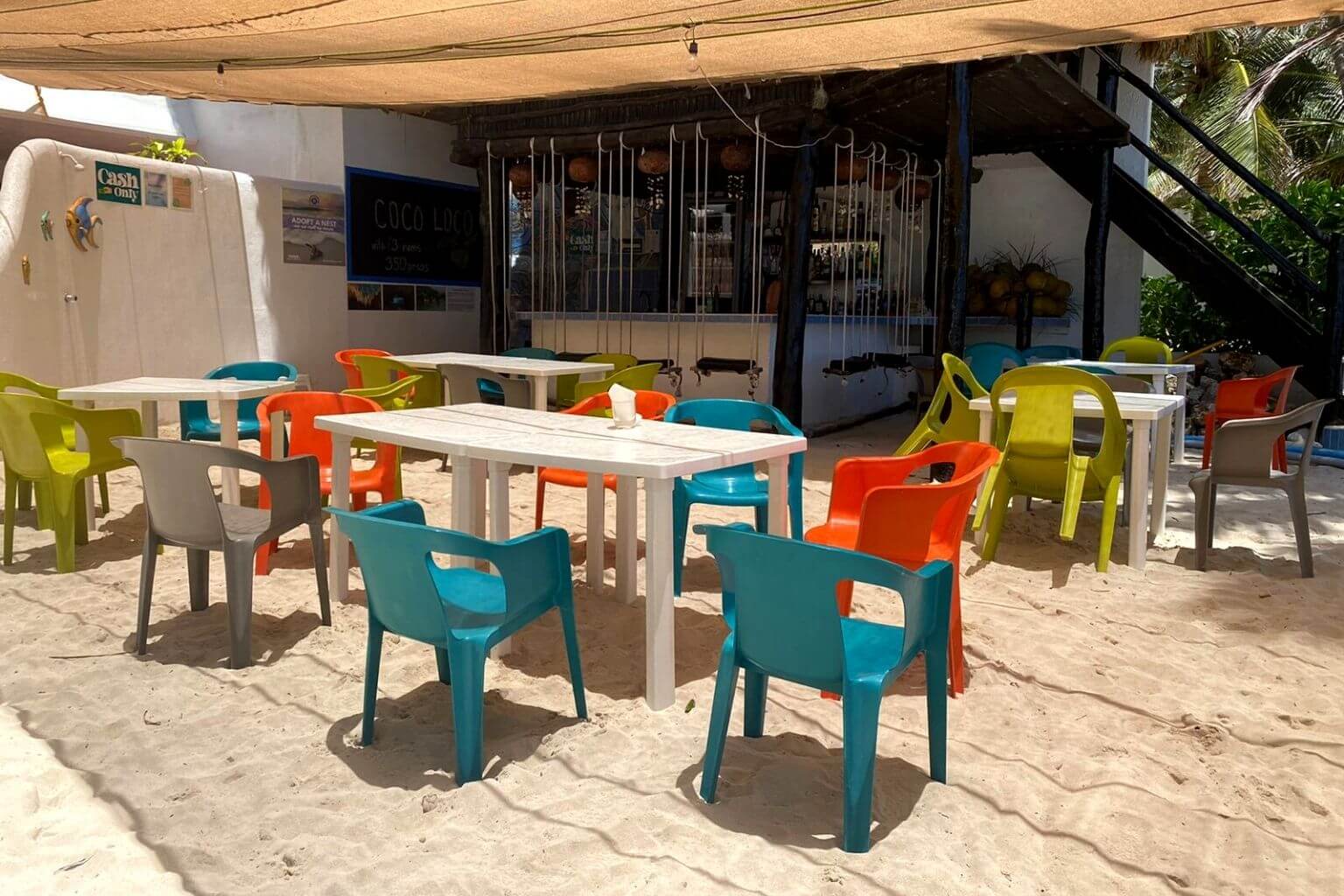 Among other beach bar fare, they serve up a delicious ceviche with mango and some seriously good margaritas. The beer is always cold and the staff is always attentive.. Beached Bikini is very pet-friendly and dogs on leashes are welcome.
Kay Beach Club
One of the newest (and undoubtedly the most stylish) addition to the Riviera Maya beach club scene is Kay Beach Club. This gorgeous beachfront venue quietly opened at the end of 2020 and is the official beach club for the residents and guests in the Tulum Country Club resort complex (formerly Bahia Principe Residences). Kay is located just north of the public beach at Playa Aventuras and is accessed via the same road off of 307. 
Kay Beach Club offers up a bit of Tulum both in its design but also in its menu selections but without the Tulum prices (or having to run the gauntlet on the Tulum beach road). Kay Beach Club is perched up above a long stretch of beautiful sandy beach with loads of palm trees, palapas and sun beds to lounge on.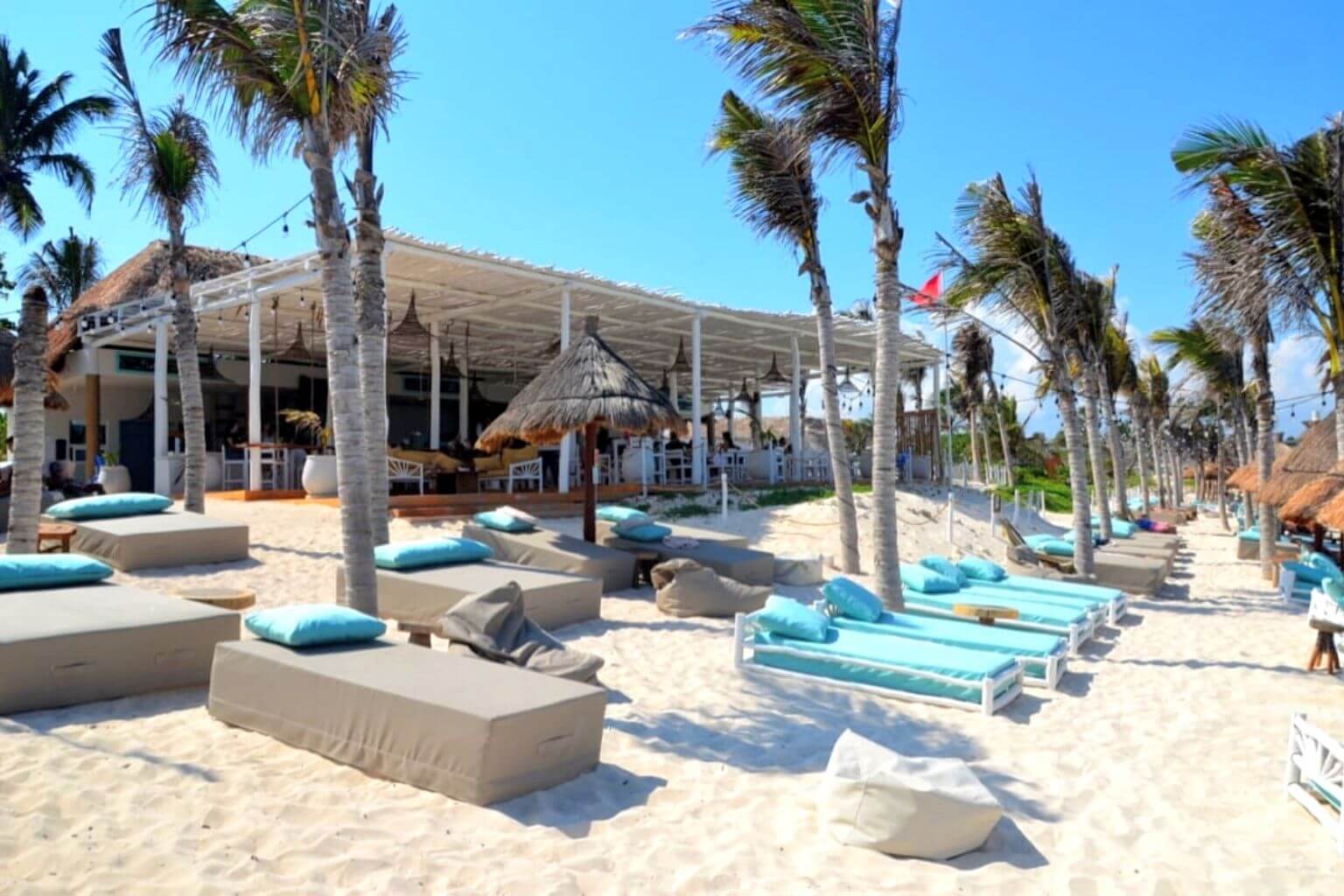 The water entry is sandy and leads to a small and fairly shallow swimming area, which is roped in to keep swimmers from straying too far out of sight of the lifeguard on duty. Just up next to the restaurant is a small plunge pool. It is very shallow but not a bad place to enjoy a beverage and gaze out across the bay.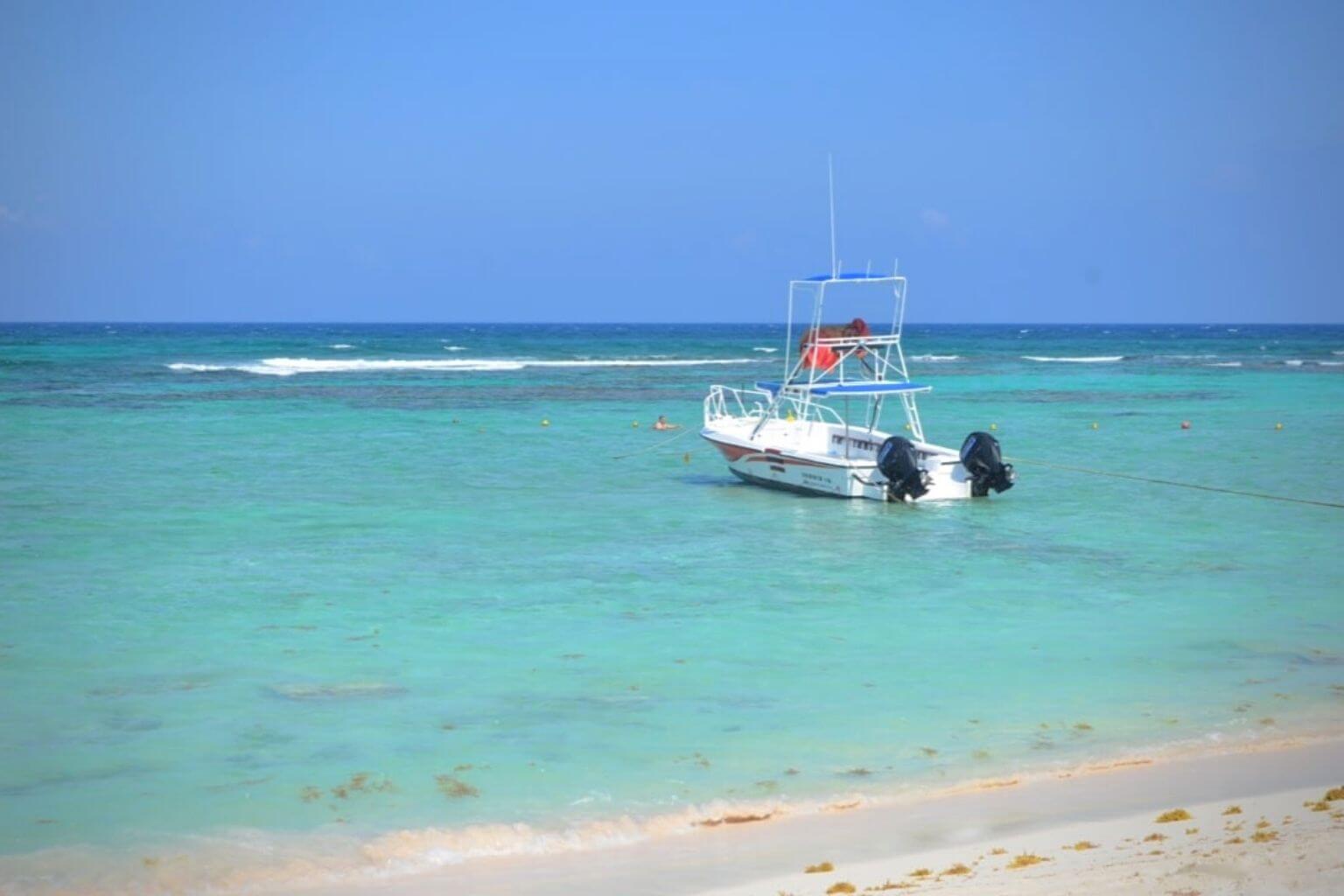 The menu is much more interesting than your usual beach club fare and includes everything from overflowing molcajetes to wood-oven-fired pizza to oysters on the half-shell. The cocktail menu is vast and well-priced and ambitiously includes some very nice Champagnes by the bottle. Kay Beach Club is still relatively new but it won't be long before everyone discovers this little gem. Kay Beach Club is open from 9:00 am until 7:00 pm, 7 days a week. Valet parking is available. No pets allowed.
Paamul Restaurant and Beach Club
Located inside the quirky gated community that is Paamul, there is an attractive restaurant and bar set up over a very pretty bit of Caribbean coastline that also offers access to their beach and pool for those who dine there. No, it's not a beach club per se but there is "beach service".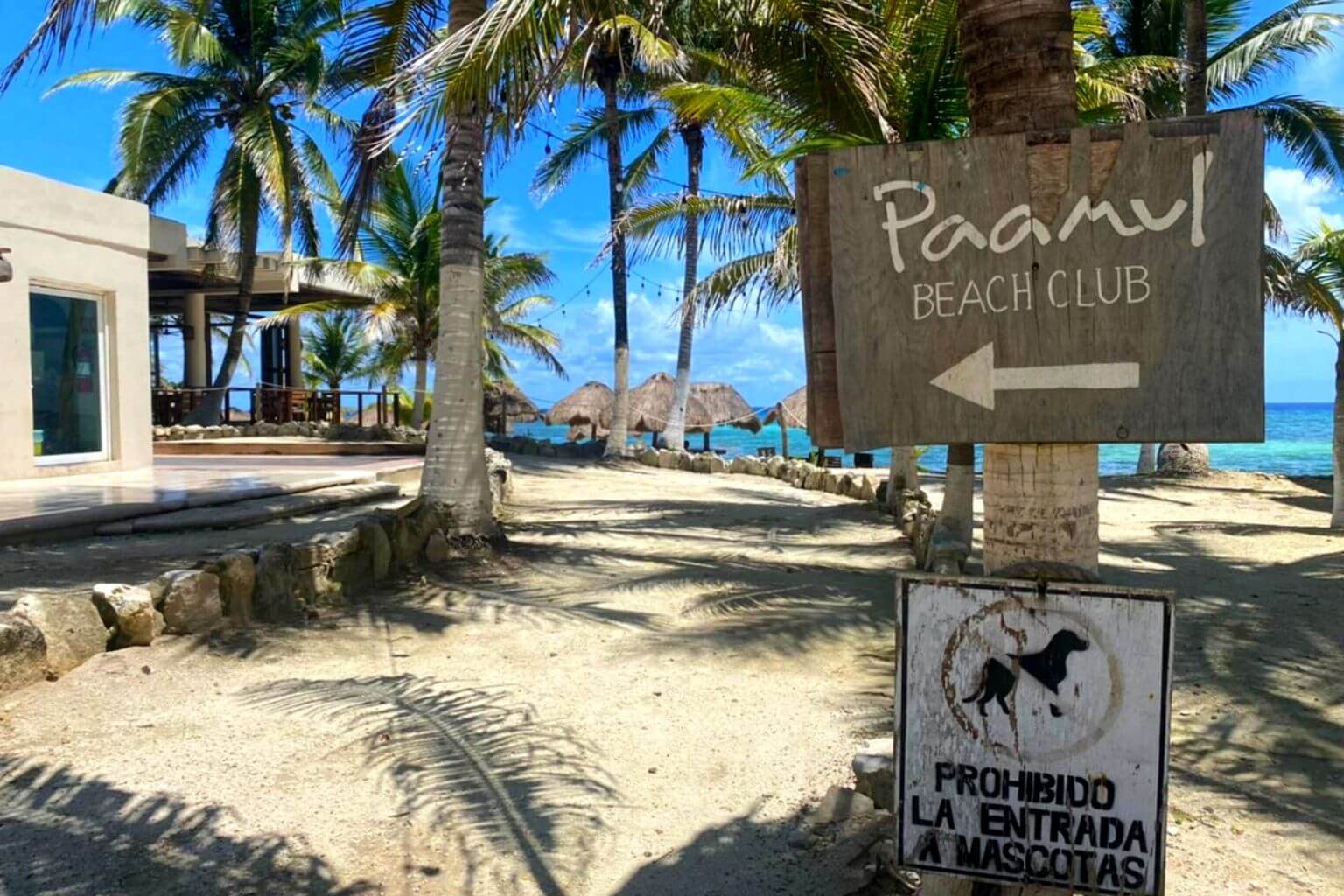 The restaurant offers some decent food at decent prices and they make a very good margarita. Paamul has its roots as a trailer park that has provided seasonal accommodations to snowbirds and RVers for decades. Over the years, the demographic has made a shift and Paamul now finds itself home to dozens of young families who are raising their children in this unique seaside community.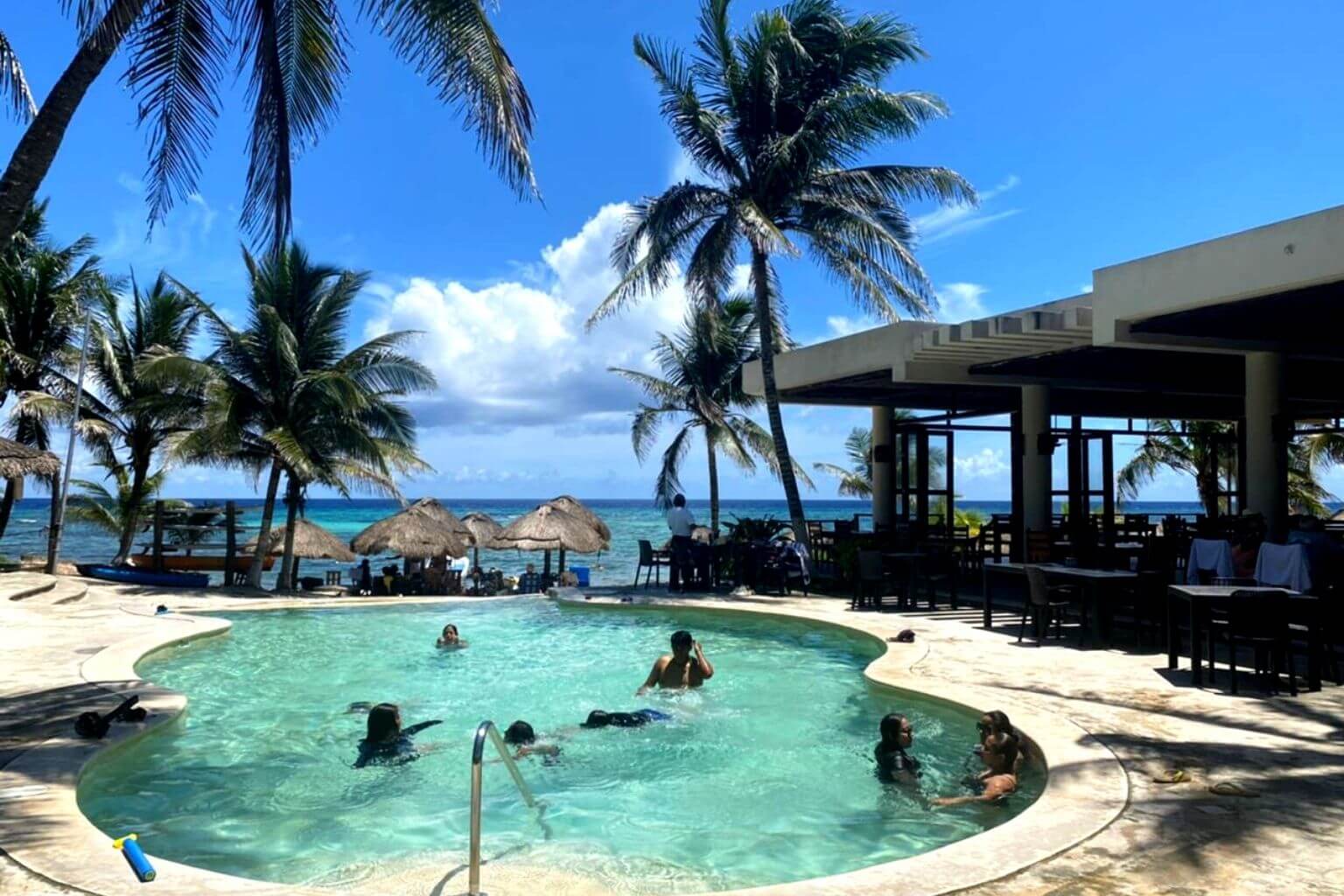 The Paamul Restaurant is open daily, 8:00 am until 8:00 pm. As you can imagine, the pool at the Paamul Restaurant is a big draw so weekends can find it quite active. You may want to consider this a mid-week destination as they do restrict the number of people using the facilities. Outside food and beverages are not permitted and you may be turned away at the gate if security sees you traveling in with coolers etc.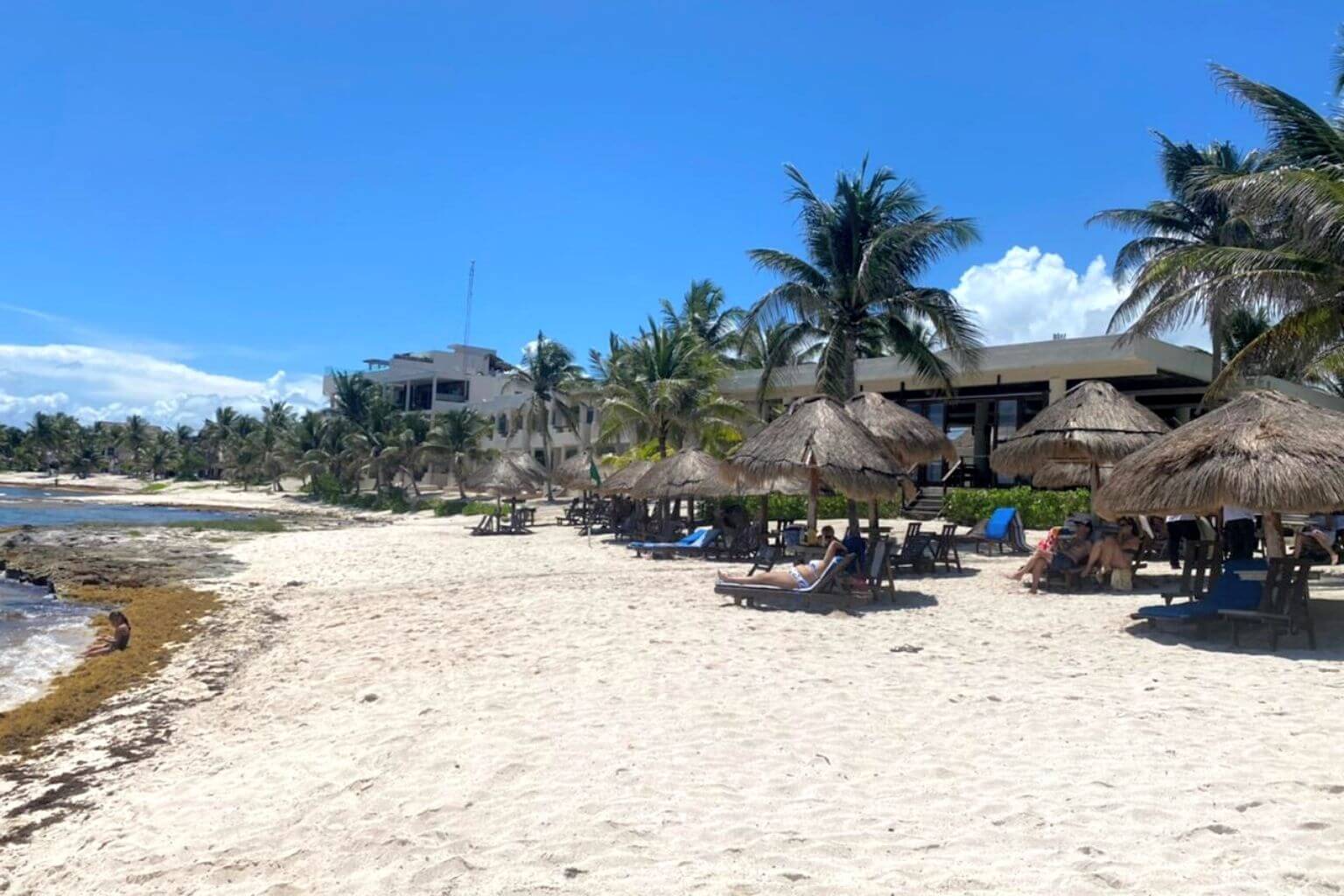 There is a good bit of sandy beach to stretch out on and a few palapas for shade. The snorkeling just offshore is pretty good but water shoes are recommended. You may see quite a few local dogs roaming the streets and beaches of Paamul but dogs from outside the community are not permitted inside so leave your four-legged friends at home.
Catalonia Riviera Maya Resort
Located inside the Puerto Aventuras resort community, Catalonia is an all-inclusive hotel/resort that offers public day passes at very attractive prices. For less than 50 USD per person, you can spend an entire day in a tropical resort environment, lounging on the beach or poolside enjoying all the food and beverages you can manage!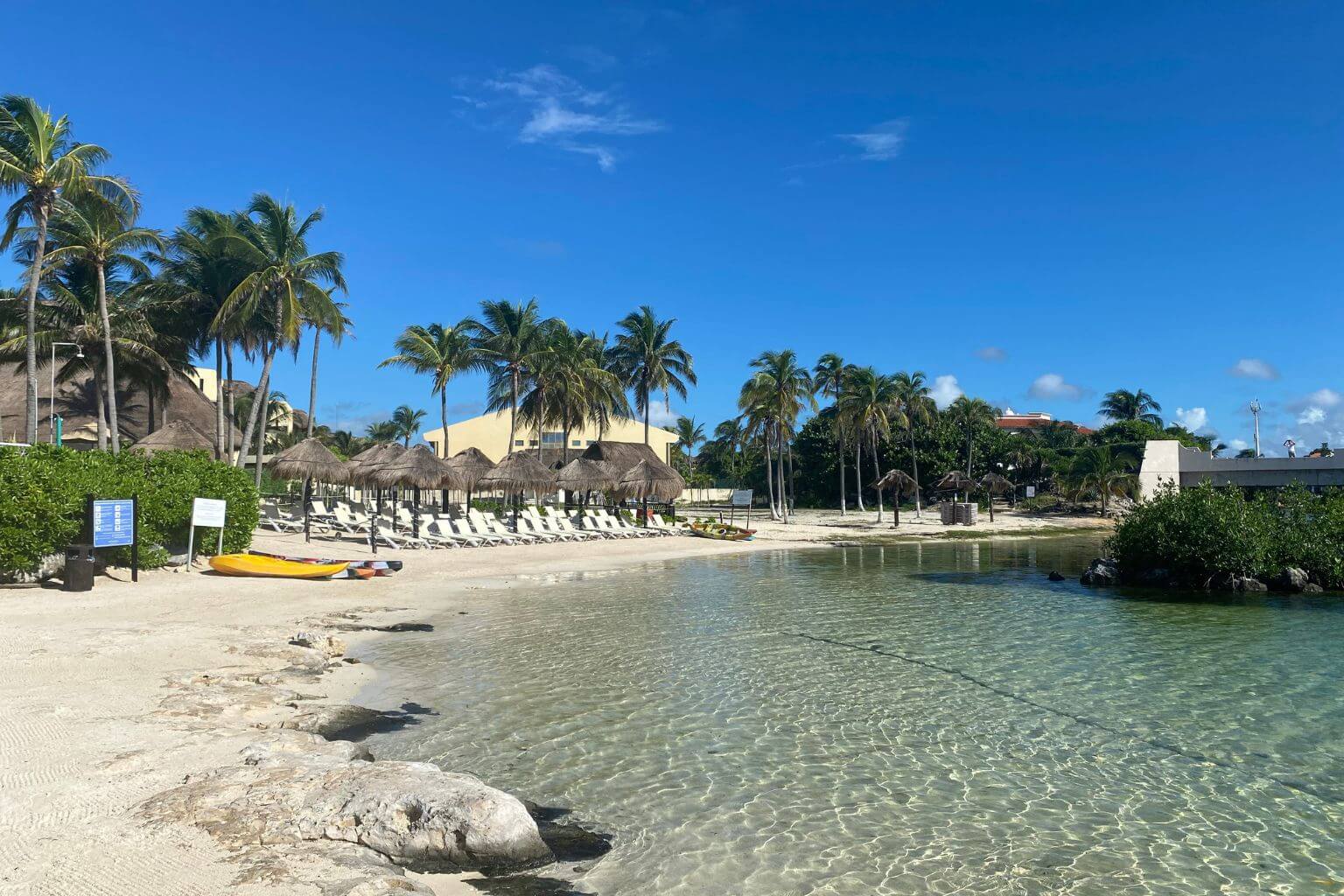 This is not a high-end resort so don't expect gourmet cuisine and top-shelf liquor. Still, at the price they offer, it's a fun and affordable day-long "stay-cation" that many Puerto Aventuras residents like to take advantage of.  
The Catalonia Riviera Maya is open for day visitors from 11:00 am until 6:00 pm, 7 days a week.  Day passes are offered based on availability and hotel occupancy and rates are subject to change. Currently, the resort is offering day passes for 699 MXN for adults and 399 MXN for children. You really can't beat that!
Punta Venado Beach Club
Perched on a sandy hill, overlooking a pristine stretch of beach Punta Venado Beach Club is vying for the title of "Best Beach Club Near Puerto Aventuras". It is certainly on the top of our list. The location could not be better. This beach club is just about 10 minutes from our home in PA but it feels like a world away.
Read our full review of Punta Venado Beach Club
With nothing to be seen in any direction but the catamarans and fishing boats trolling by, an afternoon at Punta Venado Beach Club makes you feel as if you are on a deserted island …. a deserted island with top-notch food, drinks and service!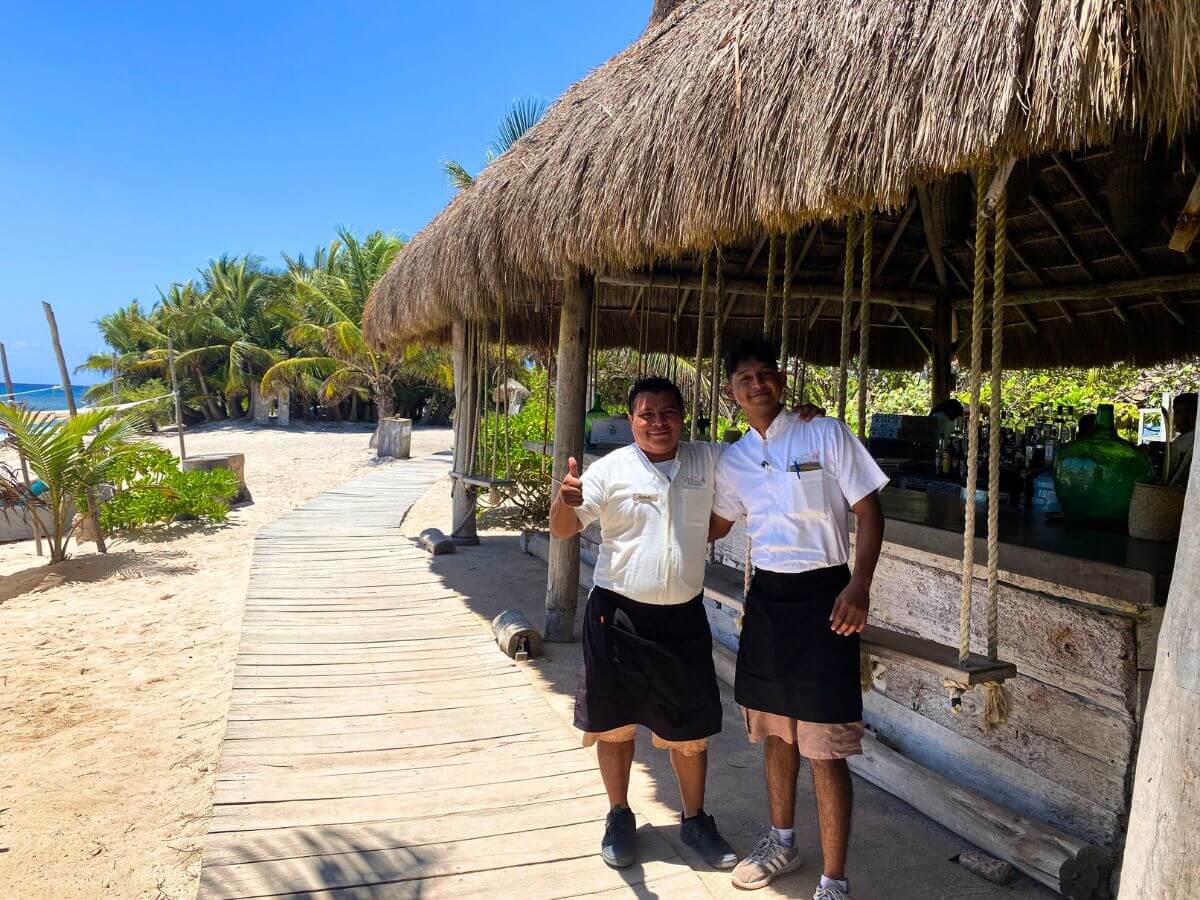 This is a gorgeous facility with an enormous palapa-covered dining area, a cool swing bar, elegant outdoor dining spaces and a shady grove of Sea Grapes strung with hammocks.
Best of all is the beach. The beach club has about 20 sun beds with shade covers for guests to relax in. The beds are comfortable with plenty of pillows and spaced out enough that you feel like you have your own space. The waterfront is sandy with plenty of safe areas to swim and snorkel.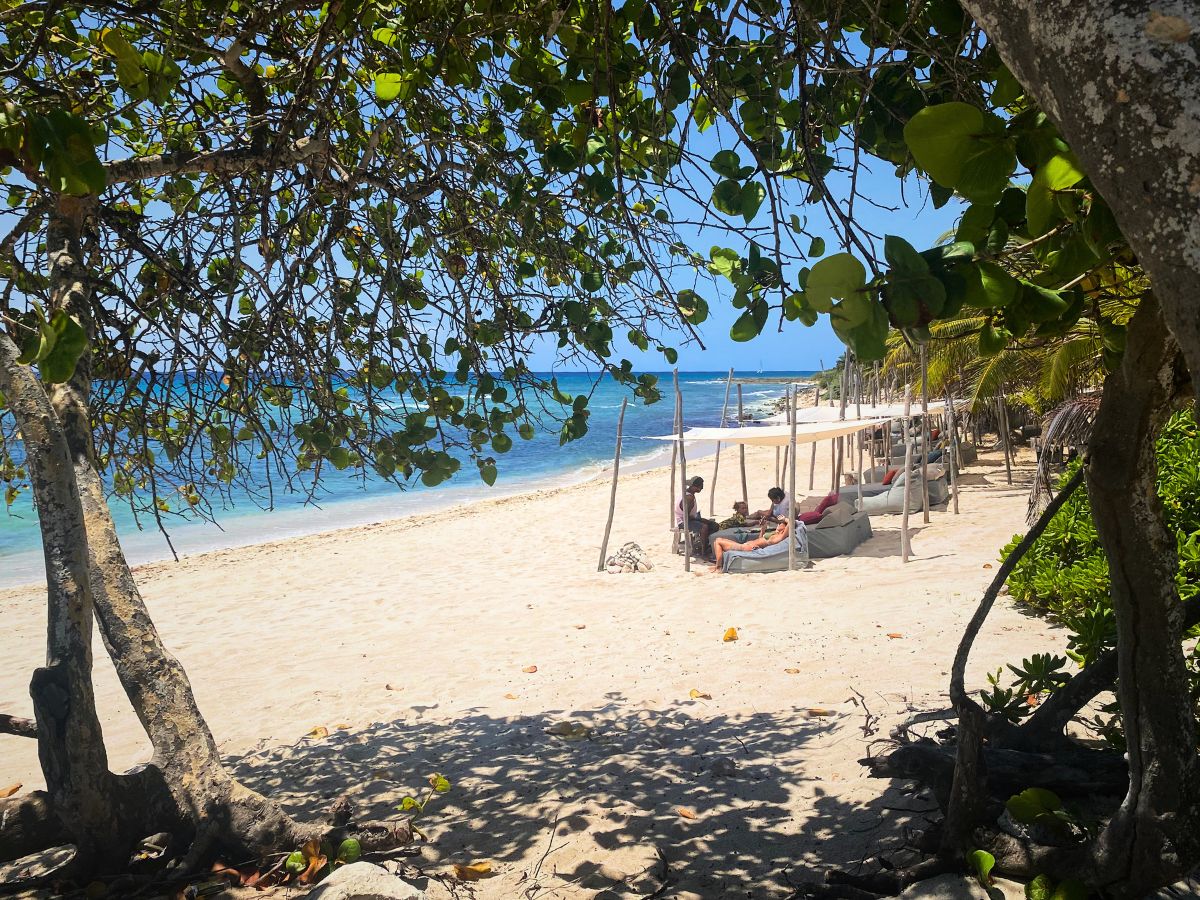 Punta Venado Beach Club is open seven days a week from 10:00 am until 5:00 pm. There is plenty of free parking available onsite. There is no charge to park or use the facilities, just a 700 pesos minimum consumption per person for access to the beach beds. WELL worth it in my opinion.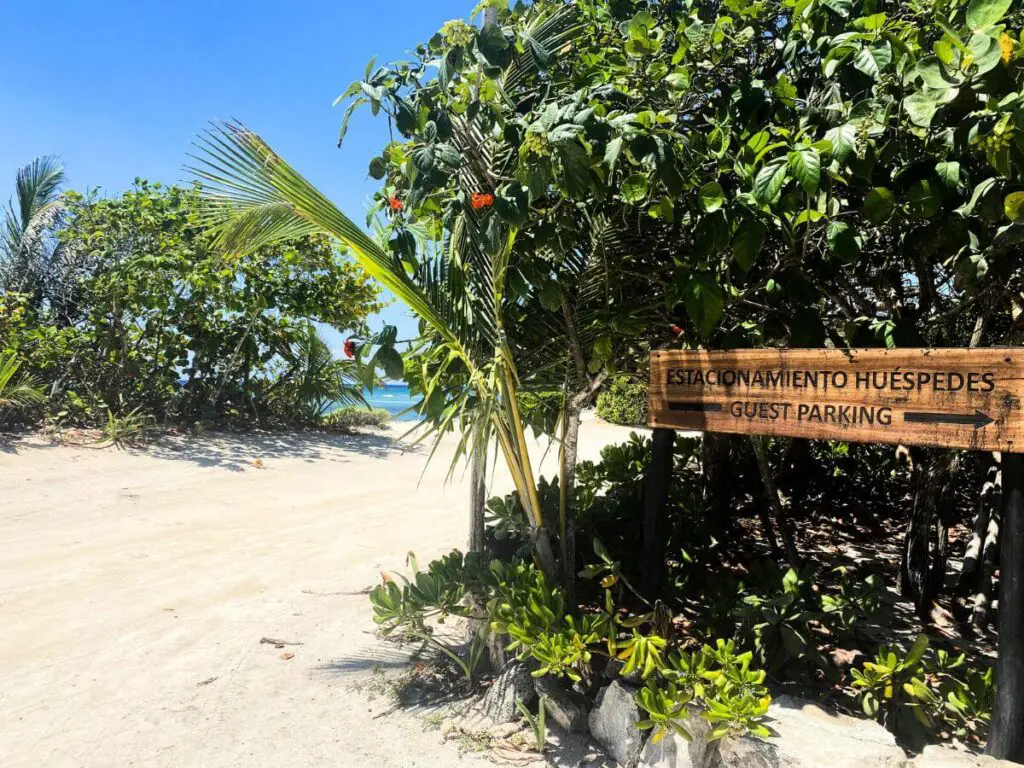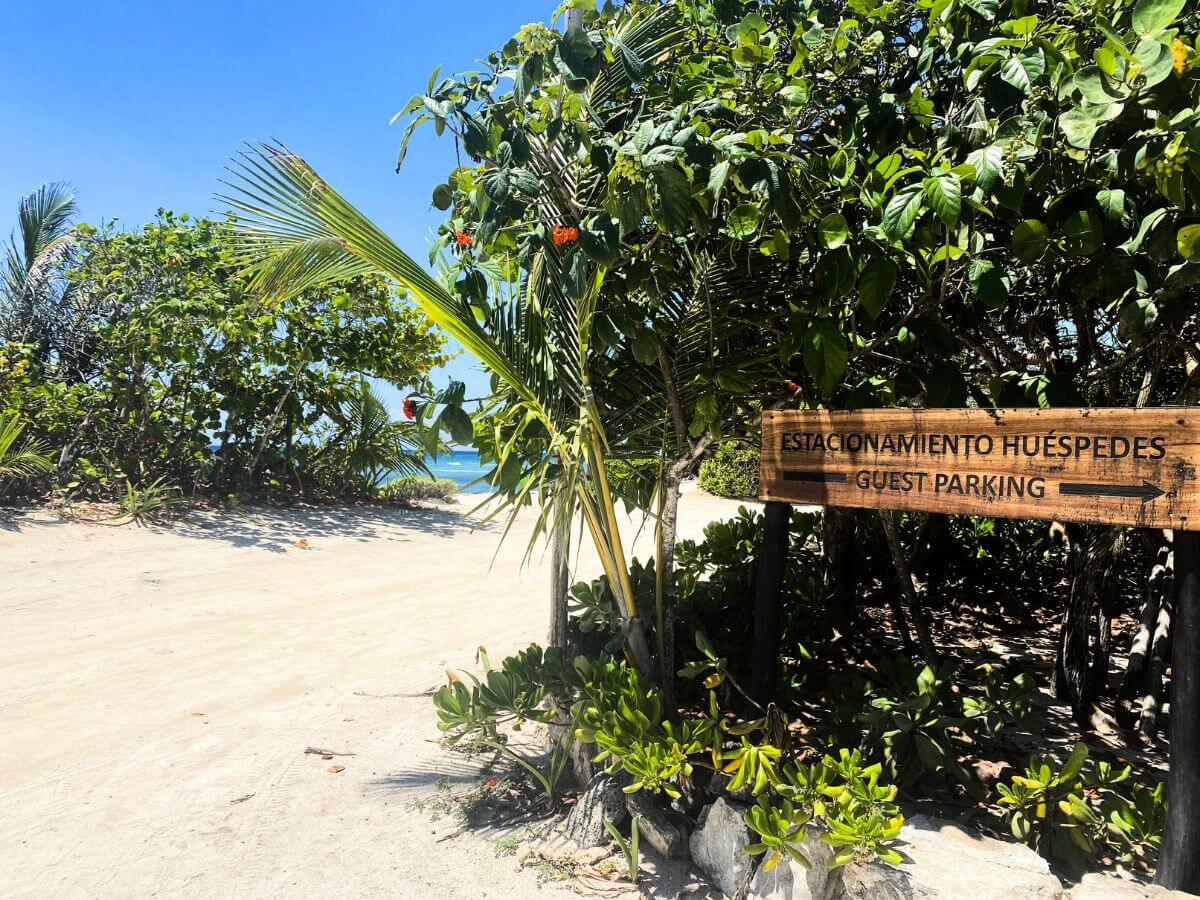 If you are longing for the Tulum vibe but don't want to go all the way to Tulum to find it. Punto Venado Beach Club is the place for you!
---
Whether you are living here full-time or enjoying a holiday in Puerto Aventuras, you will want to take advantage of some if not ALL of these great Riviera Maya beach clubs.  These are the ones that we like and are consistently recommended by locals and guests alike. There is certain to be one that will be your favorite too. Feel free to tell us in the comments or let us know if you find a new one for us to check out! We will never say "NO" to a day at the beach!