Punta Venado Beach Club – Is this the BEST Beach Club Near Puerto Aventuras?
Everyone has their own idea of the "perfect" beach club and Punta Venado is vying for the top spot on my list. I'm almost embarrassed to admit that the last time I was at this spot was for my friends' wedding well over a decade ago. 
Since then, I've seen it from the water a few times over the years and at times, it looked completely abandoned. The old "Blue Venado" sign had long been removed from the entrance on 307 and after that, I wasn't really sure what was going on with this desirable beachfront property.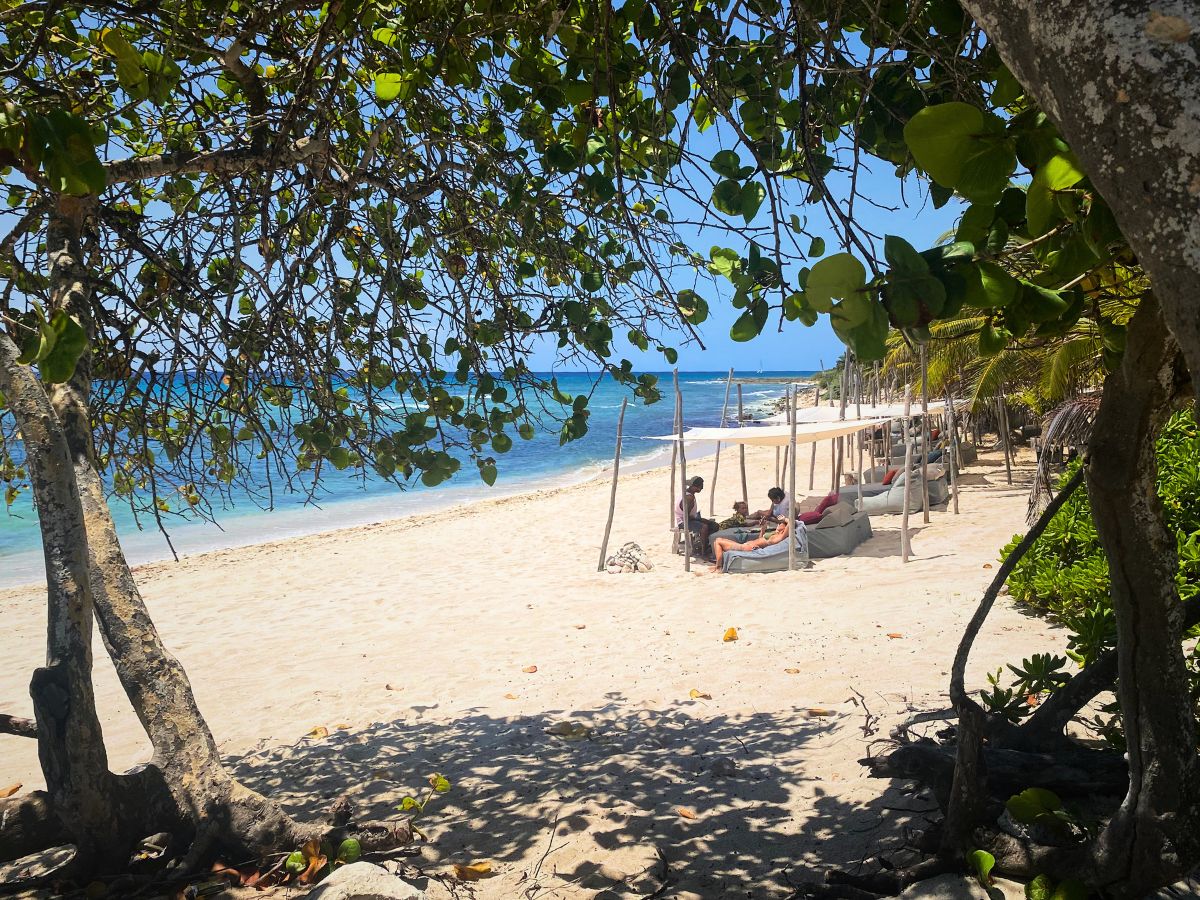 Imagine my surprise when we pulled in last week to find Punta Venado Beach Club up and running and absolutely gorgeous!
Read our list of other Riviera Maya Beach Clubs that we like!
Punta Venado Beach Club is managed by Cancun Adventures, one of Mexico's biggest tour companies with attractions not only in Cancun but across the country. This facility is used as a part of the day-tour experience that they offer to their guests. 
It really is the perfect spot to enjoy a meal, spend a bit of time on the beach and take some pictures after whatever excursion they are booked on.
What makes Punto Venado Beach Club perfect?
Everyone will have their own list of criteria for a great beach club experience. After almost 19 years on the Riviera Maya, mine is pretty specific but I'm still flexible on a lot of things. I can honestly say that this place gets very high marks from me in almost every category.
These are the features that make Punta Venado Beach Club one of the best beach clubs on the Riviera Maya.
Great Location
Punta Venado Beach Club can be found just off Highway 307, between Playa del Carmen and Puerto Aventuras. From our place in PA, it took us 10 minutes to drive to the entrance. From there, it's another slow 5-minute drive down a sandy jungle-lined road that leads to the beach.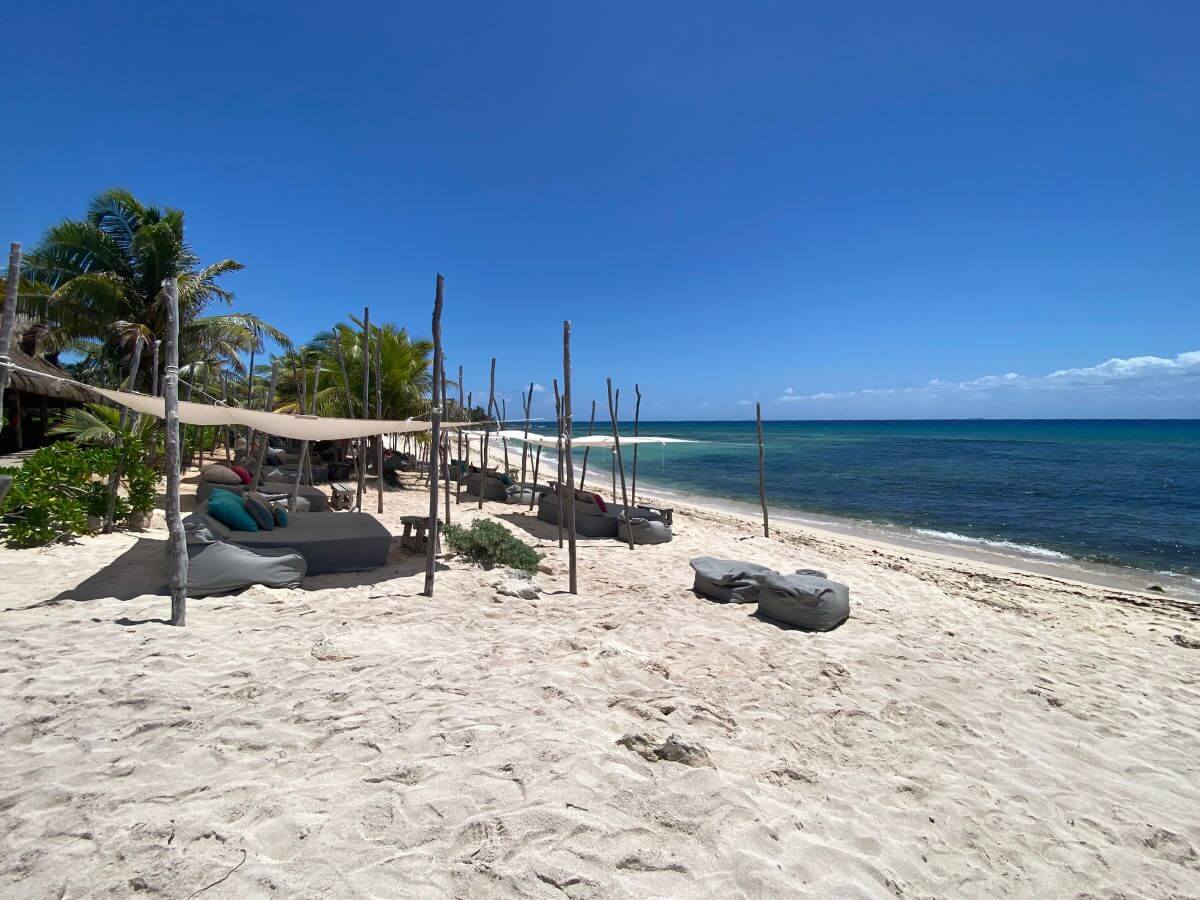 While the entrance on the highway is easily reached by colectivo, the walk from there is considerable. If you don't have a car, seriously consider taking a taxi to and from this beach club.
Ample Parking
I do not mind paying for parking, especially in a safe spot, close to the beach. What I don't love is paying to park along a narrow road, half into the mangroves and then walking half a kilometer to the beach.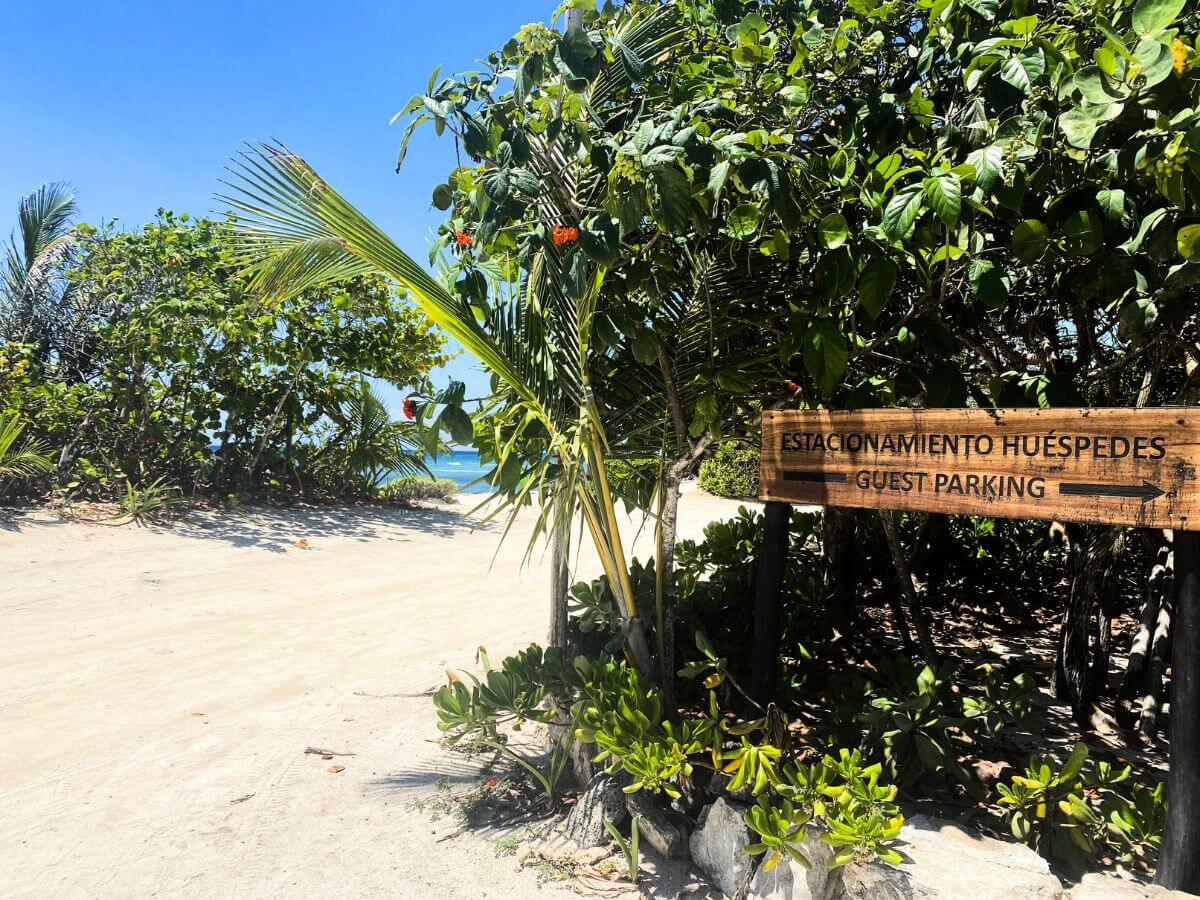 Thankfully, the parking at Punta Venado is ample and free of charge. Once you arrive at the beach, you will find one parking area for the Cancun Adventures tour vans and another for cars. The parking area is close to the beach club and felt very secure.
Elegant Facilities
When you first arrive at the Punta Venado Beach Club, a rustic wooden walkway lined with hanging lights leads you to an enormous palapa. This is the main dining area with dozens of tables and two bars. One of the bar areas is clearly meant for service but the other has swings and seats for guests where they can enjoy a cold drink overlooking the ocean.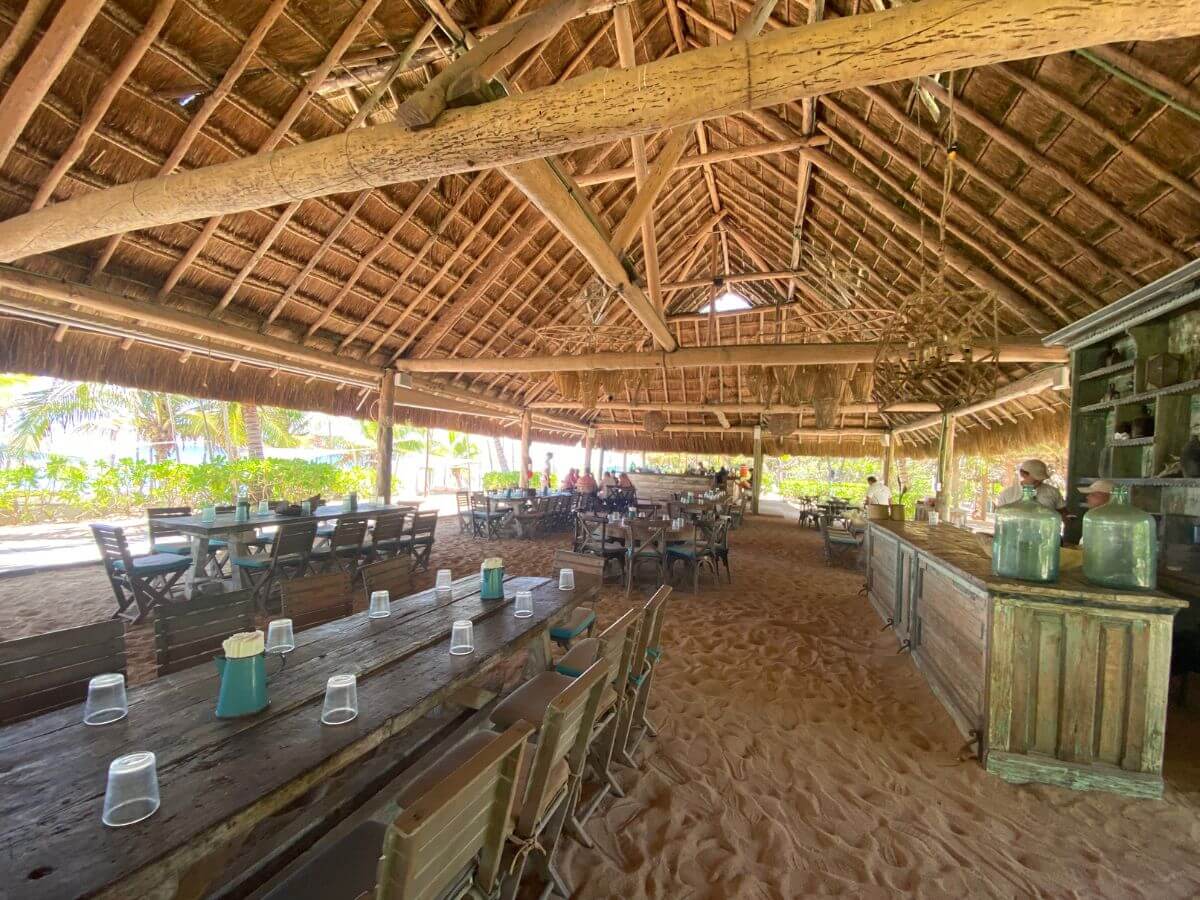 Exploring further, you will find a shady grove where several hammocks have been strung up in the Sea Grape bushes. Nearby, there are two gorgeous outdoor dining areas. The structures are rustic but elegant (think Tulum chic) and strung with lights. You can just imagine how beautiful this location would be for a wedding or private party.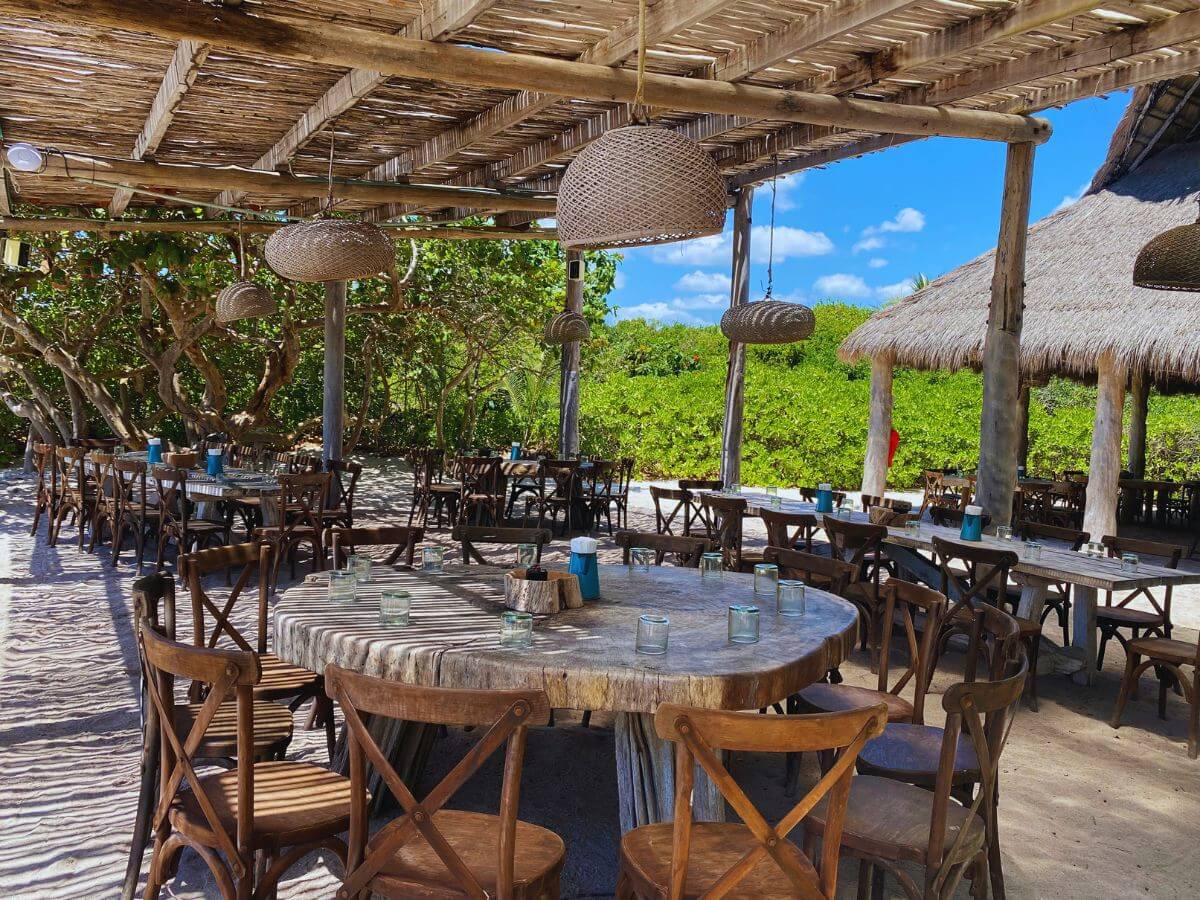 Friendly Staff
From the moment we walked up, we were attended by friendly, English-speaking servers who went out of their way to make us feel welcome. They even went so far as to tell us when the tour busses would be coming so that we could get our orders in and be served without delays. Very considerate.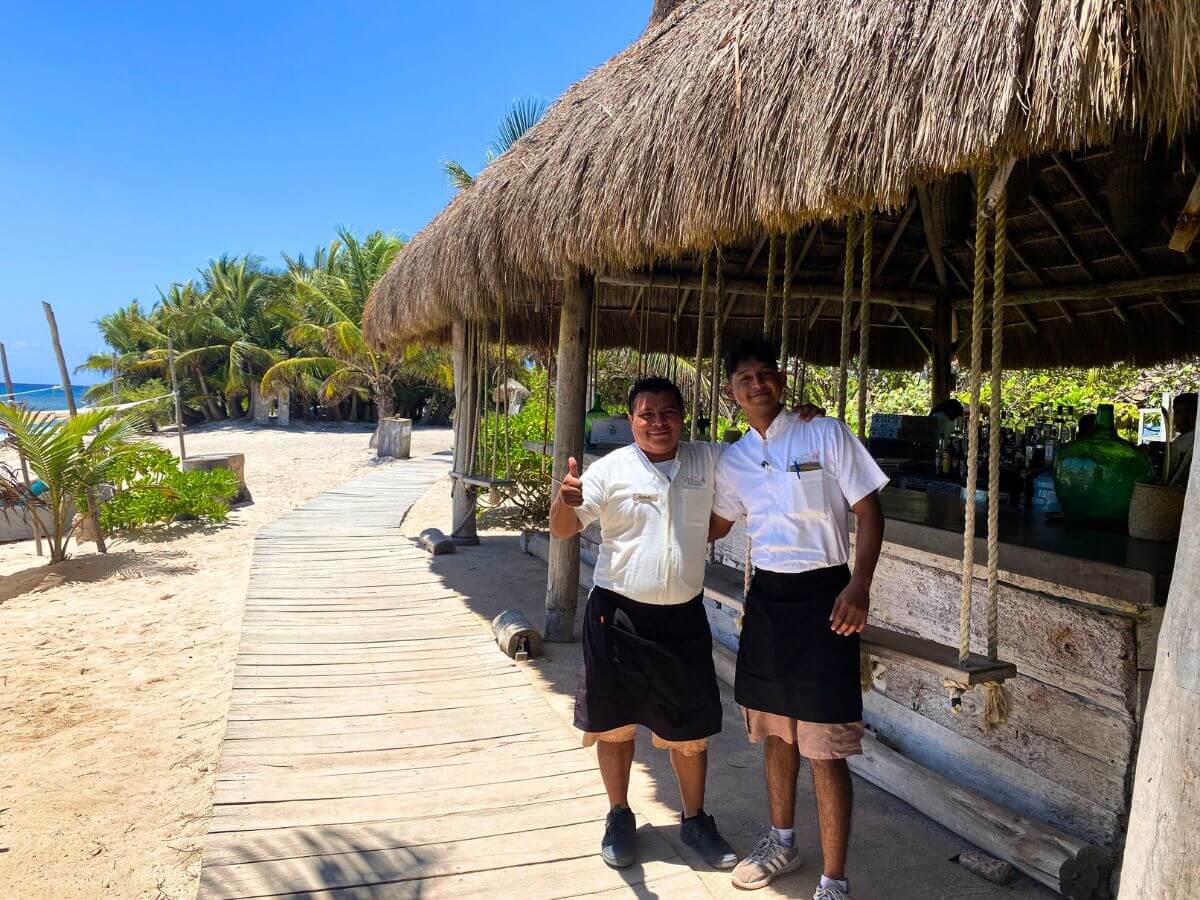 Delicious Food and Drinks
Anybody who knows me knows that I am an avid foodie. But, that doesn't mean I'm a food snob. I'm just as happy eating cheesy nachos at Jungle Fish as I am slurping down oysters at Kay. I don't need to see a million options on the menu. I'd rather an establishment execute whatever dishes they offer WELL than see a hundred dishes poorly put together.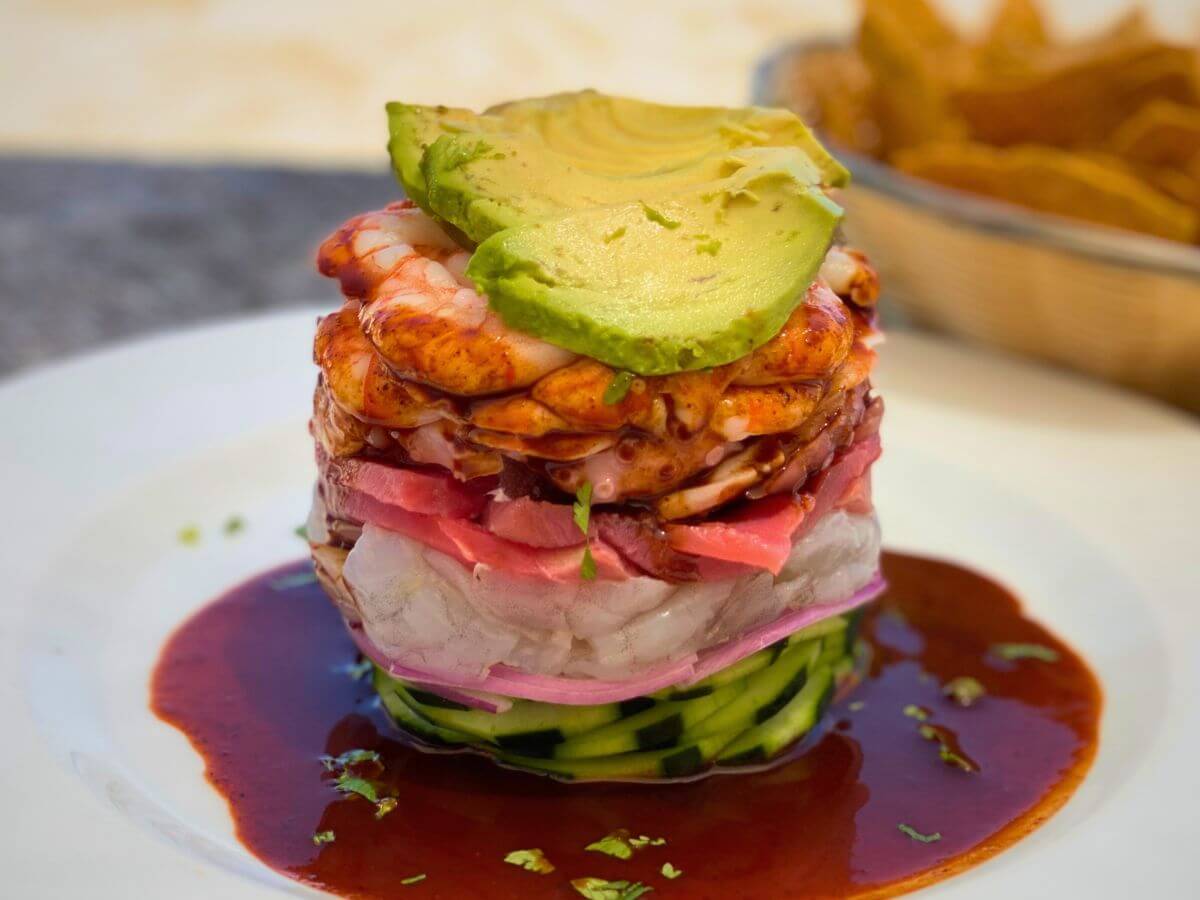 The menu at Punta Venado is concise and covers most of the dishes you expect to see at a beach restaurant on the  Riviera Maya. They open at 10:00 AM and offer several breakfast items which is unusual outside of hotel-based beach clubs.
From noon until 5:00 PM the menu includes a selection of salads, ceviches, tacos and tostadas. You will find the requisite guacamole, nachos, hamburgers and fries which will keep the kids happy. They also have grilled octopus and whole fish which they will prepare to your liking.
We shared the Seafood Tower and the Caribbean Ceviche, both of which were super flavorful and fresh and each big enough to split. I'm already planning what we are going to order on our next visit!
Download the Punta Venado Beach Club menus here.
Reasonable Prices
When we pulled up and I saw "the look" of the beach club, I mentally prepared myself for an expensive afternoon. A beach club like this in Tulum would be charging 25 USD for a margarita. I was pleasantly surprised to find that the prices were completely in line with other up-market Riviera Maya beach clubs like Kay. They have a very complete drink list and I found the prices completely reasonable, especially when you consider the facilities, the service and the location.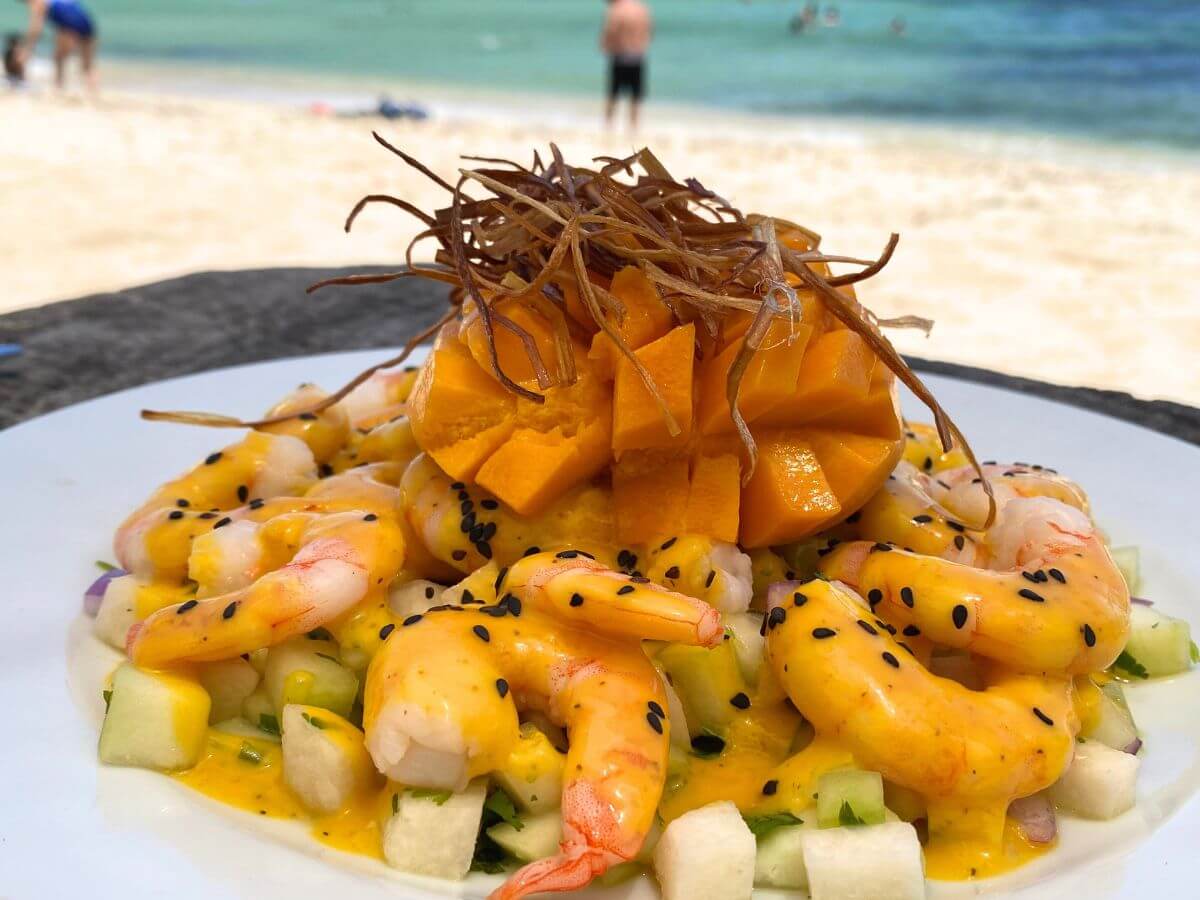 The minimum consumption is 700 pesos per person which I thought we would easily achieve. We ordered the Seafood Tower, the Caribbean Cevich, four beers and two Aperol Spritz and I was surprised when we came up just short. 
** At the time of publishing, Punta Venado Beach Club is offering a generous 20:1 exchange rate for USD. Rates will probably vary.
Beautiful Beach
Punta Venado Beach Club is located in a sandy bay framed by two rocky outcroppings on either end. If your picture of the perfect Riviera Maya beach club experience features a long swath of beach where you can walk for miles, this is probably not the perfect place for you.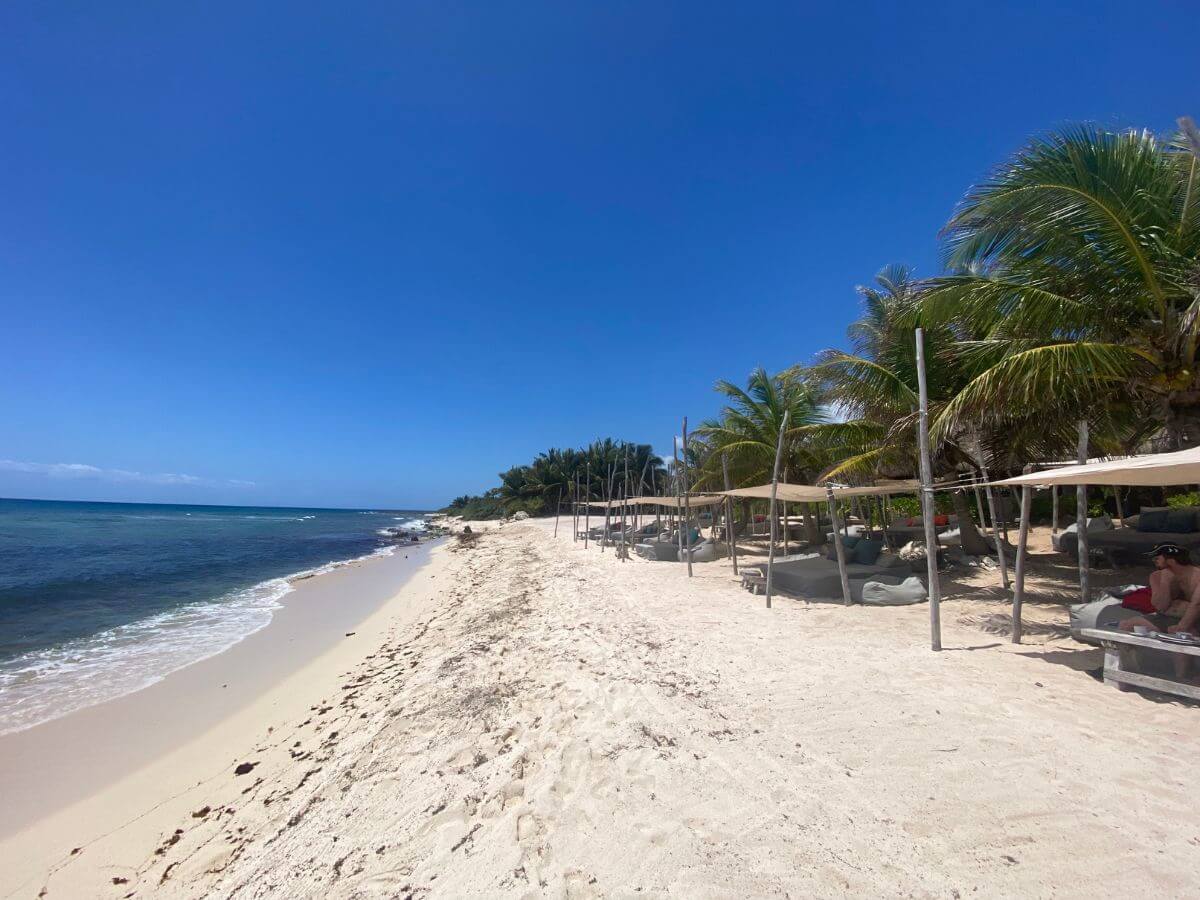 The beach area at Punta Venado is wide and kept clean by the beach club staff. As we now expect sargassum at certain times of the year, it would not have surprised me to see it piled up here. As luck would have it, the beach was clean and beautiful. 
Beach Beds and Shade
The sun beds at Punta Venado are large and comfortable with lots of pillows. There are also "bag-style" chairs that you can pull out into the sun. The cloth shade above is large enough to keep the sun off all day. They also provide a table or bench so you can actually comfortably dine.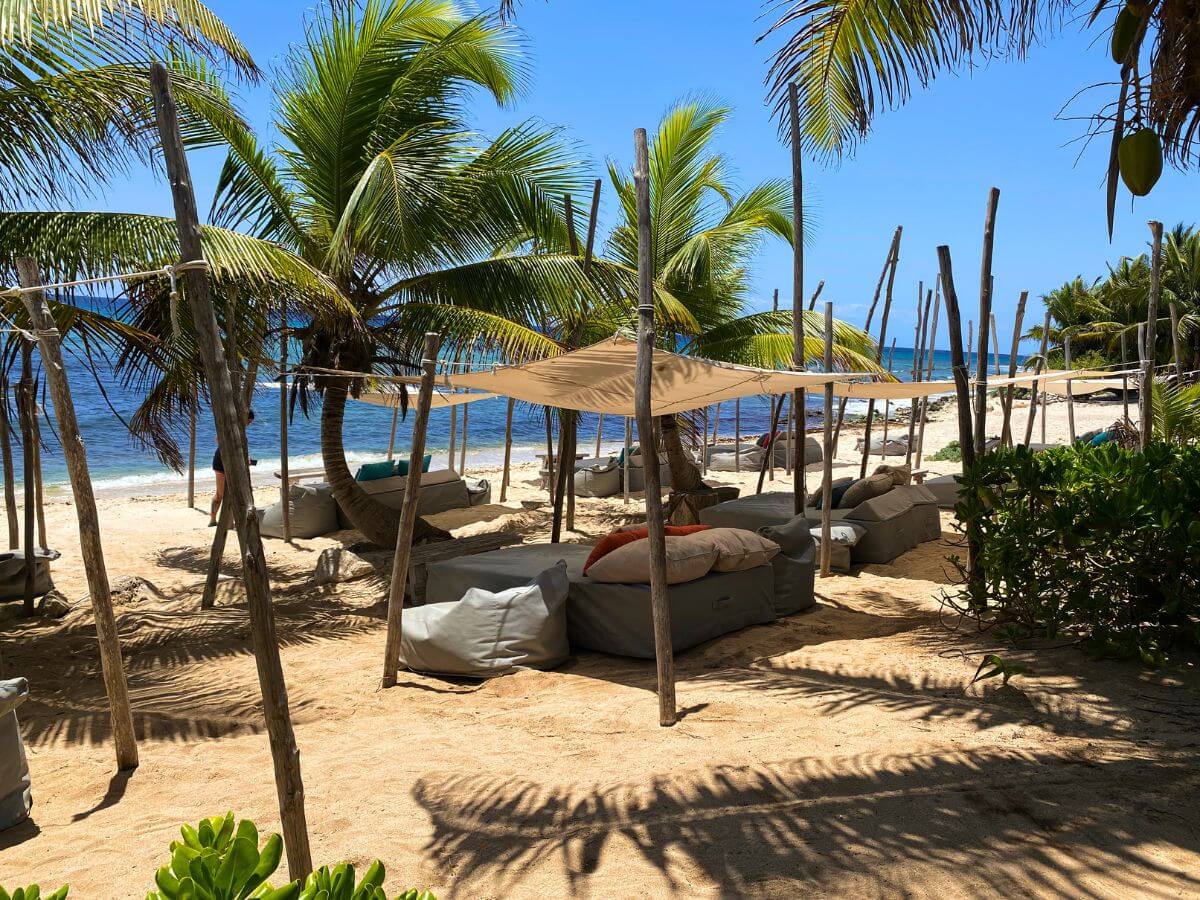 Another nice thing about the beach beds is that they are spread out fairly well. We had some space to move around under our shade and didn't feel like we were on top of the other guests at any time. There is no charge for the use of the beach beds but there is a minimum consumption of 700 pesos per person. Children under 10 are exempt. 
We arrived at about noon which turned out to be perfect timing. At 1:00 PM the Cancun Adventures vans come rolling in and the beds fill up quickly with their customers who are given lunch and a bit of beach time as a part of their tour. 
Easy Water Entry
My recollection of this beach area was that the water entry was very rocky, so I came prepared with water shoes. In some areas, there are still some rocks but the beach club has clearly done a lot of work to clear a wide area where you can easily walk in and out of the water with plenty of room to stand safely. It was lovely to walk out, relax in the cool, clear water and look back at this idyllic spot.
Swimming and Snorkeling
One of my biggest complaints is when a beach club tries to corral its guests into a small swimming area (I'm looking at you Kay Beach Club). Presumably, it's for the guests' safety but it's not the swimming experience I enjoy. At Punta Venado, you can swim, snorkel and even kayak freely with no ropes or buoys to limit you.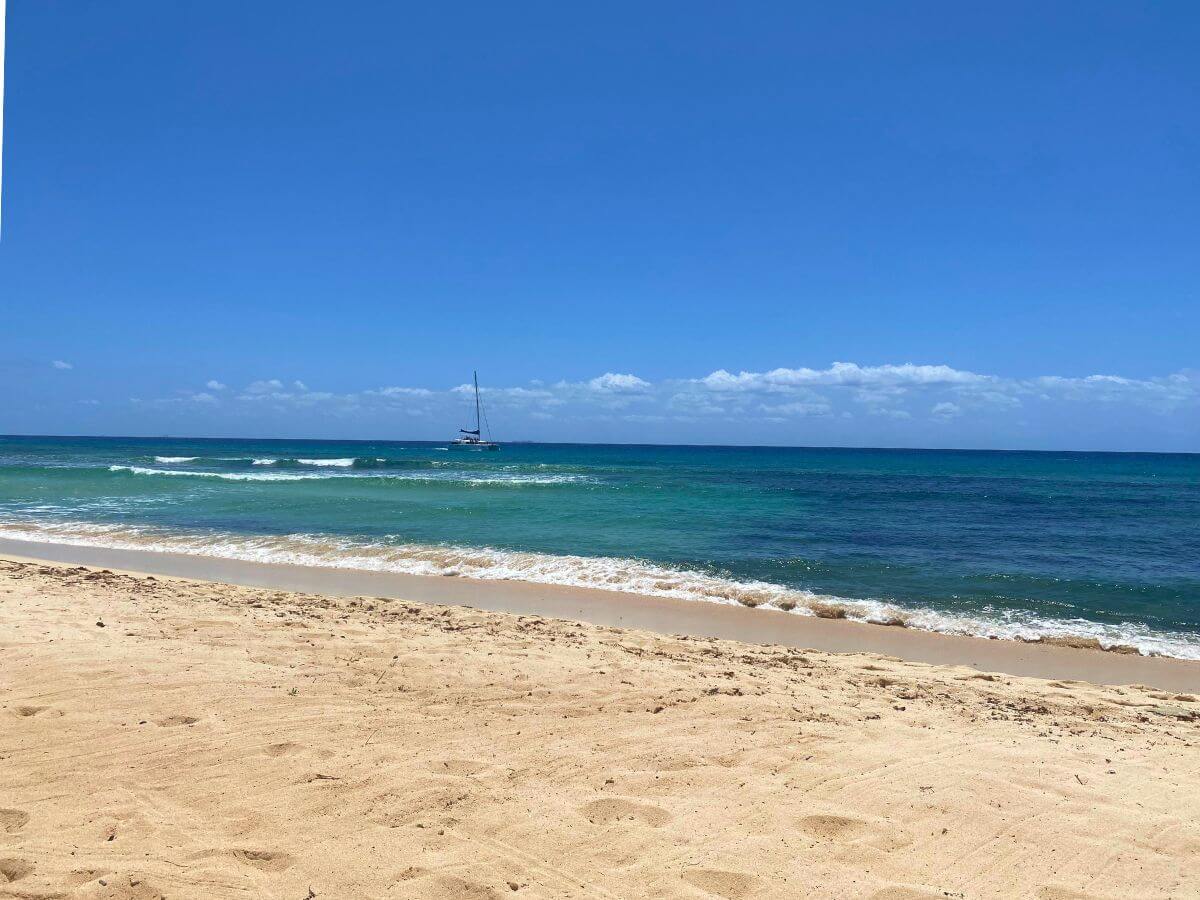 Our visit was on a weekday and it was pretty calm. I can imagine that this place really fills up on the weekends. My advice would be to go early. The beach club opens at 10:00 AM for breakfast so plan to arrive then, claim your choice of beach beds and spend a marvelous day in this privileged location.
Amazing Atmosphere
If you love the Tulum vibe (like me) but don't want to go to Tulum (also me), Punta Venado Beach Club is the place for you! The location and the facilities are just gorgeous and everything is perfectly maintained down to the freshly raked parking lots.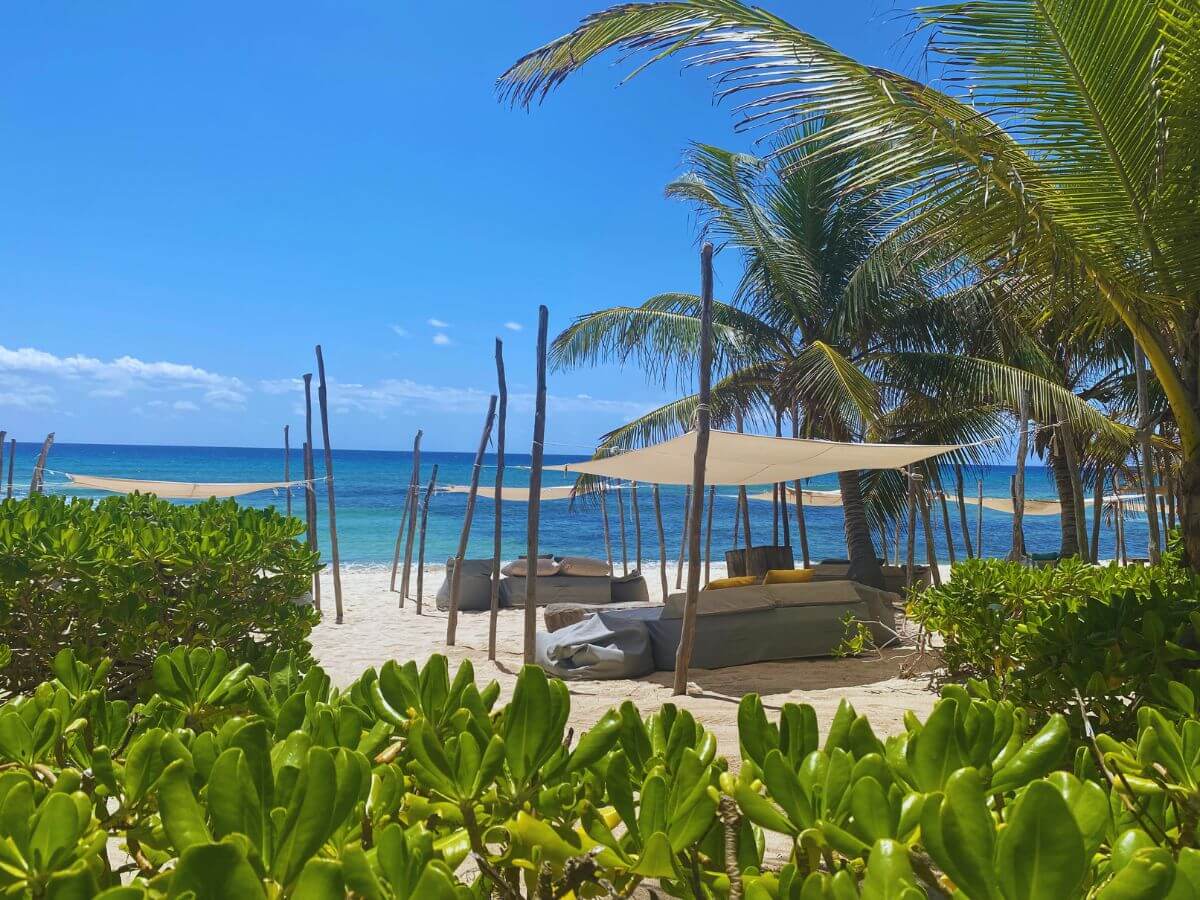 There was no loud music playing, just the sound of the wind and the water to wash away all the worries of the day as you watch the catamarans and fishing boats go by. From this sublime spot, there is nothing to be seen in either direction. Looking up at the beach club from the water, with pelicans flying in formation overhead, you almost feel like you have landed on a deserted island. 
Is Punta Venado the BEST Beach Club near Puerto Aventuras?
Everyone has their own criteria for what makes a beach club great. I used to love going to the beach in Tulum but with the skyrocketing popularity and unfettered growth of the town and beach area, I think I have been priced out of their market. I long for the "old Tulum" vibe and Punta Venado ticks many of the right boxes for me.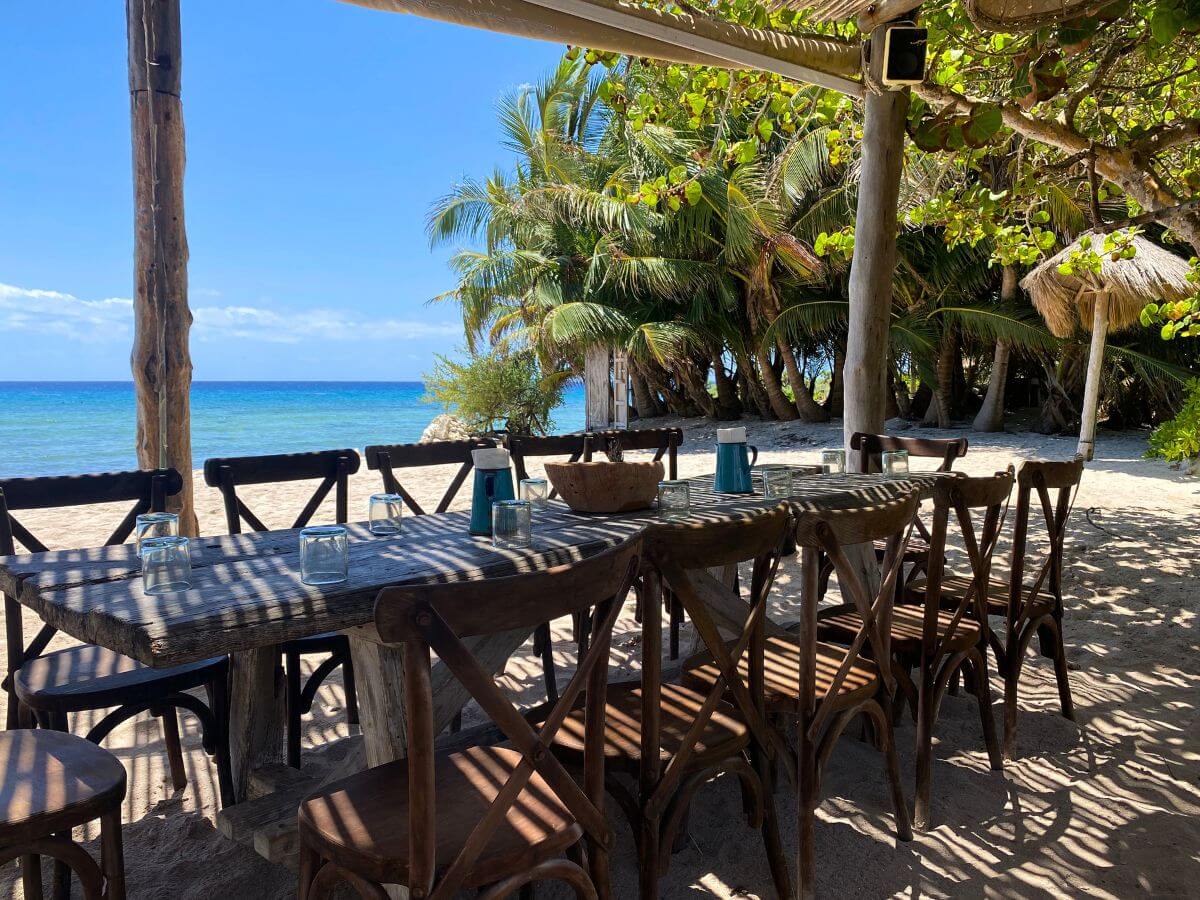 I almost hesitate to write this review as I know that everyone is going to love Punta Venado Beach Club as much as we do and then it won't be a secret anymore. But really, you are missing out if you don't go and see it for yourself.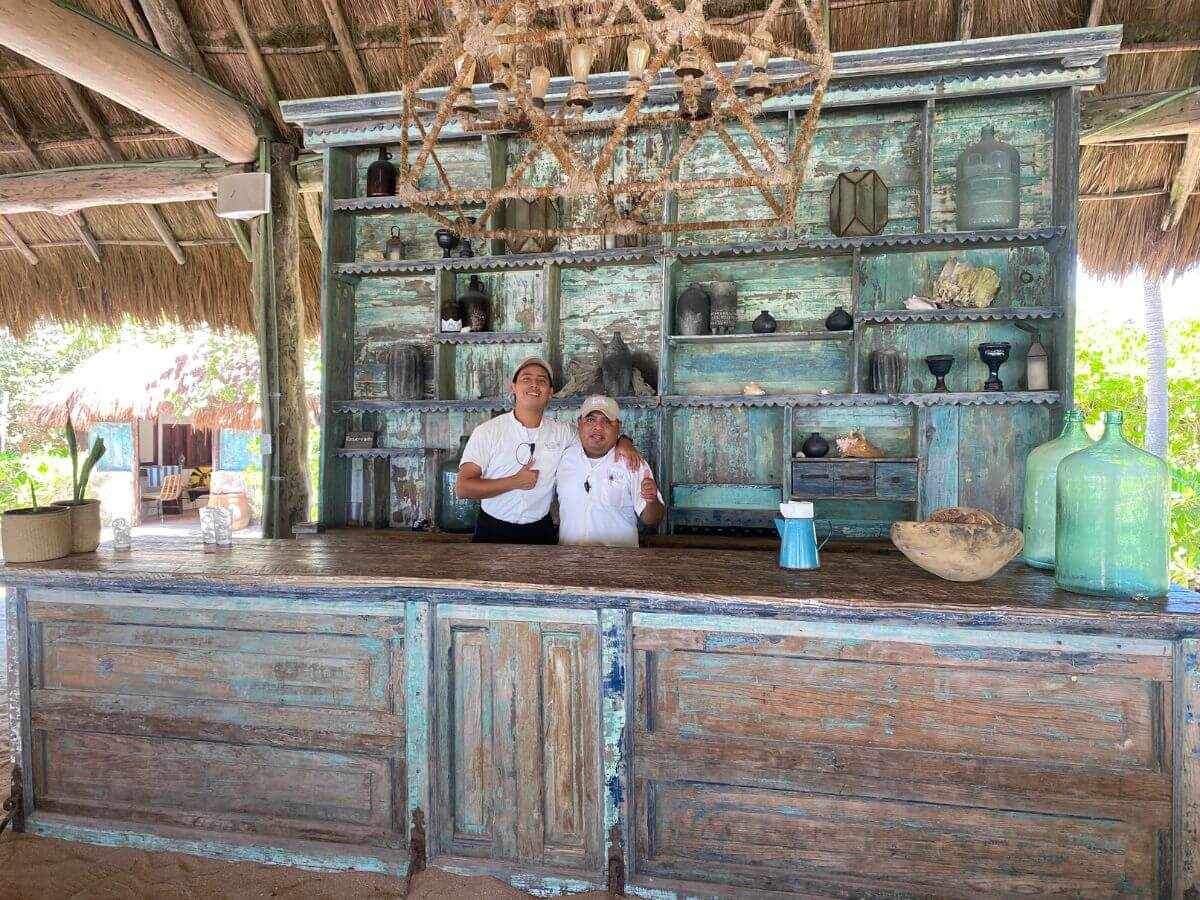 Punta Venado Beach Club is open from 10:00 AM until 5:00 PM seven days a week. The beach club is open to the public with minimum consumption of 700 pesos per person (ages 10+). For more information visit the Punta Venado Beach Club website.